The Thomas Cole National Historic Site encourages you to learn more about our volunteer program! Our volunteers are wonderful people who contribute their time and skills for an array of enriching and vital aspects of our operation. The volunteer program offers a rich and fulfilling experience with special programs and events just for volunteers throughout the year. Become a Thomas Cole volunteer!
I love the friends I've met at the Thomas Cole House. It was a great way to get involved in the community. – Ethel
Recruitment is on-going
Now is the time to join the fun and fascinating group of people who give tours of the historic site, conduct programs for visiting children, or lead hikes into the beautiful surrounding landscape. All training is provided; no special knowledge or experience is required except a passion for learning. While some volunteers have a public role, others work behind the scenes. Applications are now being accepted for the following:
Docents to conduct tours of the house, studio, and gardens
School Program Docents to conduct programs for children
Art Trail Docents to lead groups on hikes on the Hudson River School Art Trail
Gardeners to work on the new Kitchen Garden
All volunteers have the opportunity to:
Learn from some of the most prominent scholars in the field
Work in a beautiful and historic atmosphere
Share your love of art, history, and historic preservation
Attend educational programs such as Sunday Salons for free
Meet diverse visitors from all over the world
Visit other museums, historic sites, artists' studios and galleries
Build long-lasting friendships
Volunteer Benefits
Free training and ongoing education and enrichment
Invitations to all Cedar Grove events, some of which are free to volunteers
Use of volunteer lending library
Free membership at the $50 level after 10 hours of recorded volunteering
Trips to museums, galleries and other destinations
Volunteer-led hikes along the Hudson River School Art Trail
Discount on merchandise in the Old Studio Bookstore
Volunteer thank-you parties
Academic credits for student interns
For more information please 518-943-7465 
DOWNLOAD THE VOLUNTEER APPLICATION
---
Seeking Volunteers to Lead School Programs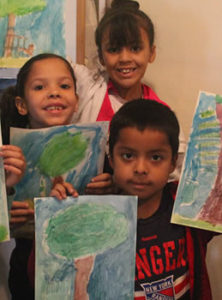 Enjoy working with children? The Thomas Cole National Historic Site is currently seeking volunteer docents to lead school programs at the historic site for visiting school groups. Our School Programs Docents inspire young people with meaningful information about the life, relationships and works of the 19th-century artist Thomas Cole through hands-on activities that are designed for each grade level and subject area. Want to get involved? Please contact 518-943-7465 for more information.