Exhibition Overview
Artist Talk | Sunday, October 27, 2 PM
The Thomas Cole National Historic Site presents the new exhibition SHI GUORUI: Ab/Sense-Pre/Sense as part of its annual series OPEN HOUSE: Contemporary Art in Conversation with Cole. The exhibition features a new series of large-scale landscape photographs by the contemporary artist Shi Guorui. The photographs are created using a camera obscura process and pay homage to the landscapes and legacy of Thomas Cole (1801-1848), founder of America's first major art movement, now known as the Hudson River School of painting.
Shi Guorui is internationally recognized for his large-scale camera obscura photographs. His work has been featured in exhibitions at The Metropolitan Museum of Art in New York and the de Young Museum in San Francisco, among other museums in North America, Europe, and Asia. Originally based in Beijing, China, Shi Guorui now has a studio and home in Catskill, New York.
The exhibition is curated by Kate Menconeri, Director of Exhibitions & Collections and Curator at the Thomas Cole National Historic Site. A full-color print catalogue will accompany the exhibition and include an exclusive interview with the artist. The catalogue will be available for purchase both at the historic site and online. The opening reception is presented in conjunction with the Hudson River Skywalk Arts Festival.
Supported by the New York State Council on the Arts with the support of Governor Andrew M. Cuomo and the New York State Legislature, Empire State Development's I LOVE NEW YORK program under the Market NY initiative,The Bay & Paul Foundations, the Enoch Foundation, The Educational Foundation of America, Joan K. Davidson through the J. M. Kaplan Fund, and the Kindred Spirits Society of the Thomas Cole National Historic Site.
Read the exhibition press release.
Read the artist talk press release.
"Destiny brought Guorui to Catskill, New York, where he was inspired by the Hudson valley light and landscapes that so inspired Cole." – The Magazine Antiques
"[The photographs] connect the artist to the landscape in a profound, literal, and loving way…Perfect." – Times Union
Cover image: Shi Guorui, Catskill Creek, May 21 2019, 2019, unique Camera Obscura Gelatin Silver print, 69 x 45 in.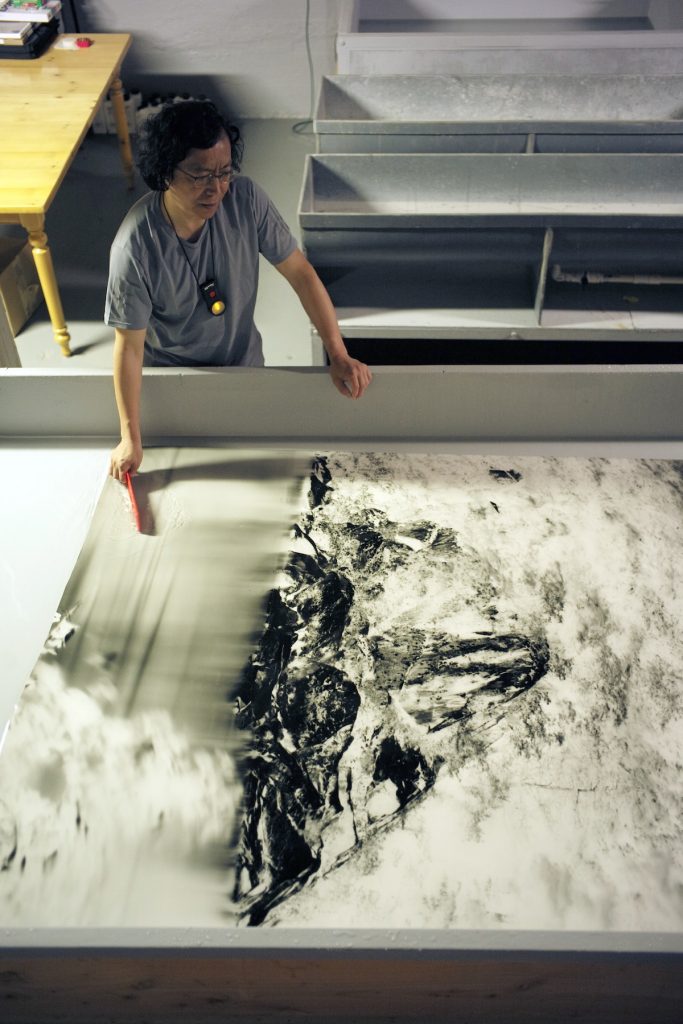 Shi Guorui in his studio, Felix Chan.
SHI GUORUI: Ab/Sense-Pre/Sense