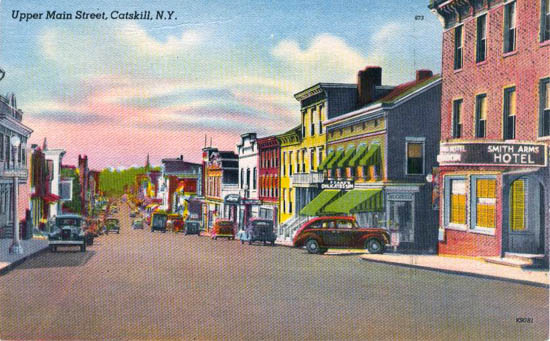 The Thomas Cole National Historic Site sits near the Hudson River with a view of the Catskill Mountains, surrounded by other cultural destinations, lively restaurants, and world-renowned natural beauty. 
If you're looking to plan your visit to the historic site, click here. To plan the rest of your stay, check out our recommendations below. From dazzling hikes in the Great Northern Catskills to the best places to sleep, we've got you covered.
When Thomas Cole first traveled up the Hudson River in 1825, he fell in love with this picturesque village on the water. Today, the Village of Catskill welcomes you with beautiful 19th-century architecture along the historic main street with shops and galleries, river activities including fishing and boating, waterfront restaurants, and an Audubon nature preserve where if you're lucky you can spot a Bald Eagle.
General Visiting Information


The official website for visiting Greene County, where the Thomas Cole Site is located. This website includes a comprehensive listing of places to stay, places to eat, sights, activities and outdoor adventures.
Hudson River Valley National Heritage Area
A user-friendly website with in-depth information about the historic, cultural and natural resources of the Hudson River Valley. You can see a list of recommended sights to visit, create your own itinerary, or request free maps and brochures about visiting the Hudson River Valley.
Where to Stay

The Catskill Milliner: Boutique guest house and inn located just blocks from Catskill's Main Street, the Thomas Cole Site, and the Hudson River.
Catskill Village House: Located on Main Street in the historic Village of Catskill, an entire home to rent with all your friends.
Hotel Mountain Brook: Adirondack-style lodge in Hunter with views of the Catskill Mountains
Hudson Milliner: A boutique guesthouse and inn located in the City of Hudson, across the river.
The Kaaterskill: A Farm Estate in the outskirts of the Town of Catskill.
Scribner's Catskill Lodge:  Recently reopened following an extensive renovation for a new generation of urban explorers,  the lodge features thoughtful design, friendly service, and delicious food and drinks in a mountain setting.
The Stewart House:  A recently renovated 11-room "River House" in nearby Athens, NY that first opened its doors in 1883 with a restaurant.
The Wick, A new full-service boutique hotel in Hudson, NY.
WM Farmer and Sons: Rustic chic accommodations and restaurant in Hudson, NY.
Where to Eat
Avalon Lounge, Music venue with a Korean kitchen
Ambrosia Diner, A classic retro diner.
Crossroads Brewing Co, A water-front tap room and brewery in Catskill.
Gracie's Luncheonette, A stylish diner where everything is homemade, right down to the ketchup.
Hartland on Hudson, One of a kind stationery and coffee bar.
Mansion + Reed, A general store and coffee counter on historic Reed Street, Coxsackie
The Mermaid Cafe, Farm to table taco cafe
New York Restaurant, The local spot for lunch and dinner.
Port of Call, Waterfront dining and seafood.
Willa's Bakery Cafe, A waterfront breakfast and lunch spot on Catskill Creek.
Nearby Attractions
Hudson River School Art Trail: Take a drive to the nearby views that Thomas Cole painted.
Hudson River Skywalk: See America's first canvas with the Hudson River Skywalk, a new historic and scenic walkway at the place where American landscape painting began. The new walkway connects the Thomas Cole Site with Frederic Church's Olana over the Rip Van Winkle.
Mountain Top Arboretum: A public garden in the Catskill Mountains, with trails connecting 178 acres of plant collections, meadows, wetlands, forest, and more.
RamsHorn-Livingston Audubon Sanctuary on River School Art Trail: Located in the Village of Catskill, this compact sanctuary contains over 436 acres of tidal marsh and swamp, upland forests and fallow farm fields. Keep your eyes peeled for Bald Eagles.
Scenic Hudson and Greene Land Trusts' Mawignack Preserve: One mile loop trail along Catskill Creek, an area that Cole painted more than any other subject.
Olana State Historic Site: Just two miles away is the magnificent home of artist Frederic Church.
The Greene County Historical Society: Nine miles north is the Bronck Museum, the Hudson Valley's oldest home, built in 1663.
City of Hudson: Across the Rip Van Winkle Bridge is this hopping city with shopping, restaurants and antiques.
Maps for download