The Thomas Cole National Historic Site in Catskill, NY marks the birthplace of American art, where the Hudson River School of landscape painting began. At its core, the organization's purpose is to regenerate Cole's revolutionary creativity so that it touches people's lives today. All donations are tax-deductible to the full extent of the law. Donate here or by mail to the Thomas Cole National Historic Site, 218 Spring Street, Catskill, NY 12414.
Donate to Establish a Program Endowment and Unlock Matching Funds from the NEH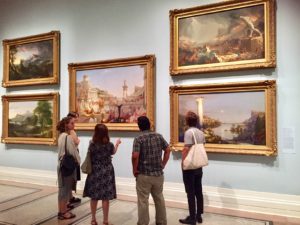 Here at the Thomas Cole Site, our mission to interpret the home and studios of Thomas Cole is achieved through innovative educational programming. You can spark creativity in young people and develop the next generation of arts professionals by helping to establish a $1.2 million endowment that will support this programming in perpetuity. In 2015, the site was awarded a challenge grant of $300,000 by the National Endowment for the Humanities to establish this important endowment. We were challenged to raise $900,000 in matching funds over the course of five critical deadlines.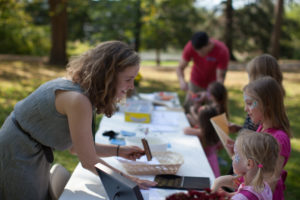 We are thrilled to report that thanks to generous people like you we met the first four NEH deadlines and have secured over $1,000,000 for the $1.2 million endowment to date. Our challenge now is to raise $150,000 by July 31, 2019. You can participate in this special opportunity by making an gift that gives forever. Additionally, your support will be magnified with matching funds from the NEH. To join in this educational initiative, please select the donate button above and indicate the program endowment in the instructions on the following page.
Making Your Gift a Lasting Legacy
Thomas Cole's creative life and art proves how one person's efforts can have lasting impact. You can follow in Cole's footsteps and create your own legacy with a planned lifetime or estate gift to the Thomas Cole Historic Site.  Your commitment will continue the preservation of Cole's home, studio and landscape, and help us regenerate his revolutionary creativity so it touches people's lives today.
Whether a donor uses cash or other assets, such as appreciated stocks, real estate, or annuities, the benefits of funding a planned gift can make this type of charitable giving very rewarding.  Please consult your own financial or legal advisor before proceeding with any planned gift arrangement.  For more information about how to make a gift to the Thomas Cole Historic Site, please contact 518.943.7465 x 6.
The Program Endowment has been made possible in part by a major grant from the National Endowment for the Humanities: Exploring the human endeavor.