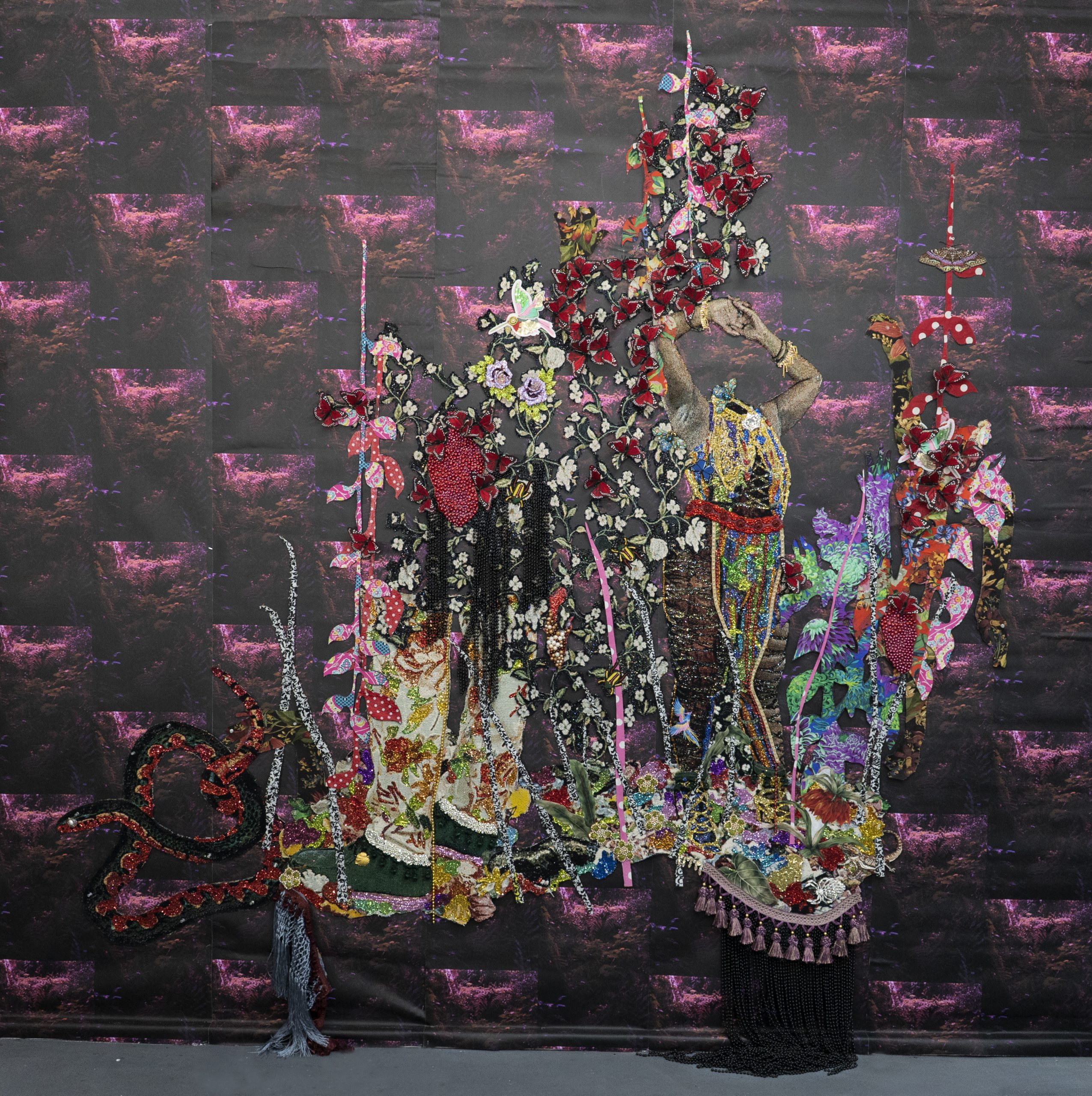 Ebony G. Patterson, ...the wailing…ushers us home…and there is a bellying on the land…, 2021, mixed media on jacquard woven photo tapestry and custom vinyl wallpaper, approximately 96 × 104 in., Private Collection, New York, NY, Courtesy the artist and Monique Meloche Gallery, Chicago, IL
What does the land hold? Jamaican-born artist Ebony G. Patterson asks us to look below the surface, using the garden as a metaphor. In this work, Patterson weaves together beads, fringe, paper cutouts of flora, butterflies, and a glittered snake to create a garden within a wall of forest landscapes. The beauty of the scene is interrupted, however, by fragmented bodies that bring visibility to histories of violence experienced by people living and working on the land.
At the center, an extravagantly dressed but headless female figure stands tall. Despite the evident harm inflicted upon her, she is adorned with beautiful ornamentation, which Patterson activates as a statement of presence, resilience, and protest. The artist notes, "I'm interested in the way we use dress, and its relationship to pageantry and beauty, particularly with working-class people—how that becomes an act of gardening, but gardening that's happening on the body." Simultaneous to the "wailing" for what has been lost, Patterson embellishes the body as an act of care, restoration, and healing. In the artist's words the garden serves as "a metaphor for death, burial, renewal, but also a space for love and care. The garden is a site of possibility, a chance to shift."
EBONY G. PATTERSON (b. 1981) received her BFA in 2004 from Edna Manley College of Visual and Performing Arts in Kingston, Jamaica. She completed an MFA in 2006 from the Sam Fox School of Design & Visual Arts at Washington University in St. Louis. Patterson's expansive practice addresses visibility and invisibility, through explorations of class, race, gender, youth culture, pageantry and acts of violence in the context of "postcolonial" spaces. With the sensibility of a painter, Patterson works across media, using tapestry, photography, video, sculpture, drawing and installation in works united by her visual language, intricate embellishment and intention. Patterson has had exhibitions and projects at institutions including Baltimore Museum of Art, Baltimore, MD; The Studio Museum, Harlem, NY; Atlanta Center for Contemporary Art, Atlanta, GA; SCAD Museum of Art, Savannah, GA; Pérez Art Museum, Miami FL; Speed Art Museum, Louisville, KY; Nasher Museum, Durham, NC; Museum of Contemporary Art Chicago, Chicago, IL; and Kunsthal Aarhus, Denmark. Patterson's works are in the public collections of the Los Angeles County Museum of Art, CA; National Gallery of Jamaica, Kingston; Pérez Art Museum, Miami, FL; Speed Art Museum, Louisville, KY; The Studio Museum in Harlem, NY; and The Whitney Museum of American Art, New York City. In 2021, Patterson was included in both the Liverpool and Athens Biennials. Patterson currently lives and works in Chicago and Kingston, Jamaica. Patterson has taught at the University of Virginia, Edna Manley College School of Visual and Performing Arts, the University of Kentucky, and was the Bill and Stephanie Sick Distinguished Visiting Professor at the School of the Art Institute of Chicago. She is represented by Monique Meloche Gallery in Chicago, Illinois. 
WRAL Artist Spotlight: Ebony G. Patterson