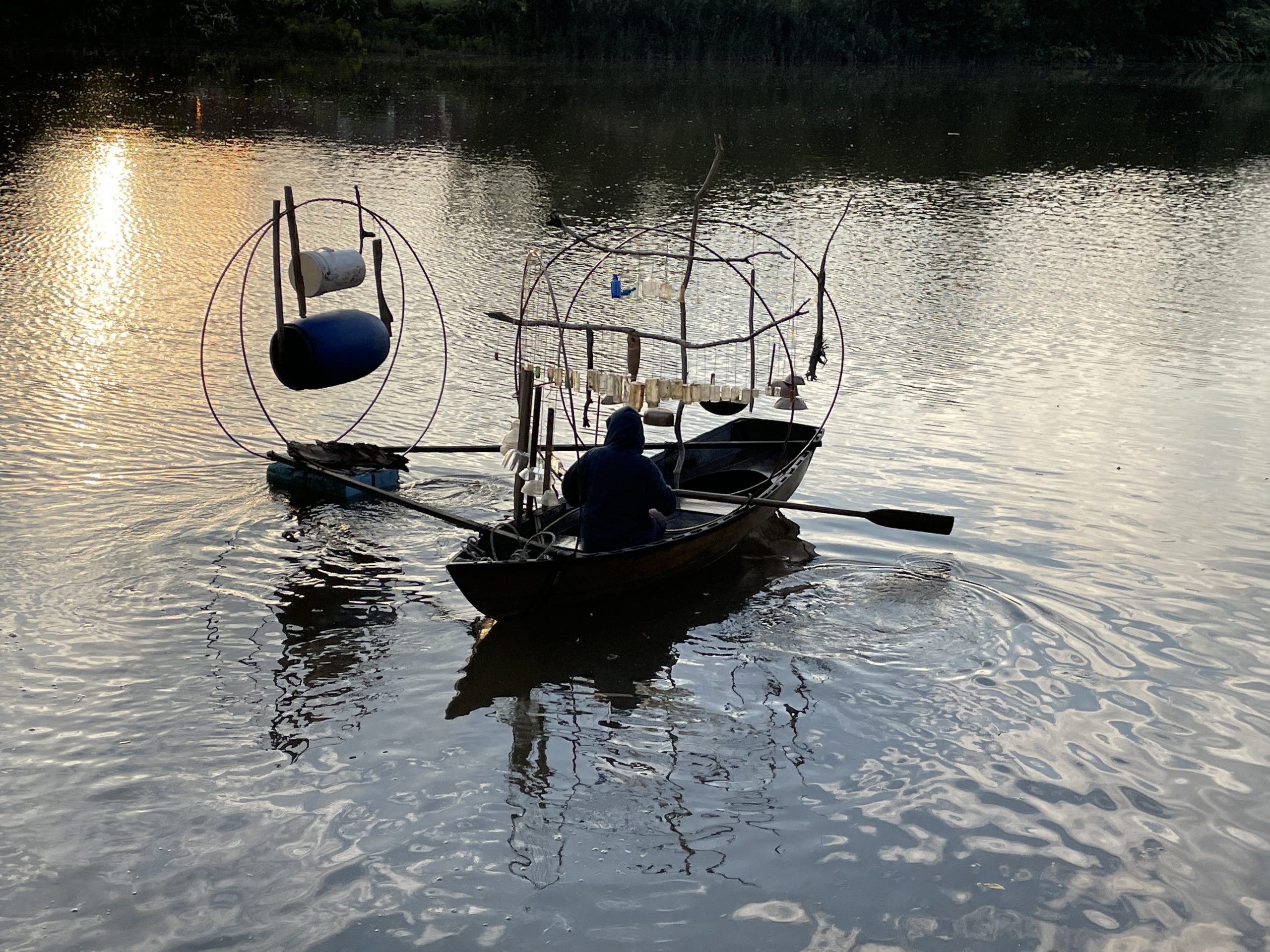 Marie Lorenz, Wave Chime, 2021, wood, steel, sea glass, and marine debris, 96×168×168 in., Courtesy the artist and Jack Hanley Gallery, New York, NY
Artist Marie Lorenz does not attempt to paint the landscape, but rather to experience it—in all of its wonder and destruction, life and toxicity—as an everyday space for observation, work, play, and travel. In 2005, the artist began welcoming people onto her Tide and Current Taxi, a rowboat in which she would journey with passengers out into the urban and industrial waterways of New York. For each voyage, they would choose a specific departure point and destination, using the tides and currents to chart the trip. This participatory, socially-engaged practice relies on reading the natural cycles of the land and water, and allows passengers to see the landscape of the city from a new orientation and interact with plants, birds, industrial urban formations, and islands. Recently the artist has been experimenting with sound boats including Wave Chime, which she launched on Catskill Creek, one of Thomas Cole's favorite places to walk and paint.
For this installation in Cole's studio, Lorenz pairs recordings of these voyages alongside sculpture created from materials she found on her journeys. Reflecting the real elements of our landscapes today—places full of plastics and toxins, as well as minerals, water, plants, and earth—this is not the wild, untouched, Arcadian state of a Thomas Cole canvas. It is instead the real, marred, dynamic, and viable space in which we live, where the synthetic and natural coexist.
MARIE LORENZ (b. 1973) is a New York-based artist who received a BFA from the Rhode Island School of Design and an MFA from Yale. Lorenz makes videos and installations that document and respond to urban waterfronts and the tidal debris and discarded objects she encounters while traveling across waterways in boats that she designs and builds herself. Through printing, casting, or videotaping, Lorenz attempts "to un-know the metropolis by continually exploring it." The resulting works act as a visual equivalent of beach-combing and tell the story of Lorenz's explorations in "collaboration" with the tide, as well as the connections she forges with her occasional passengers. In 2005, she began her Tide and Current Taxi project, taking participants through New York City using only the tide and her hand-built boats. Lorenz's artwork has been exhibited nationally and internationally
at Ikon Gallery in Birmingham, England; Artists Space, New York City; Susanne Lemberg Usdan Gallery, Bennington College, VT; University of
Buffalo Art Gallery, NY; The Contemporary, Austin, TX; and MoMA PS1, New York City, and elsewhere. Lorenz has been awarded honors including Creative Capital and Harpo Foundation grants, and the 2008 Joseph H. Hazen Rome Prize for the American Academy in Rome. She is represented
by Jack Hanley Gallery in New York City.
Website
WRAL Artist Spotlight: Marie Lorenz