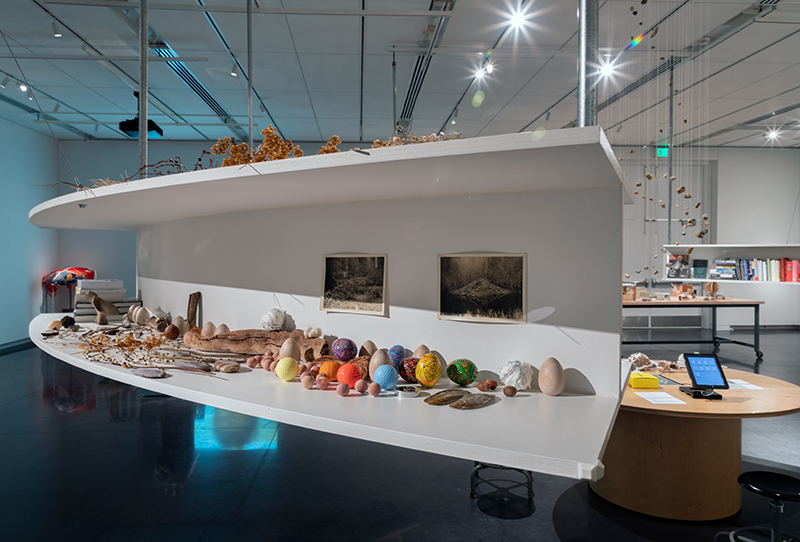 Mary Mattingly, Ecotopian Library, 2020–ongoing, rotating collection of books, natural and cultural objects that have been donated to share, various dimensions, www.ecotopianlibrary.com, Courtesy the artist and Robert Mann Gallery, New York, NY, Photograph: Jeff Wells
Mary Mattingly is an interdisciplinary artist who engages land and landscape, not through pictorial representations, but by creating public spaces that encourage community engagement and environmental education. Working like an activist, she responds to the urgency of climate crisis, noting: "Art for me is about new possibilities, it's about life and survival . . . " Instead of exploiting land for capitalistic gain, Mattingly asks us to value land as a complex living ecosystem that sustains us and is vital to our future. What is your relationship to land and place today? What futures can be imagined together?
For Women Reframe American Landscape, Mattingly created an interactive "Ecotopian Library" that brings together books, objects, artworks, and specimens that reflect the history and ecology of the Thomas Cole Site and Hudson Valley. It connects meaningfully to Thomas Cole and Emily Cole, artists who once lived and worked at this place and who also directly engaged with nature, environmental preservation, and local flora and fauna.
MARY MATTINGLY (b. 1978) is an interdisciplinary artist based in Brooklyn, NY. Mattingly received a BFA from the Pacific Northwest College of Art and the Parson School of Design, and a Yale School of Art Fellowship in 2002. In 2016, she launched Swale, a free food forest docked at public piers but following waterways' common laws, circumnavigating New York's public land laws and allowing anyone to pick free fresh food. The project helped instigate the "foodway" in Concrete Plant Park, the Bronx in 2017. In 2020, she was the Brooklyn Public Library's Artist in Residence and launched Public Water with +More Art, a sculpture that mimicked New York City's drinking watershed while cleaning water. Also in 2020, Mattingly developed the traveling installation Ecotopian Library, combining the disciplines of forestry, botany, art, literature, and the sciences to build a toolkit for imagining regenerative futures within climate change. In 2021, Mattingly worked in Glacier National Park on a water clock called Limnal Lacrimosa, and completed a two-part public sculpture called Vanishing Point at Southend Pier in the UK. Mattingly's artwork has also been exhibited at the Istanbul Biennale, Turkey; the Havana Biennial, Cuba; Storm King, New Windsor, NY; the Seoul Art Center, Korea; the Brooklyn Museum, NY; the New York Public Library, NY; DeCordova Museum and Sculpture Park, Lincoln, MA; and the Palais de Tokyo, Paris, France. In 2022 her work was published in a monograph titled "What Happens After." Mattingly is represented by Robert Mann Gallery in New York City.
Website
WRAL Artist Spotlight: Mary Mattingly