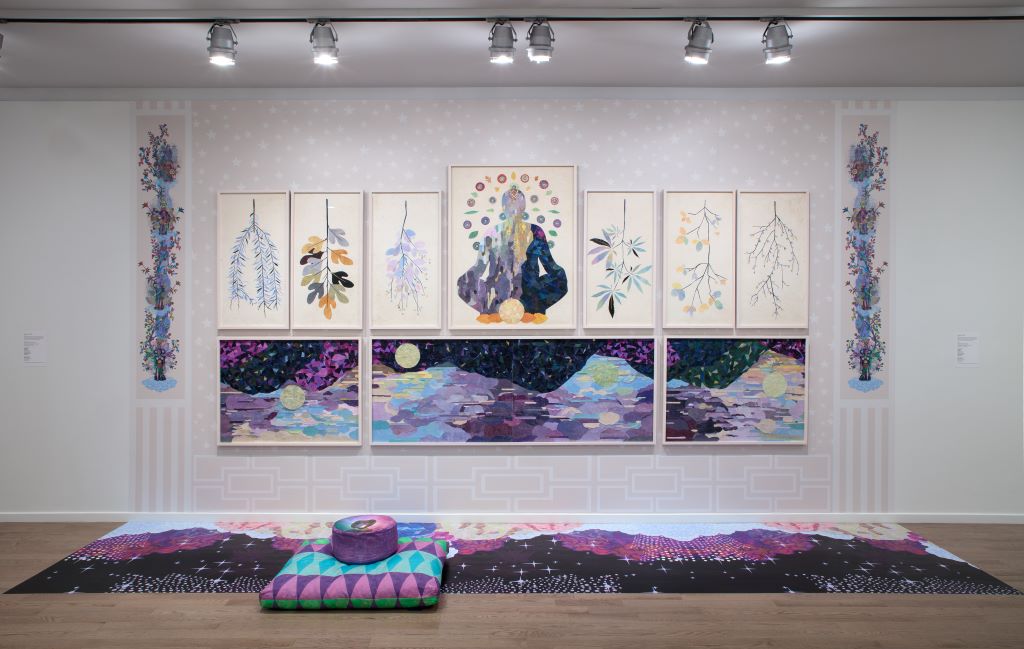 SAYA WOOLFALK
Birthing a New Sky (Inverted Variation), 2021–23
Mixed media collages on paper, vinyl, and wood
Courtesy the artist and Leslie Tonkonow Artworks + Projects, New York, NY
How can we imagine and build generative relationships with land? Drawing upon African American, European American, and Japanese influences, Saya Woolfalk activates new creation myths informed by science fiction, feminist theory, mythology, and ecology. Woolfalk's hybrid worlds center around the "Empathics," as well as her fictional future race of "Woods Women" who can travel across time and space, and her "No Placeans" who share genetic material with plants. In this imagined landscape, women coexist with, embody, and become the land.
Birthing a New Sky (Inverted Variation) is a landscape made up of a central female figure, mountains, skies, moons, and the healing plants goldenrod, sassafras, meadowsweet, and knotweed. Here, real and fantastical spaces come together in a place where things are turned upside down, opening a realm where sky becomes water and water, sky. In contrast to Hudson River School landscapes that feature people acting upon the land, this work celebrates people as a part of the land. Turning historic landscape painting conventions inside out and upside down, Woolfalk imagines a new, more generative future of interconnection and healing. The artist thinks of it is as a space of possibility where "life expands, forcing its way out as new
light, new land—a new sky."
"We believe in Hudson River School paintings as historical documents of American land and life, and I want to shift these paintings for you. These paintings contain the desires, hopes, fears, and love of a certain population of a nascent country.
Although I love these paintings, there is much about them that I find alienating and problematic. They present America as a kind of Eden that naturalizes the displacement of Native populations, celebrates agrarianism without the acknowledgment of the constant precariousness of the lives of tenant farmers, while erasing the enslaved Africans who worked farms all over the country to produce unprecedented wealth for America. I spent a year as an artist in residence at the Newark Museum thinking about how these paintings continue to shape our vision of what America is… During this time, I created the installation Tumbling Into Landscape, which includes a collaged self-portrait silhouette in the center of, and composed with, fragments of the paintings that flank it—historic American landscape paintings from Newark Museum's collection, made between 1840–1900 and associated with the Hudson River School. These illusionistic windows onto pristine landscapes from the northeastern United States, hang in museums all over the country and communicate a specific version of the American creation myth.
I wanted to explore how Hudson River School paintings could be used in the service of alternative narratives, outside the bounds of the expected… In Tumbling Into Landscape, the central figure stands up straight, feet facing forward and arms by her sides, palms out. The stance is a variation on the mountain pose in yoga, taken to ground oneself on the earth and in the present. Together, this composite silhouette with the group of paintings forms a single artwork, an altarpiece to an alternative creation myth.
Being an American today is different from being one in the era of the Hudson River School, yet the way these artists taught us to think about the United States has left an indelible mark. Even today, it is not uncommon for strangers to ask me where I am from. When I respond that I am from New York, some of these strangers, dissatisfied with my answer, follow up with, "Where are you from originally?" The question implies that I am not of this place, somehow not quite American. My response to such questioning has been in part to focus on the notion of hybridity in my art practice, to create artworks that defy classification. Working across media and conceptual boundaries, I create bodies of work that seem to constantly shift and evolve—a series of modular parts that stabilize for a moment, then separate again, with the potential to become something else.
Swirling around the figure are life-size wilting leaves based on tracings of medicinal plants from the Newark Museum's herbarium collection… The figure is also encircled by stylized gold flames, a reference to the elaborate frames of the historical paintings. By using the gold within the body, I wanted to imply a different kind of frame, one that moves, that is molten and shifts its boundaries.
One space where I disrupt the boundary between interior and exterior worlds is a double ribbon of words by Sojourner Truth, handwritten across the figure's sternum and lower torso. Almost obscured within a dark field of shrubbery and
clouds, these words read "give her a chance to set it" and "right side up again." Sojourner Truth grew up in slavery on a farm in the same area represented
in the Hudson River School paintings, yet there is little trace of her, or people like her, in most of the art of this period.
The six landscape paintings that inspired my inquiry act as found objects flanking the figure, and the composition of the elements together looks alternately like pelvic bones or a set of wings. To me this implies that the assemblage is only one part of a more monumental body. This fragment, made up of other fragments, suggests the potential for a larger figure, one that is not defined or contained by a traditional frame.
—Saya Woolfalk
(This text is an edited excerpt from the artist's writing
for Saya Woolfalk: Field Notes From The Empathic
Universe and the catalog of the same title, commissioned
by the Newark Museum.)
SAYA WOOLFALK (b. 1979) was born in Gifu City, Japan, and lives and works in Brooklyn, NY. She earned her BA in visual art and economics from Brown University in 2001 and her MFA from the School of the Art Institute of Chicago in 2004. She creates works of art that incorporate the African American, European American, and Japanese influences of her family background. Also alluding to science fiction, feminist theory, mythology, anthropology, archaeology, Eastern religion, and fashion, she re-imagines a utopian, empathic world through painting, sculpture, video, performance, multimedia installations, and public artworks. Her work has been exhibited in solo and group shows in museums throughout the US and Asia including, among many others, the Newark Museum of Art, NJ; the Nelson Atkins Museum, Kansas City, MS; Contemporary Arts Center, Cincinnati, OH; The SCAD Museum of Art, Savannah, GA; the Studio Museum in Harlem, NY; the Brooklyn Museum, NY; MoMA PS1, New York City; the Museum of Contemporary Art, Chicago, IL; the Contemporary Art Museum, Houston, TX; and the Yerba Buena Center for the Arts, San Francisco, CA. Works by Woolfalk are in the collections of the Buffalo AKG Art Museum, NY; the Baltimore Museum of Art, MD; the Seattle Art Museum, WA; the Studio Museum in Harlem, NY; the Weatherspoon Art Museum, Greensboro, NC; the Whitney Museum of American Art, New York City; and other major institutions. She is the recipient of many honors, awards, and public commissions. Woolfalk is represented by Leslie Tonkonow Artworks + Projects in New York City.
WRAL Artist Spotlight: Saya Woolkfalk