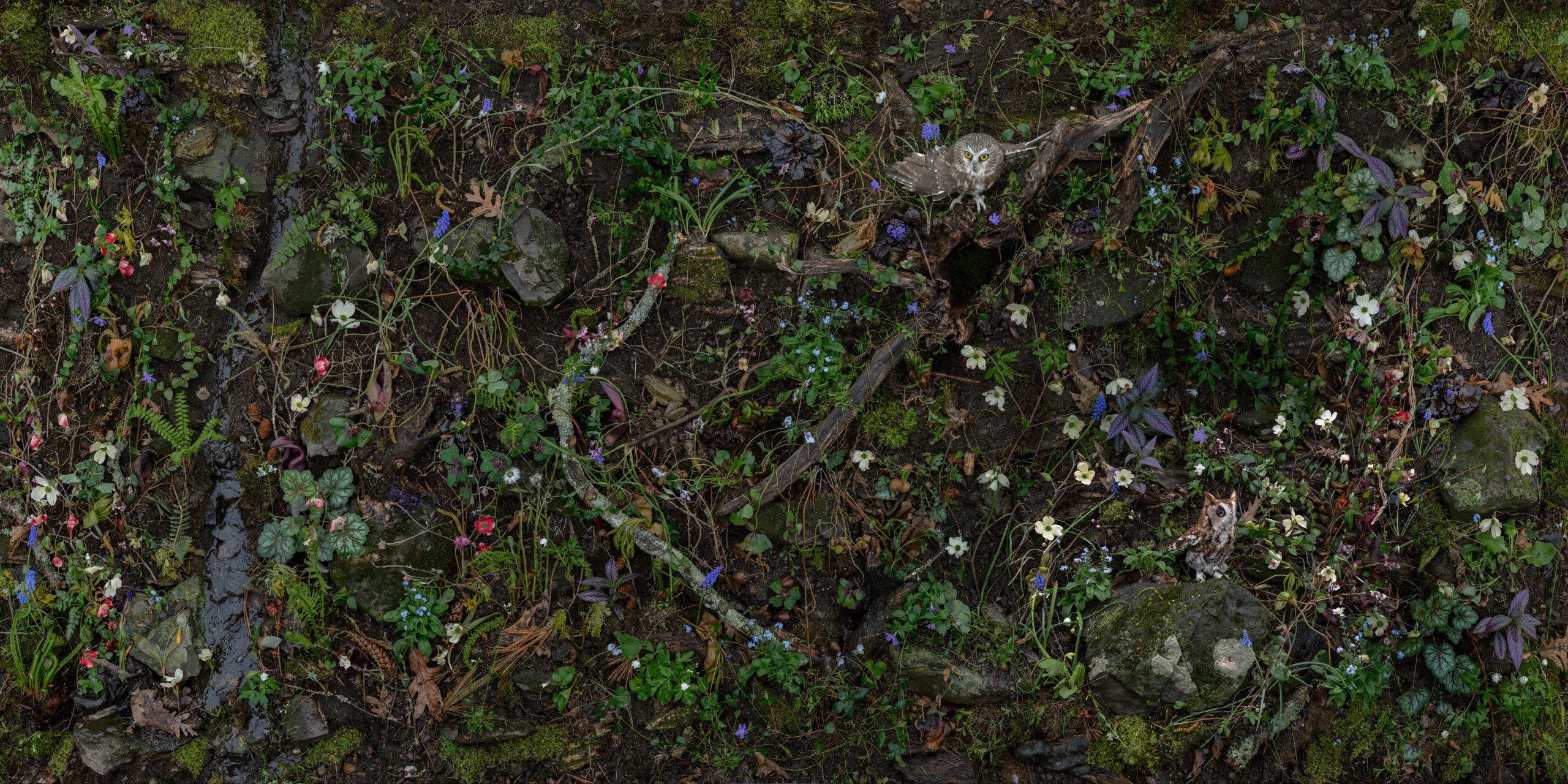 Tanya Marcuse, Woven Nº 33, 2019, Inkjet print, Courtesy the artist
Reimagining the single-point perspective and horizon line that has historically defined "landscape" in many monumental Hudson River School canvases, Tanya Marcuse literally turns the view to the ground on which she stands, to the earth and all that it is made of. In Woven No 33, Marcuse composes a diorama made with living owls from a bird sanctuary and carefully arranged flora and fauna found and foraged along walks in and around her Hudson Valley home. The artist photographed the arrangement using multiple exposures that were then stitched together to form an extreme horizontal landscape. As in an ecosystem, the natural elements featured within are not fixed but in a constant state of evolution, decay, and change; birth and death are inextricably linked and simultaneous. Like a garden bed or forest floor, this work explodes with the dynamic and biodiverse matter of land and life. What do you see within this photograph? Informed by the mythic Garden of Eden, botany, history, medieval tapestries, Hieronymus Bosch, Thomas Cole, and natural cycles, Marcuse's Woven works are at once intimate and epic and call for close viewing. This work speaks to the symbiotic relationships between all living things, echoing the fact that we do not live in a landscape, but within a living ecosystem that is made of interdependent and interconnected life forces, all of which play a vital role.
TANYA MARCUSE (b. 1964) began making photographs as an early college student at Bard College at Simon's Rock. She went on to study Art History and Studio Art at Oberlin and earned her MFA from Yale. Marcuse is a student of martial arts and boxing as a method of cultivating mental and physical concentration and discipline. In 2002, she received a Guggenheim fellowship and in 2005, she embarked on a three-part, fourteen-year project, Fruitless | Fallen | Woven, moving from iconic, serial photographs of trees in Fruitless to lush, immersive, allegorical works in Fallen and Woven. Her work has been shown in exhibitions at Julie Saul Gallery, New York City; the Thyssen-Bornemisza National Museum, Madrid; the Frances Lehman Loeb Art Center at Vassar College, Poughkeepsie, NY; Yale University Art Gallery, New Haven, CT; the Museum at FIT, New York City; and the International Center of Photography, New York City. Marcuse's photographs are held in collections including the Metropolitan Museum of Art, New York City; the National Gallery of Art, Washington, DC; the San Francisco Museum of Modern Art; and the George Eastman House Museum, Rochester, NY. Her recent publications include Undergarments and Armor, Wax Bodies published by Nazraeli Press, and her three-volume triptych series Fruitless | Fallen | Woven published by Radius Books. Marcuse teaches Photography at Bard College and is represented by Hemphill Fine Arts in Washington, DC.
Website
WRAL Artist Spotlight: Tanya Marcuse