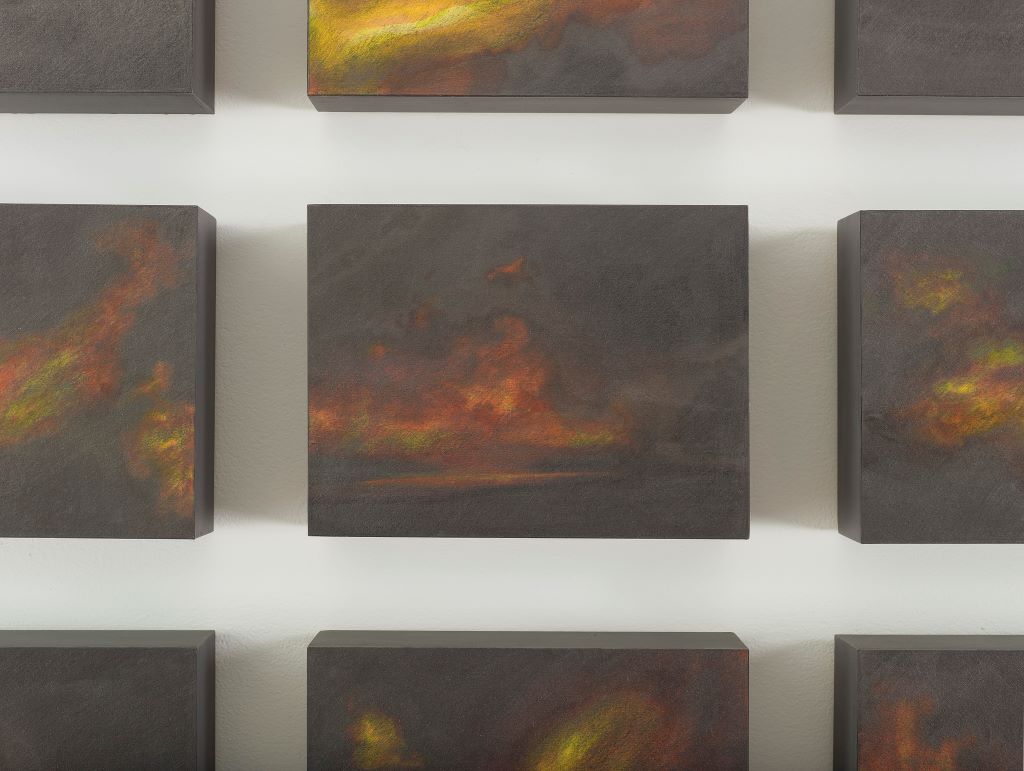 Teresita Fernández, Small American Fires 3, 2016, colored ink and pencil on wood, 12 panels, each 6× 8 × 2 in., 22 × 28 × 2 in. (overall), Courtesy the artist and Lehmann Maupin, New York, Hong Kong, and Seoul
Who gets to define the American Landscape? What is "American Art"? What happens when we shift from "landscape" to "land"? These questions posed by artist Teresita Fernández reflect her ongoing work to rethink landscape in the United States. For this installation of Small American Fires 3, Fernández draws directly on the wall in charcoal, connecting a group of twelve colored ink and pencil works depicting fire. It is intentional that the artist made this work using graphite and charcoal—pieces of land itself, burned trees, and scorched earth forged through fire.
For the artist and in ecological systems, fire represents destruction but also creation. Fire here poetically signals the ongoing violence of climate crisis, as well as the colonial legacies of displacement, genocide, and enslavement. Yet fire also illuminates a generative history of sophisticated, deliberate slash-and-burn agricultural practices used by Indigenous people across the hemisphere for thousands of years to foster sustainable land relationships. Fernández challenges conventional Hudson River School depictions of landscape, adamantly rejecting the myth of wilderness still prevalent today, and makes visible the complex layers of land and human connection. The artist states:
"I am trying to radically redefine and reframe how we think about place and about landscape. It is less about this framed vista in front of your eyes, and more about understanding what happened there, who lived there."
TERESITA FERNÁNDEZ (b. 1968) creates work characterized by an interest in self-reflection and conceptual wayfinding. Her immersive, monumental works are inspired by a rethinking of landscape and place, as well as by diverse historical and cultural references. Born in Miami, FL and currently based in New York City, Fernández received a BFA from Florida International University, Miami in 1990 and an MFA from Virginia Commonwealth University in 1992. Often drawing inspiration from the natural world, Fernández's practice unravels the intimacies between matter, places, and human beings. Her works poetically challenge ideas about landscape by exposing the history of colonization and the inherent violence embedded in how we imagine and define locations. Her work questions power, visibility, and erasure in ways that prompt reflective engagement for individual viewers. Fernández is a 2005 MacArthur Foundation Fellow and the recipient of numerous awards including a Guggenheim Fellowship, a National Endowment for the Arts Artist's Grant, and a Louis Comfort Tiffany Biennial Award. Appointed by President Obama, she is the first Latina to serve on the US Commission of Fine Arts, a 100-year-old federal panel that advises the President and Congress on national matters of design and aesthetics. Fernández is represented by Lehmann Maupin in New York City.
WRAL Artist Spotlight: Teresita Fernández