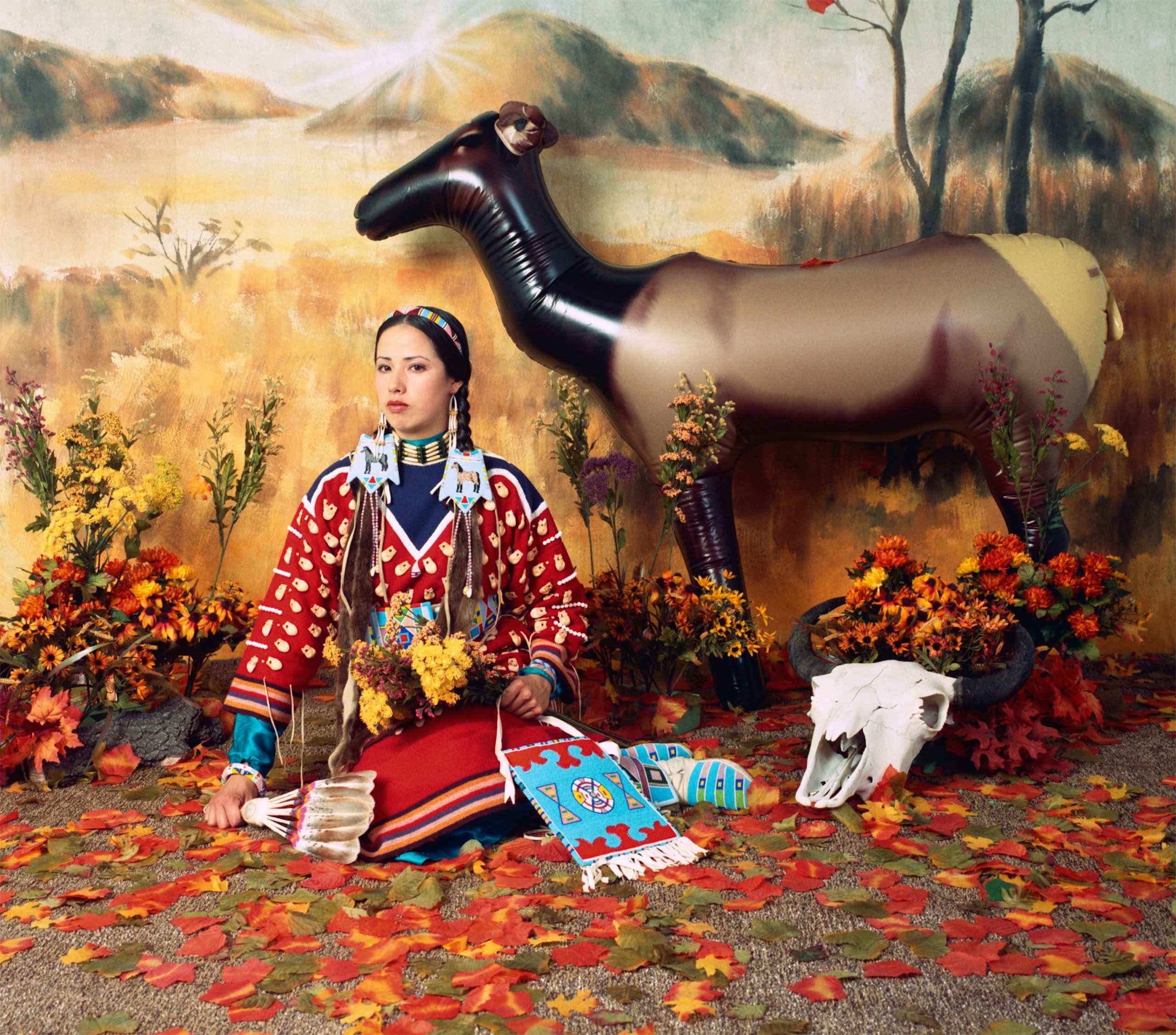 Wendy Red Star, Four Seasons, Fall, 2006, archival pigment print on Sunset Fiber rag, Collection of Art Museum of West Virginia University, Morgantown, WV
"The conqueror has set up an image of what Native peoples are . . .We've lost our individuality as different nations. We are stereotyped into one thing."
— Wendy Red Star
Multimedia artist Wendy Red Star, a member of the Apsáalooke (Crow) tribe, uses humor, primary source imagery, and a research-based practice to challenge harmful stereotypes and myths about land and Indigenous culture prevalent in Hudson River School paintings. Red Star's series Four Seasons features the artist in fabricated landscapes that cycle through spring, summer, fall, and winter. Reflections on the idea of landscapes as constructions, these scenes are made of artificial materials such as Astroturf, inflatable and cardboard animals, plastic flowers, wrinkled fabric backdrops printed with landscape imagery à la National Geographic, and other kitsch props. The artist, however, sits within these fake landscapes wearing an authentic Crow elk tooth dress.
Four Seasons challenges romanticized paintings by Thomas Cole and others that leave out or inaccurately depict Indigenous people as "noble savages" from the past who have "disappeared" along with the mythical "wilderness" of America. By depicting traditional landscapes as subjective constructions, something to laugh at, Four Seasons overturns these false narratives. Furthermore, in centering herself in the picture, Red Star reclaims agency
and the power to self-represent.
WENDY RED STAR (b. 1981) was raised on the Apsáalooke (Crow) reservation in Montana; she now lives and works in Portland, Oregon. She holds a BFA from Montana State University, Bozeman, and an MFA in sculpture from University of California, Los Angeles. Red Star's work is informed both by her cultural heritage and her engagement with many forms of creative expression, including photography, sculpture, video, fiber arts, and performance. An avid researcher of archives and historical narratives, Red Star seeks to incorporate and recast her research, offering new and unexpected perspectives in work that is at once inquisitive, witty, and unsettling. Red Star has exhibited in the United States and abroad at venues including the Metropolitan Museum of Art, New York City and the Brooklyn Museum, NY; Fondation Cartier pour l'Art Contemporain, Paris, France; Portland Art Museum, OR; MASS MoCA, North Adams, MA; Joslyn Art Museum in Omaha, NB; and the Anderson Collection at Stanford University, Stanford, CA, among others. Her work is held in over sixty public collections, including the Museum of Modern Art, New York City; the Amon Carter Museum of American Art, Fort Worth, TX; the Denver Art Museum, CO; and the British Museum, London, UK. She served as a visiting lecturer at Yale University, the Figge Art Museum, the Banff Centre, National Gallery of Victoria in Melbourne, Dartmouth College, CalArts, and IDEA Space. In 2017, Red Star was awarded the Louis Comfort Tiffany Award and in 2018 she received a Smithsonian Artist Research Fellowship. She is represented by Sargent's Daughters in New York City. 
Website
WRAL Artist Spotlight: Wendy Red Star