Sarah Cole: American Artist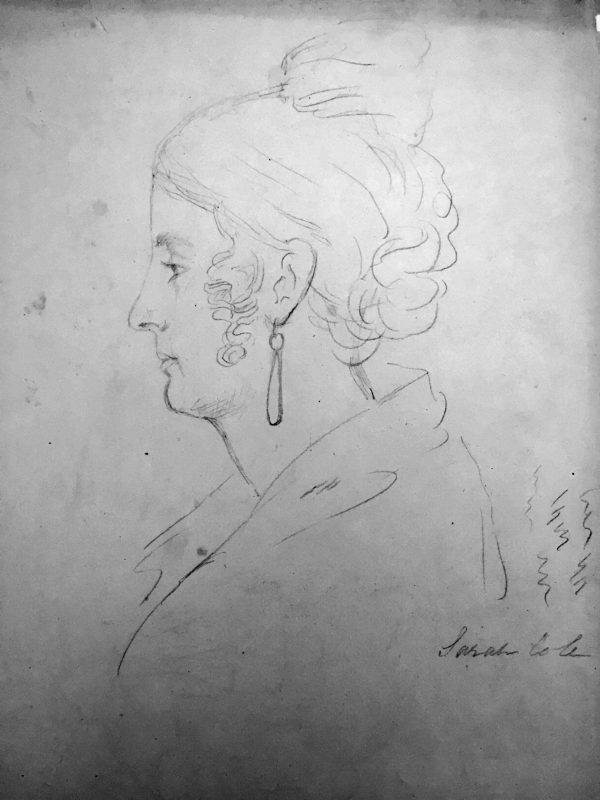 Thomas Cole, Sketch of Sarah Cole, c. 1840, Albany Institute of History & Art, Albany, NY
Biography
Sarah Cole (1805-1857) was an accomplished American artist known for her paintings, etchings, and drawings. Like her brother Thomas, Sarah worked in the earliest years of the Hudson River School movement. She exhibited and sold her work nationally while living periodically at Cedar Grove, the property we know today as the Thomas Cole National Historic Site.
Sarah was born in Bolton-le-Moors, Lancashire, England in the year 1805. She was the youngest of James and Mary Holloway Cole's eight children. From 1810 to 1817, Sarah and her family moved from Bolton to Chorley, Lancashire and eventually settled in Liverpool, a port city with a flourishing trade economy. In Liverpool, Sarah's brother Thomas was hired as an apprentice at an engraving shop. It is possible that Thomas took prints home to share with his siblings, exposing Sarah to an array of engravings, mezzotints, and aquatints. [1]
On July 3, 1818, the Cole family immigrated to the United States as economic migrants. After settling briefly in Pennsylvania, the family relocated to Steubenville, Ohio, where Sarah and her siblings established a "Seminary for Young Ladies." [2] At the seminary, Sarah, Ann, Mary, and Thomas Cole taught students in subjects ranging from arithmetic to piano performance.
In April of 1825, Sarah and her family moved to New York City. At the same time, the city was becoming a hub for culture, commerce, and industry upon the opening of the Erie Canal in 1825. Thomas Cole quickly found success in New York as a landscape painter and established relationships with notable artists and patrons. As a result of Thomas' budding connections and her own proximity to art institutions, Sarah encountered a wealth of contemporary art in New York City. She frequented institutions such as the National Academy of Design, where she saw the paintings of influential artists at the forefront of New York's art market.
Although artist organizations and institutions were still almost completely male-dominated, professional opportunities in the arts were expanding for women in New York City as institutions such as the New York Academy of Design's Antique School began admitting women students. By 1837, Sarah had begun her own painting career and regularly exchanged letters with her brother Thomas about painting subjects and techniques. On January 12, 1837, Sarah wrote to Thomas: "…I have commenced painting, I am painting a little sunset original…" [3] This letter is the first record of Sarah's artistic production, marking the known start of her professional career.
By the time that Sarah wrote to her brother in 1837, Thomas had settled in Catskill. Despite their separation, Sarah and Thomas remained close confidants throughout their lives and exchanged advice on matters of art and life. In 1836, Sarah supported Thomas during a time of doubt about his artistic career, writing with words of encouragement as only a fellow artist could: "…in a little while you will find that the art will return to you, and that you will return to the art with renewed pleasure[.] The lights of this life are like the lights and shadows in your own pictures[:] The one makes the other more beautiful…" [4]
In turn, Thomas promoted Sarah's artistic aspirations by sending her painting manuals and arranging for her to take lessons in etching with artist Asher B. Durand. [5] In March of 1837, Sarah wrote to Thomas: "…I think you had better bring down the copper plates + Etching apparatus when you come + we will talk things over + decide what I had better pursue…" [6] Although none of Sarah's etchings have been located, she was posthumously featured in The Union League Club's 1888 exhibition catalogue, Work of the Women Etchers of America, where she was described as the first woman etcher in the United States. [7]
Over the course of her career, Sarah reproduced numerous paintings by Thomas, likely as part of her artistic training and as a means of producing marketable works of art. In 1848, for instance, Sarah copied Thomas's A View of the Catskill Mountain House (1845-48). In many of her reproductions, Sarah incorporated novel elements or expanded Thomas' sketches into finished oil paintings. In addition to reproducing Thomas' works, Sarah composed original compositions, such as Untitled English Landscape (c. 1846). 
Evident in Sarah's letters to Thomas from 1837 to 1848 are the many domestic and familial duties that distracted her from her artistic pursuits. As a woman living in Victorian society, Sarah was considered primarily responsible for servicing the needs of her family. [8] Outside of family life, Sarah was deeply religious and attended the Protestant Episcopal Church of the Annunciation. Despite a brief courtship from 1836 to 1837, Sarah never married and lived with her family for the rest of her life.
On February 11, 1848, Thomas Cole passed away. His death was a tragedy for his surviving family, and it also stripped Sarah and her family of their primary source of income. When Thomas died, Sarah was living in New York City with her aunt, Lydia. From 1848 onward, Sarah lived periodically with Maria's family in Catskill and with her sister Ann's family in Baltimore.
The first four years after Thomas' death were Sarah's most productive artistically. Most likely, Sarah began to produce and market her artwork with more intensity to support herself and her brother's surviving family in Catskill. Sarah exhibited and sold numerous works from 1848 to 1852 at the American Art-Union and the National Academy of Design in New York City, as well as the Western Art Union in Cincinnati and the Maryland Historical Society in Baltimore. 
For unknown reasons, Sarah Cole stopped exhibiting her artwork publicly in 1852. It is possible that her sales were no longer satisfactory, or that she was shifting her attention towards other projects. Very likely, Sarah continued to produce artwork after 1852, and she certainly maintained a keen interest in contemporary art and exhibitions.
Sarah Cole passed away in Catskill on January 6, 1857 at the age of 52. Her nephew Theddy recorded in his journal the next day: "Last night Aunt Sarah was taken away from us…She has been very low for a week past…Her death was very quiet and peaceful passing away with scarcely a struggle." [9] Sarah's funeral was held the next evening and she was buried in Catskill. Her grave stands today in Catskill Town Cemetery, marking her life and lasting legacy at Cedar Grove.
Footnotes
[1] Tim Barringer, "Thomas Cole's Atlantic Crossings," in Thomas Cole's Journey: Atlantic Crossings, ed. Elizabeth Mankin Kornhauser and Tim Barringer (New York: The Metropolitan Museum of Art, 2018), 23.
[2] "Seminary for Young Ladies," Western Herald & Steubenville Gazette XIII, no. 5 (Saturday, January 29, 1820), transcription, Parry Archive, Binder 1, Thomas Cole Archive 1801-1829, Thomas Cole National Historic Site, Catskill, NY.
[3] Letter from W.H. Bayless and Sarah Cole to Thomas Cole, January 10 and 12, 1837, I/1/5, Thomas Cole Collection, CV 553, Albany Institute of History & Art Library, Albany, NY.
[4] Letter from Sarah Cole to Thomas Cole, July 3, 1836, Box 4, Folder 1, New York State Library, Albany, NY.
[5] Letter from Thomas Cole to Asher B. Durand, December 11, 1837, Box 1, Folder 3, New York State Library, Albany, NY; Letter from Thomas Cole to Asher B. Durand, December 18, 1839, Box 1, Folder 4, New York State Library, Albany, NY.
[6] Letter from Sarah Cole to Thomas Cole, March 15, 1837, Box 4, Folder 1, New York State Library, Albany, NY.
[7] The Union League Club and Mariana Griswold Van Rensselaer (Mrs. Schuyler Van Rensselaer), Exhibition Catalogue of the Work of the Women Etchers of America (New York: The De Vinne Press, 1888), published in conjunction with the exhibition, Work of the Women Etchers of America at The Union League Club, New York, NY, April 12-21, 1888, digital edition, Google Books.
[8] Betty J. Blum, "Copyists After Thomas Cole" (unpublished manuscript, June 6, 1983), Parry Archive, Box 9, Folder 32, Thomas Cole National Historic Site, Catskill, NY, 13.
[9] Theodore A. Cole, journal entry from January 7, 1857, transcription, Vedder Research Library, Coxsackie, NY, accessed in Thomas Cole National Historic Site Shared Drive May 8, 2023.
Artwork by or attributed to Sarah Cole
Works with Known Images and/or Locations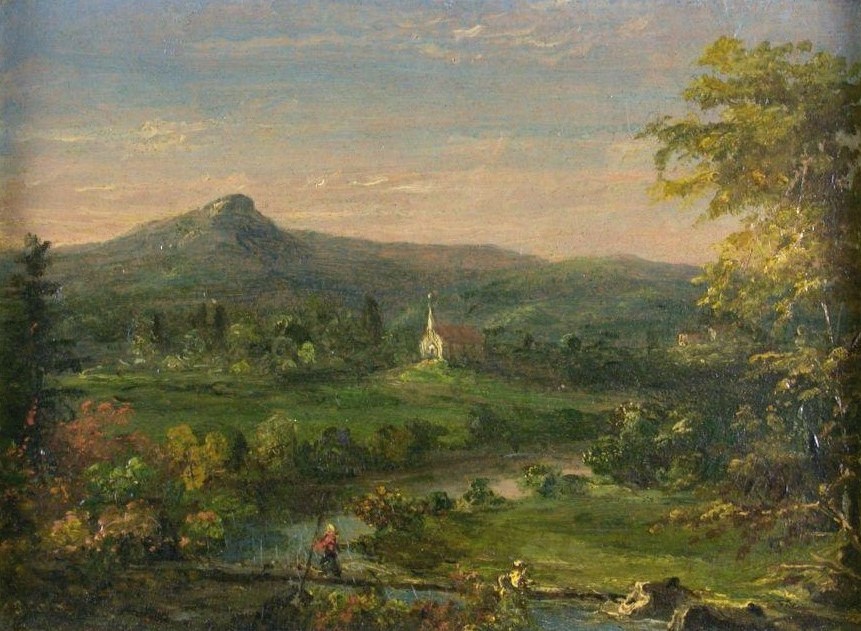 Sarah Cole, Landscape with Church, 1846, oil on board, 10 1/8 × 13 1/4 in., Thomas Cole National Historic Site, Catskill, NY, Gift of Lynne Hill Bohnsack, TC.1999.1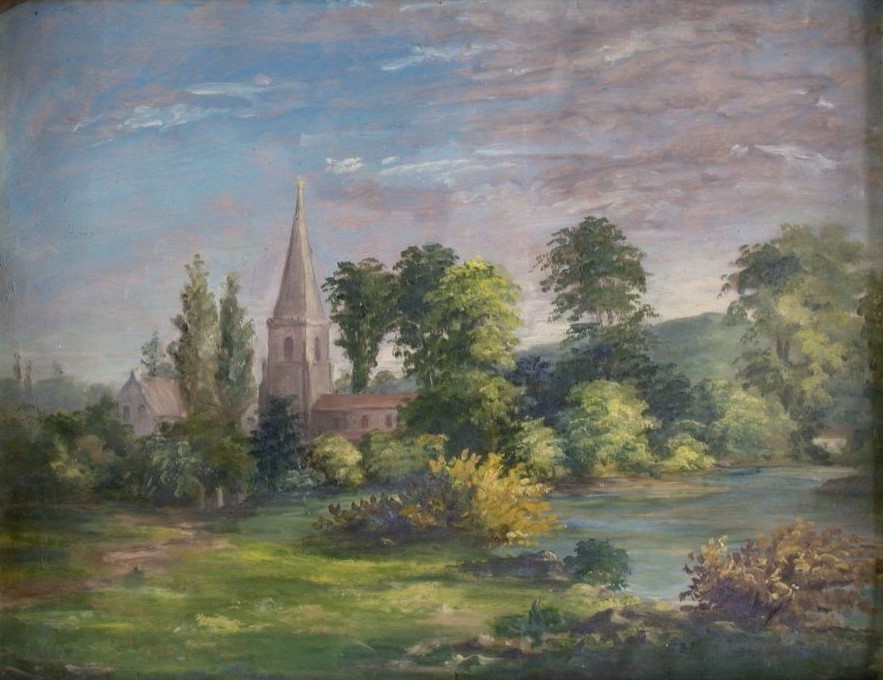 Sarah Cole, Duffield Church, c. 1846, oil on paper, 10 1/8 x 13 1/4 in., Thomas Cole National Historic Site, Catskill NY, TC.1999.2.2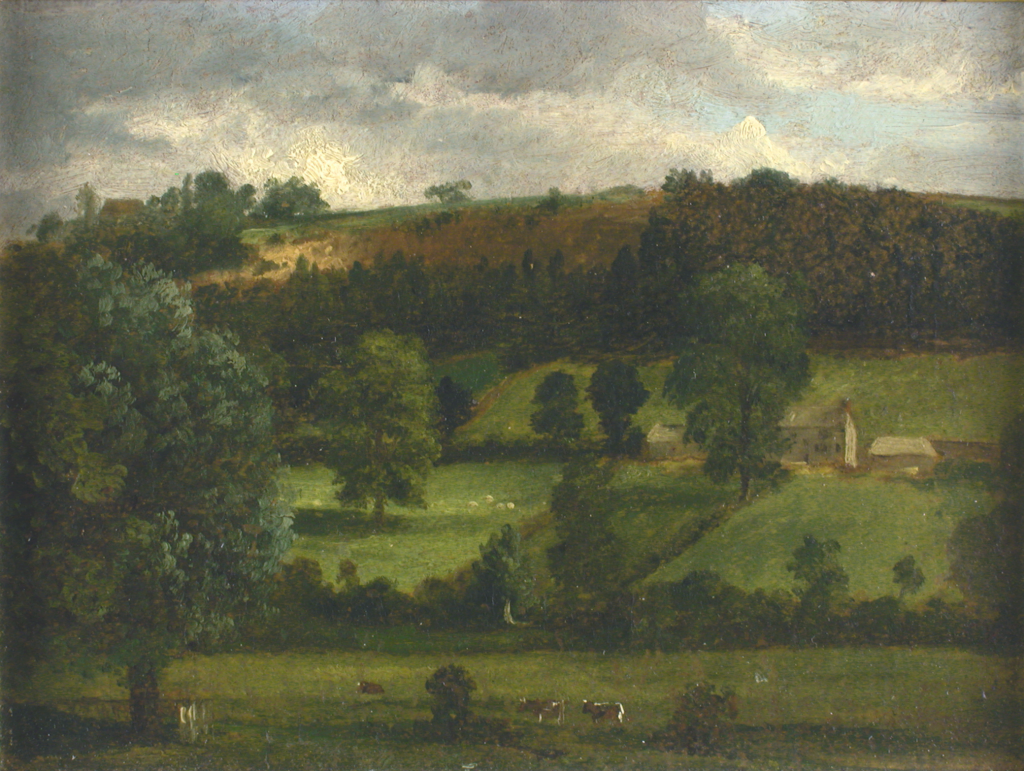 Sarah Cole, Untitled English Landscape, c. 1846, oil on board, 13 1/8 x 15 in., Thomas Cole National Historic Site, Catskill, NY, Gift of Edith Cole Silberstein, TC.1999.2.1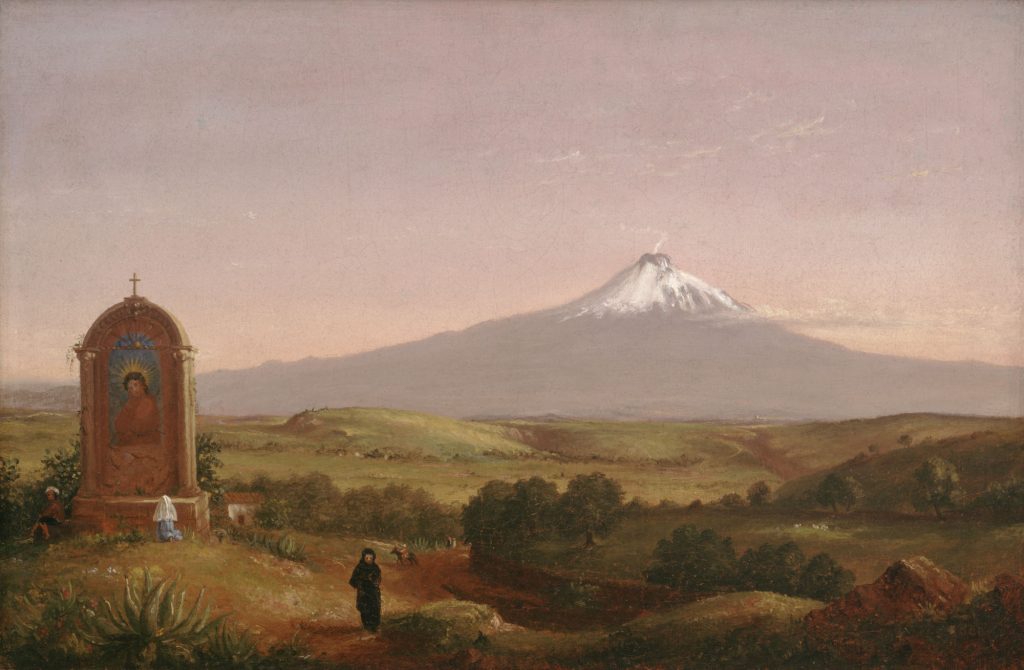 Sarah Cole, Mt. Aetna, 1846-52, oil on canvas, 11 1/2 x 17 1/2 in., Albany Institute of History & Art, Albany, NY, Albany Institute of History & Art Purchase, 1964.41. Image source: Albany Institute of History & Art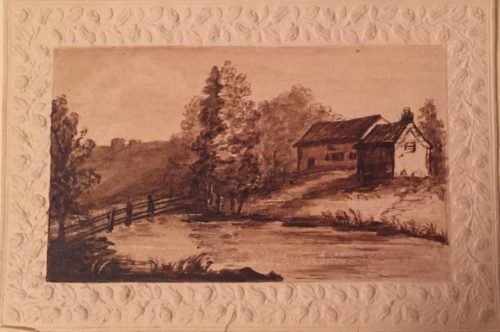 S.C. and E.C. (possibly Sarah Cole with Emma Chapman), Untitled, after 1847, ink on embossed border paper, Thomas Cole National Historic Site, Catskill, NY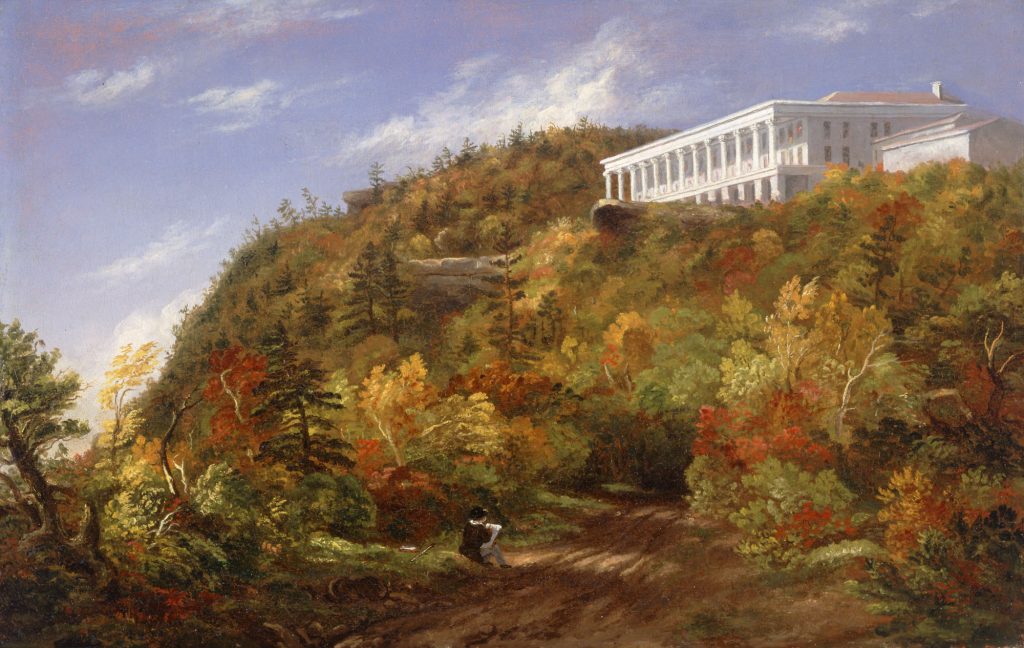 Sarah Cole, A View of the Catskill Mountain House, 1848, oil on canvas, 15 1/3 x 23 3/8 in., Albany Institute of History & Art, Albany, NY, Albany Institute of History & Art Purchase, 1964.40. Image source: Albany Institute of History & Art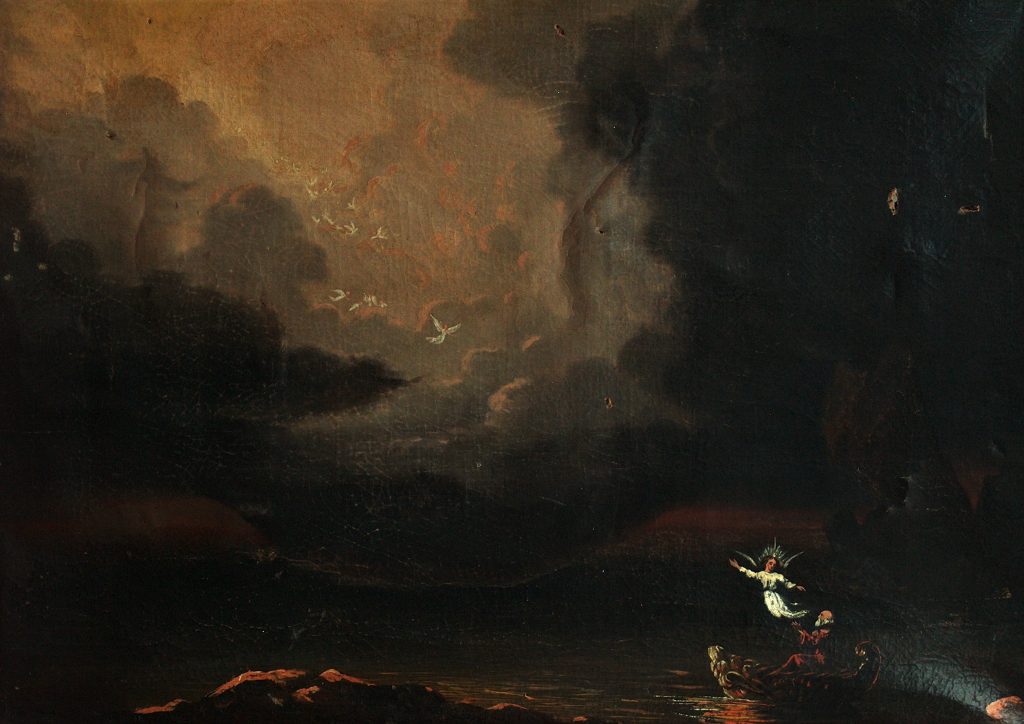 Attributed to Sarah Cole, Voyage of Life: Old Age (After Thomas Cole), 1848, oil on canvas, 16 x 24 in. framed, Thomas Cole National Historic Site, Catskill, NY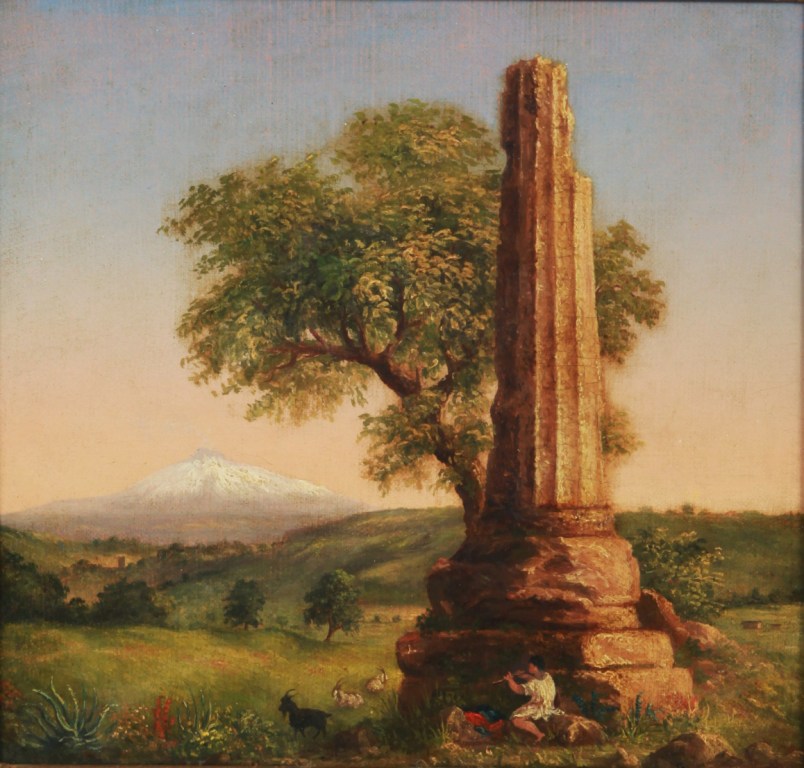 Sarah Cole, Ancient Column Near Syracuse, c. 1848, oil on canvas, 11 7/8 x 11 7/8 in., Neville-Strass Collection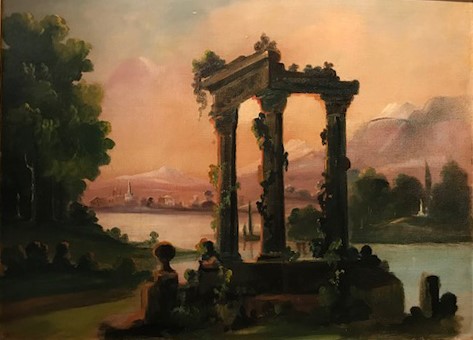 Sarah Cole, A Village in Arcady, c. 1848-52, oil on board, 14 3/8 x 19 ½ in., Collection of Elliot J. Sussman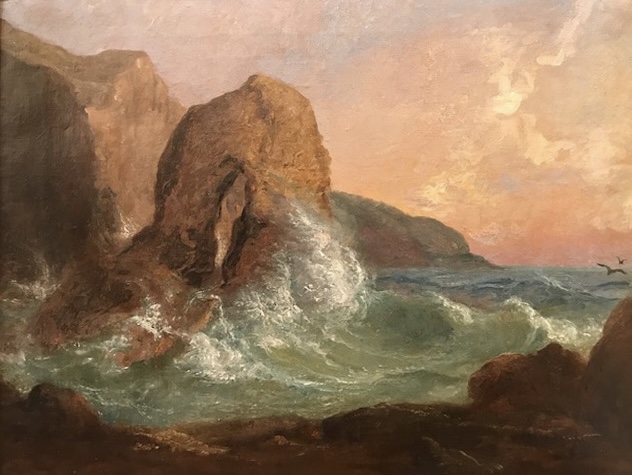 Attributed to Sarah Cole, Untitled Seascape, c. 1848-52, oil on canvas, 22 x 27 in., Collection of Elliot J. Sussman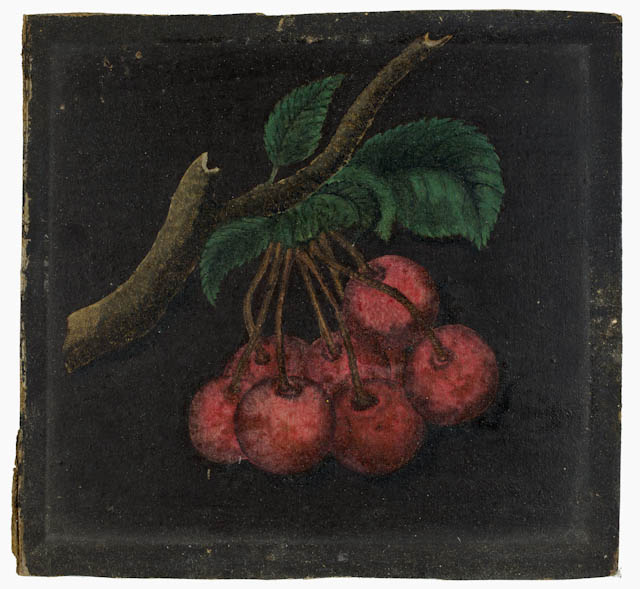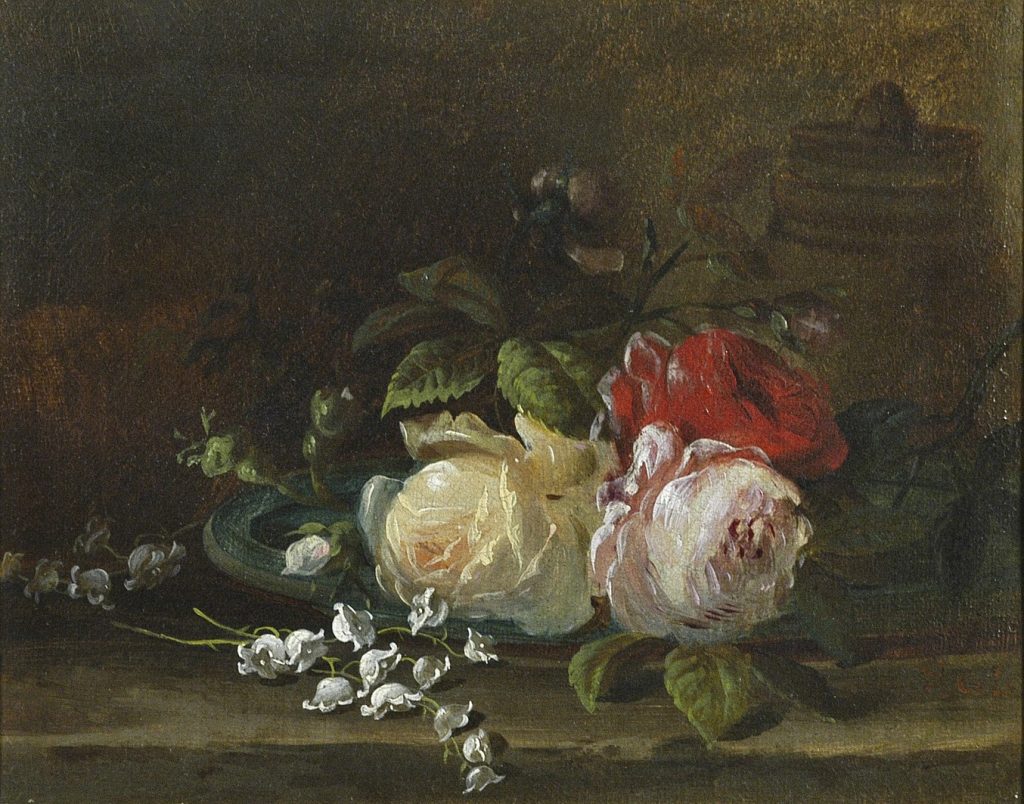 Attributed to Sarah Cole, Freshly Picked, n.d., oil on canvas, 8 x 10 in., location unknown. Image source: Clarke Gallery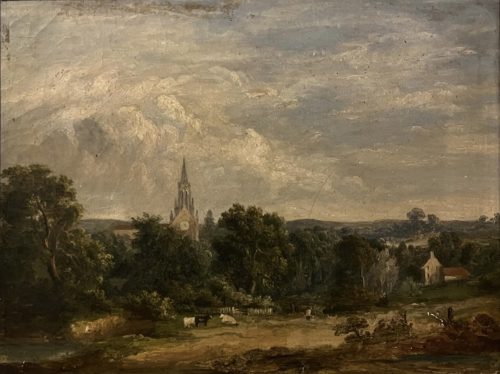 Attributed to Sarah Cole, Landscape with Duffield Church, n.d., Collection of Van Loan Family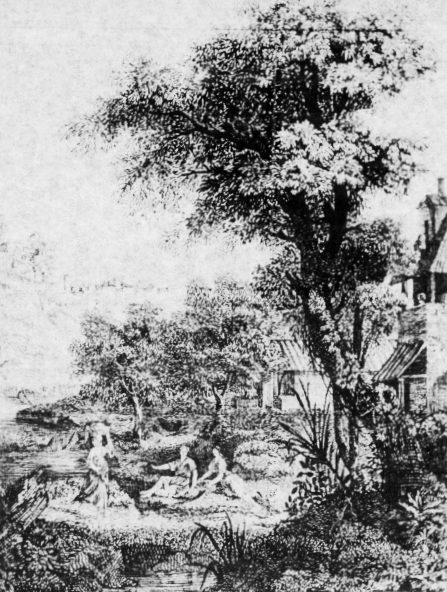 Sarah Cole, Untitled (copy after Jean Mathieu, after Gaspard Dughet (called Poussin), Vue d'une partie du Lac de Trasime?ne (detail), late 18th century, copper engraving, 16 15/16 x 20 14/16 in.), n.d., pen and brown ink on paper, 15 x 11 5/16 in., Detroit Institute of Arts, Detroit Michigan; Smithsonian Archives of American Art, microfilm reel N582, fr 120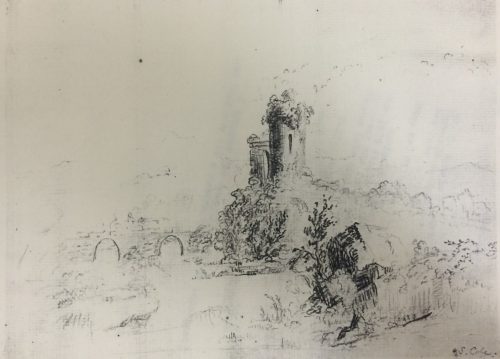 Sarah Cole, Untitled (Italian Scenery), n.d., pencil on paper, size unknown, Albany Institute of History & Art, Albany, NY, Thomas Cole Papers, CV 553, Box 3, Folder 4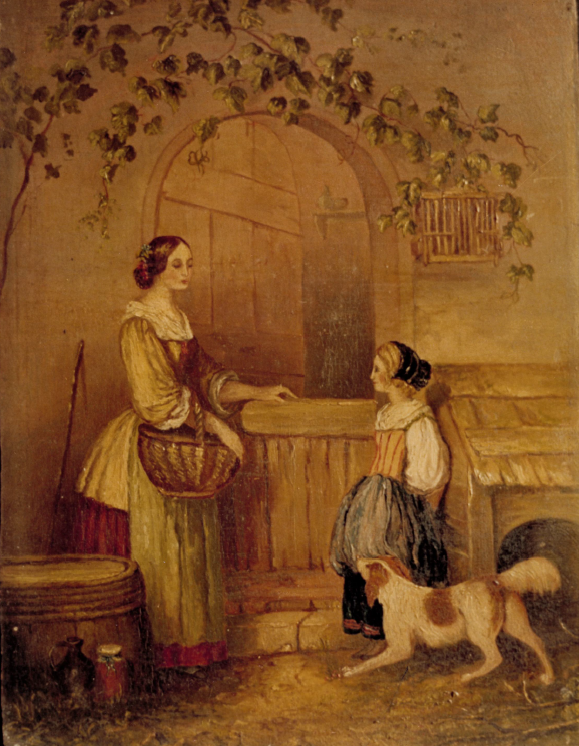 Sarah Cole, Untitled Genre Scene, n.d., oil on wood panel, 13 x 10 in., Collection of George and Anne Rigdon
Works with Unknown Images and Locations
Listed in bulletins, exhibition catalogues, and inventories
Sarah Cole, proofs of plates, etched in 1844, location unknown
Sarah Cole, The Mill Stream, c. 1848, location unknown
Sarah Cole, The Quiet Nook, c. 1848, location unknown
Sarah Cole, Autumn,—American Scenery, c. 1849, location unknown
Sarah Cole, American Scenery, Summer, c. 1849, location unknown
Sarah Cole, Landscape—Composition, c. 1849, location unknown
Sarah Cole, View on the Tiber (copy after Thomas Cole), c. 1849, location unknown
Sarah Cole, Genevieve (copy after Thomas Cole), 1852, oil, 19 x 15 in., location unknown
Attributed to Sarah M. Cole, Mountain Lake (one of a pair), May 1862, oil, 15 ¾ x 20 in. (oval), location unknown
Attributed to Sarah M. Cole, Fishing in a Mountain Lake (one of a pair), June 1862, oil, location unknown
Sarah Cole, Catskill Mountain Scene, n.d., oil, 15 x 19 in. (oval), location unknown
Sarah Cole, Fishing in the Catskill Mountains, n.d., oil, 15 x 19 in. (oval), location unknown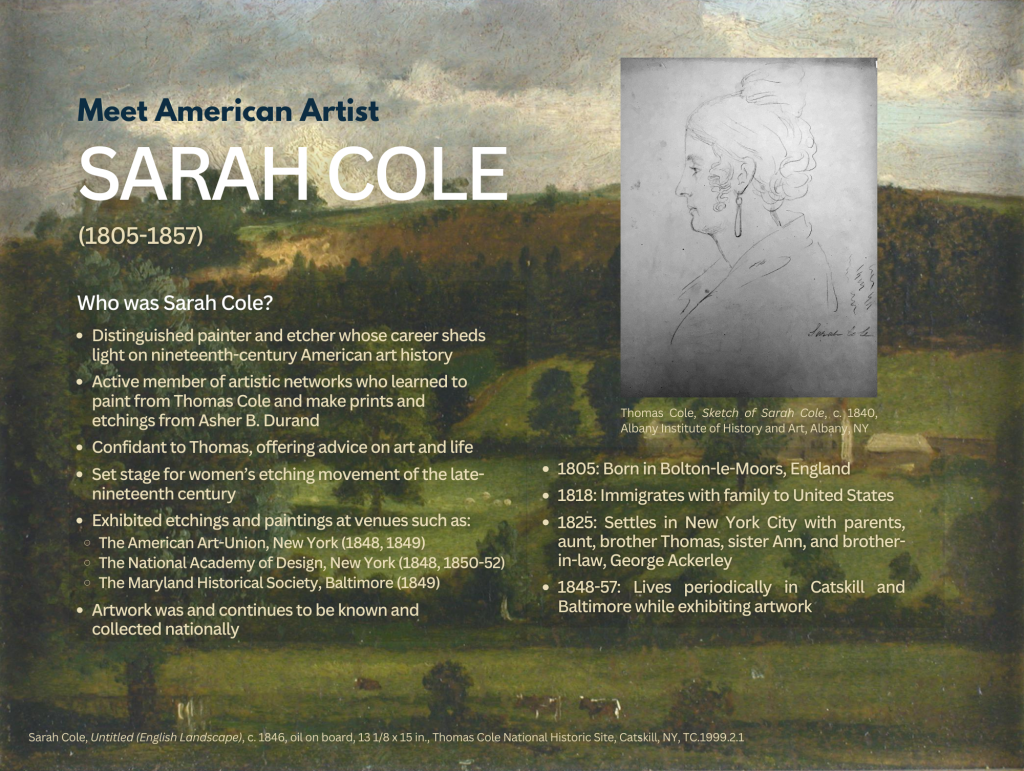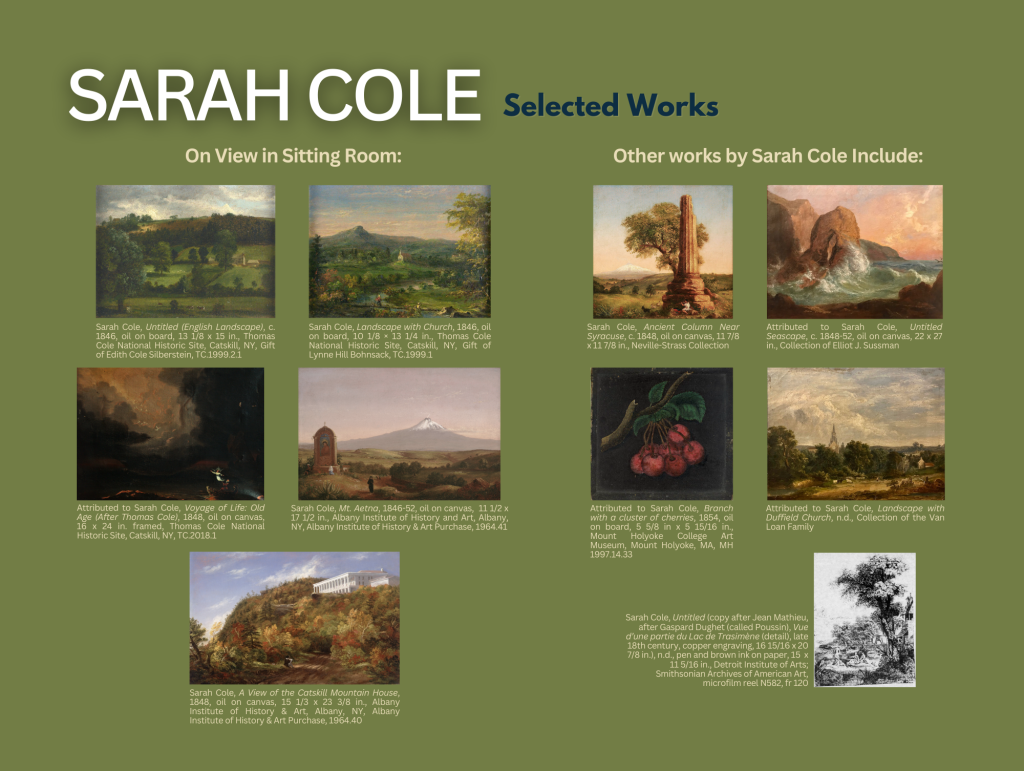 Sarah Cole: American Artist