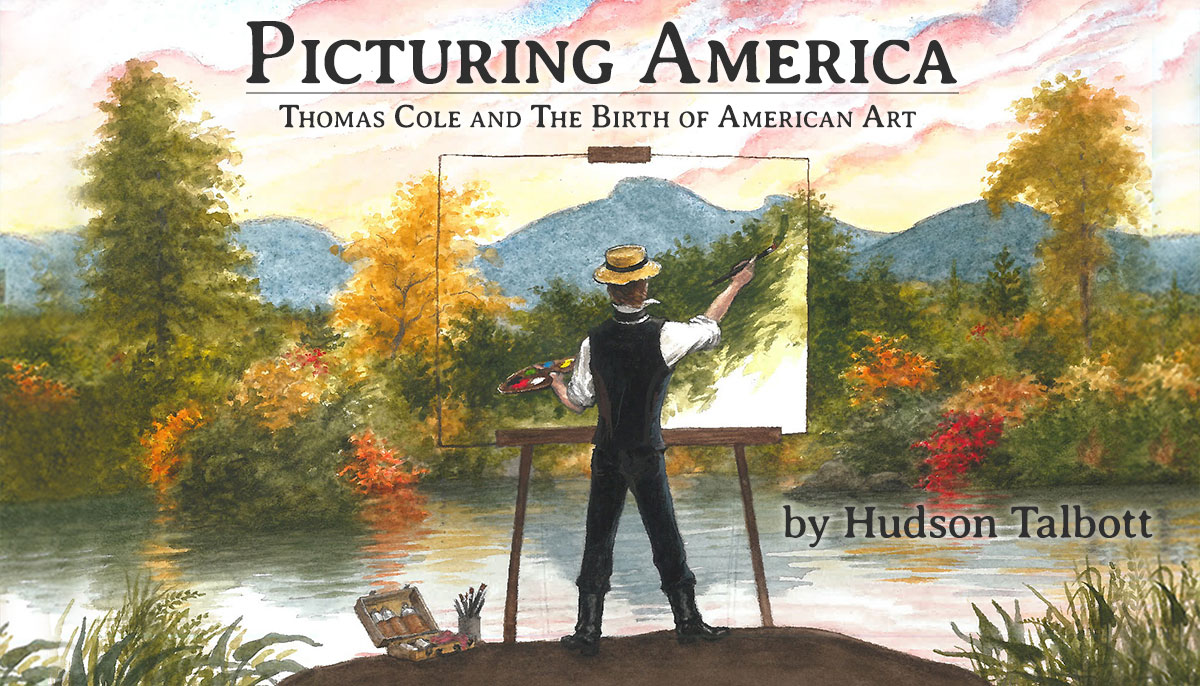 Thomas Cole loved to roam the English countryside with his sister Sarah. Their homeland was a beautiful patchwork of farms and fields. But England was changing.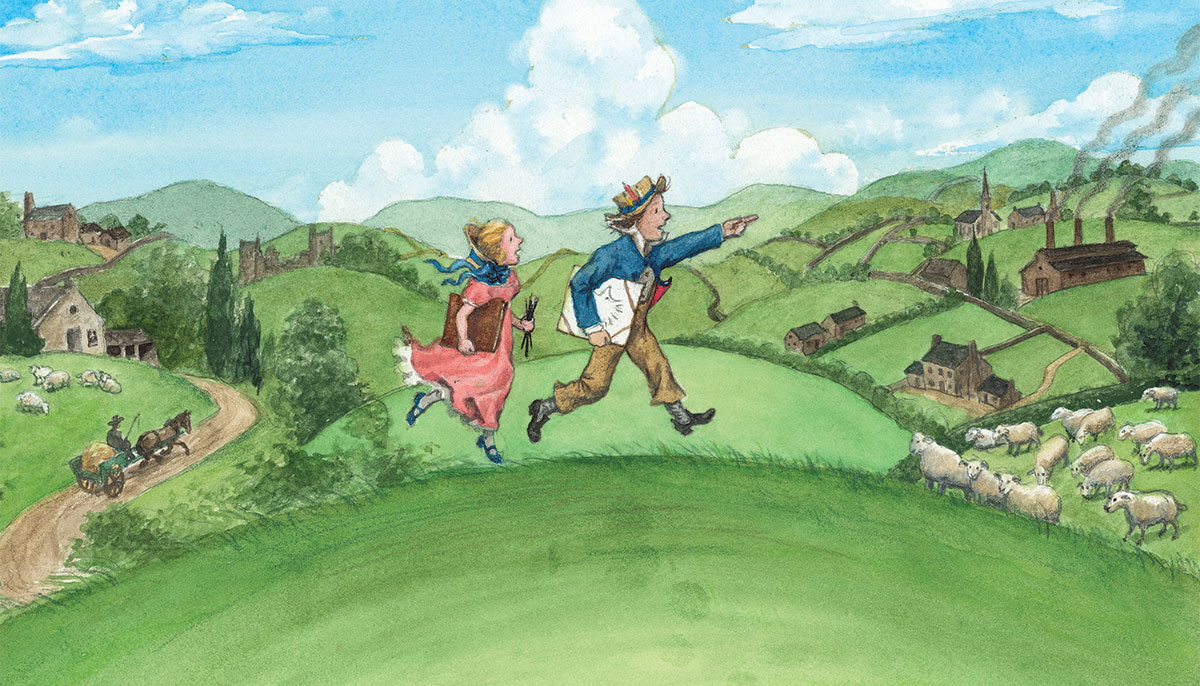 The change was called the Industrial Revolution. Large factories were spreading across England, replacing the small family-run businesses. The Coles' little wool business suffered. Thomas was pulled out of school and put to work printing patterns on fabric. Life in England grew hard for the Coles. They decided to try their luck in America.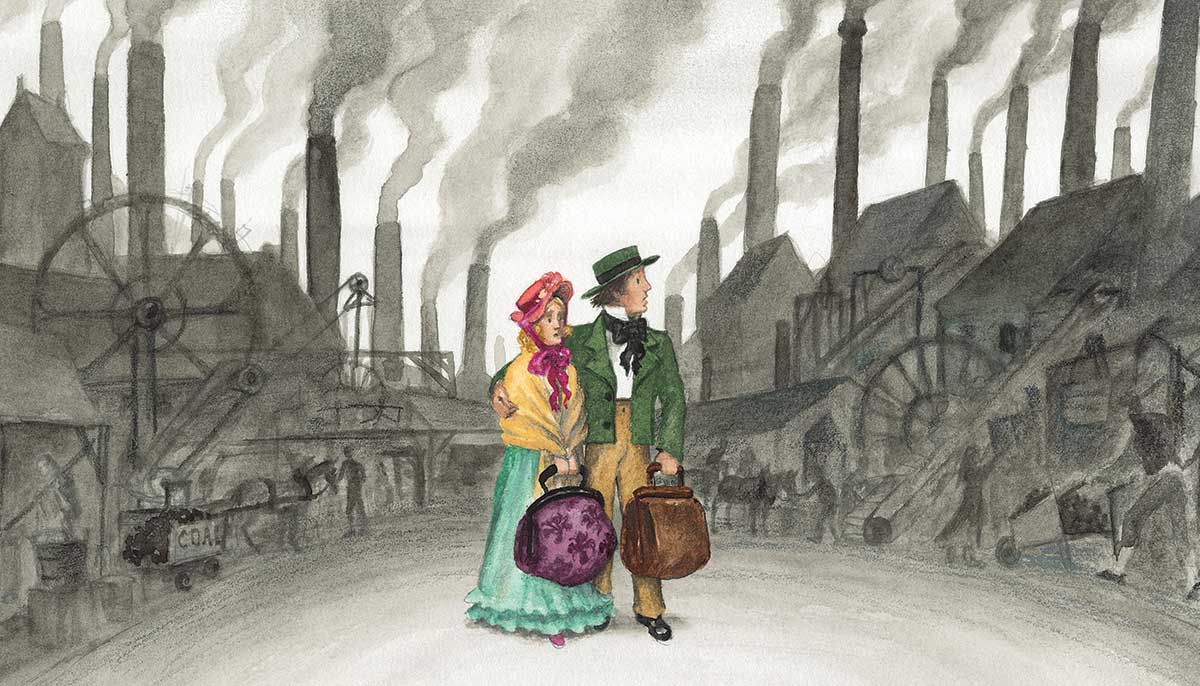 The Coles arrived in America in the summer of 1818. They started a business of printing fabric and wallpaper. Thomas helped to design them, for he was skilled at drawing.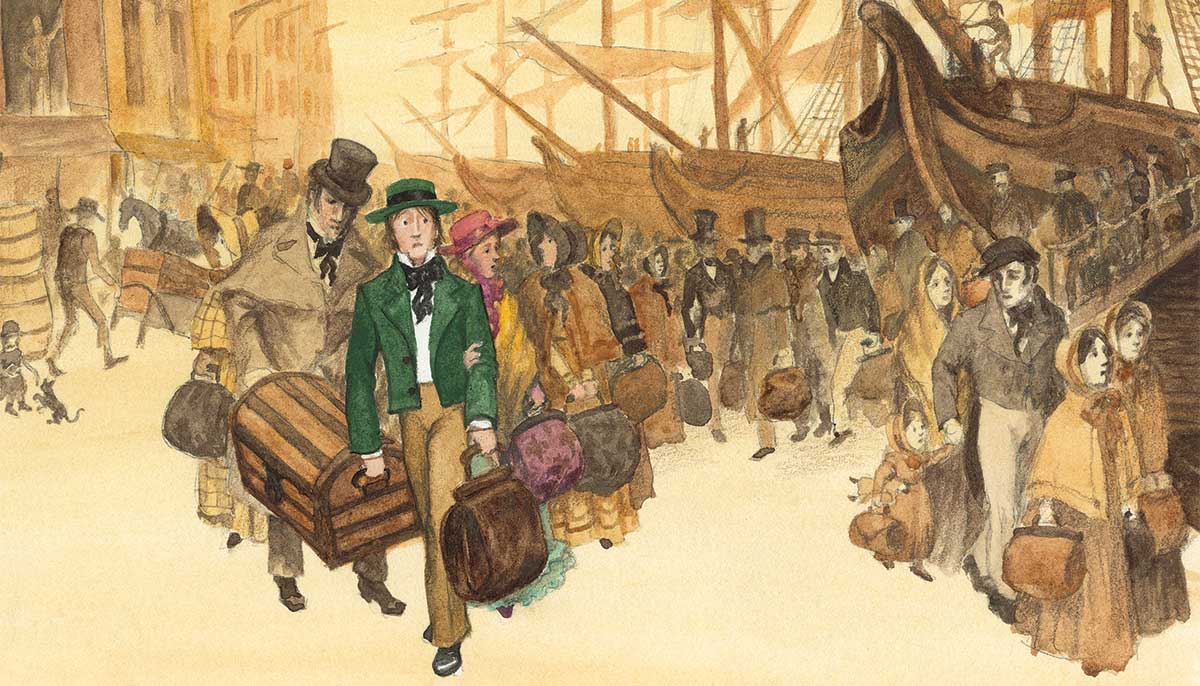 By chance, a traveling artist came through town and showed Thomas a book about art, and how to use oil paints. Suddenly Thomas knew what he wanted to do for the rest of his life! He set out on foot to find his way as an artist.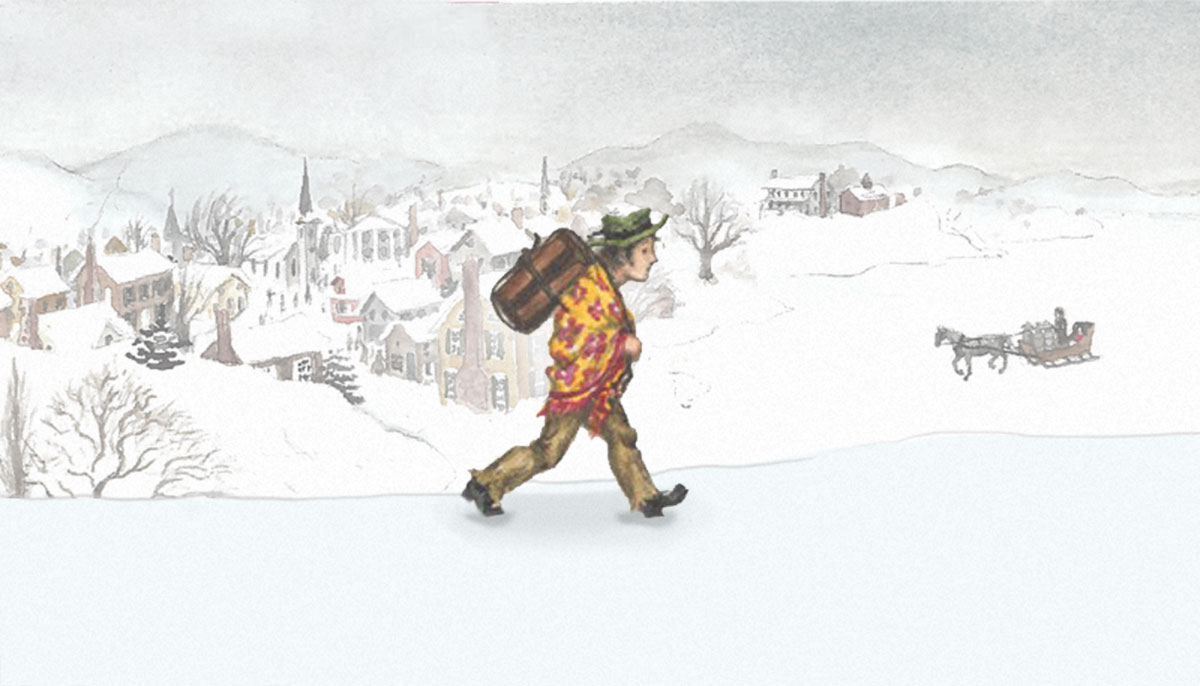 By 1825, Thomas had found his way to New York City where he boarded a boat heading up the Hudson River to the beautiful Catskill Mountains. That journey changed Thomas's life. He filled his sketchbook with drawings of the rocky cliffs, twisted trees and high waterfalls, and his vision of the American wilderness took shape.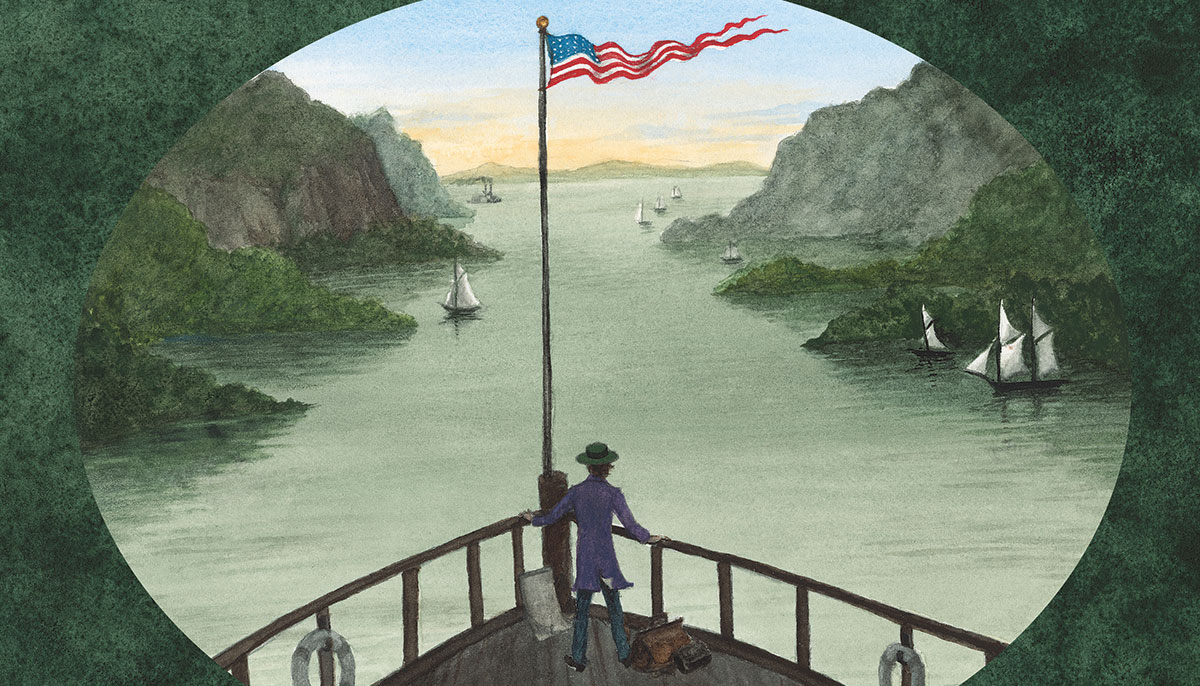 Then Thomas got a lucky break. A shopkeeper in New York hung three of Thomas' paintings in a shop window. A famous artist named John Trumbull saw them and exclaimed "This youth has done what I cannot do after 50 years' practice!" Suddenly, Thomas was discovered by the art world!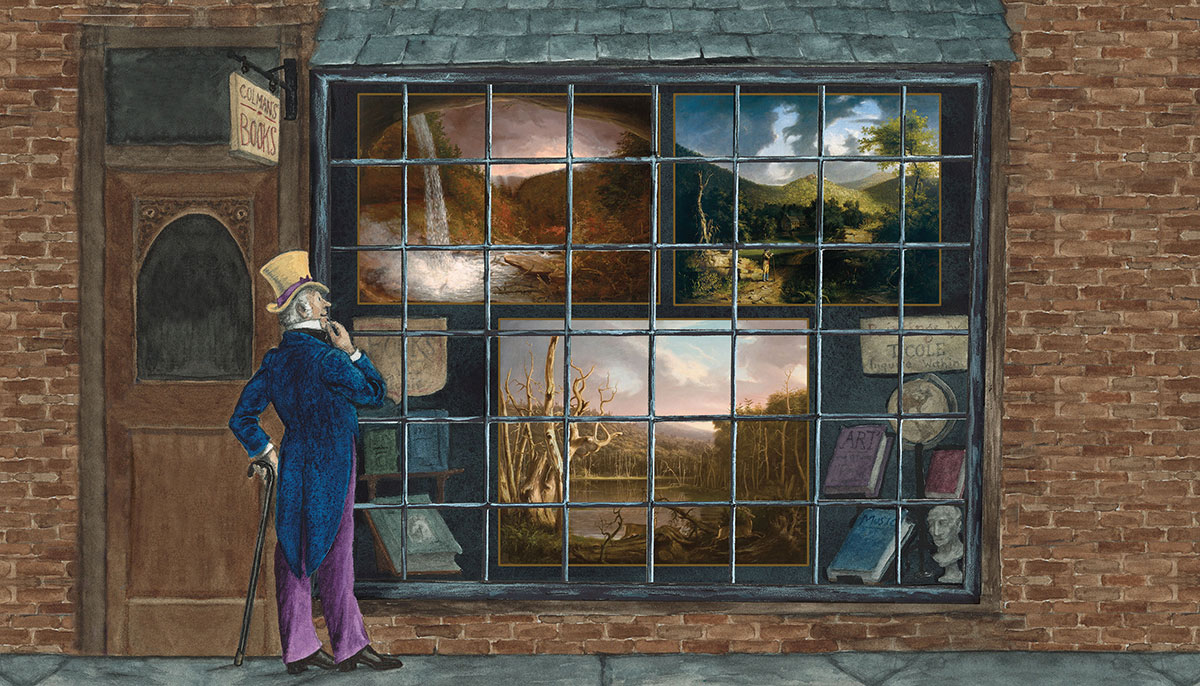 Thomas's work was quickly added to the major art exhibitions that year. People were astounded by the dramatic natural beauty that he captured on canvas. The wilderness had often been viewed fearfully. Now it was being celebrated. Thomas's landscapes gave Americans a source of pride in their beautiful land.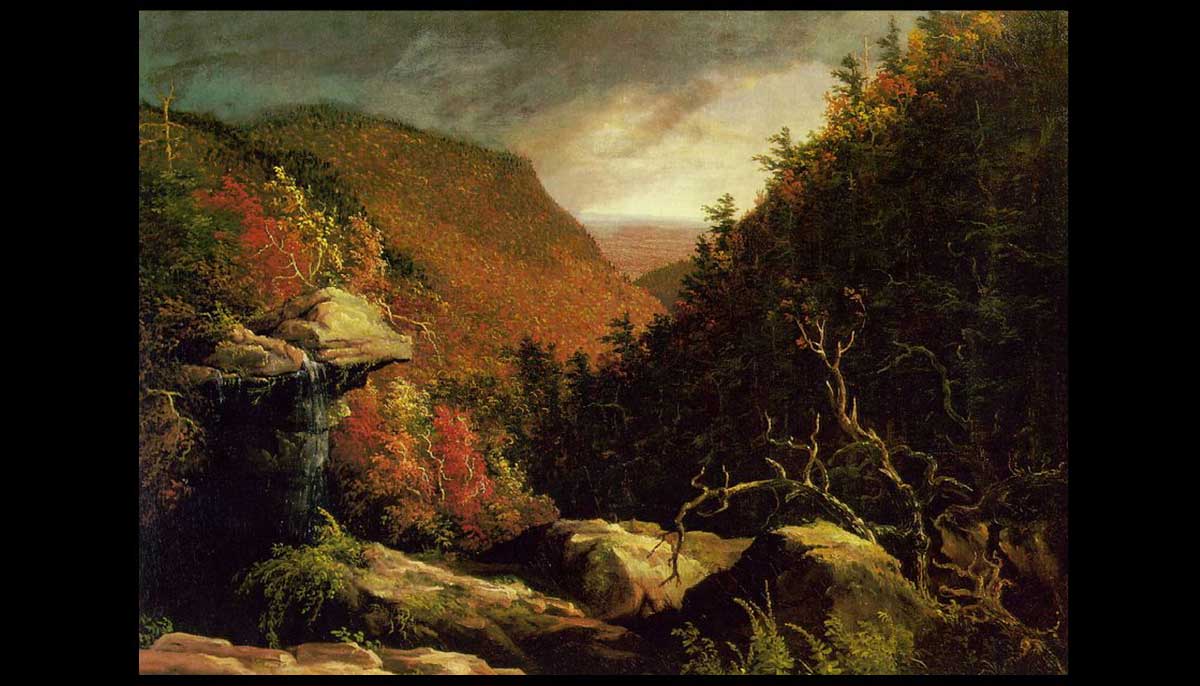 Thomas Cole, The Clove, Catskills, 1827. New Britain Museum of American Art

But despite his great success, Thomas wanted to improve himself. He went to Europe where he studied the great art of the past and learned from famous living artists. By the time he left, he knew he had much more to say.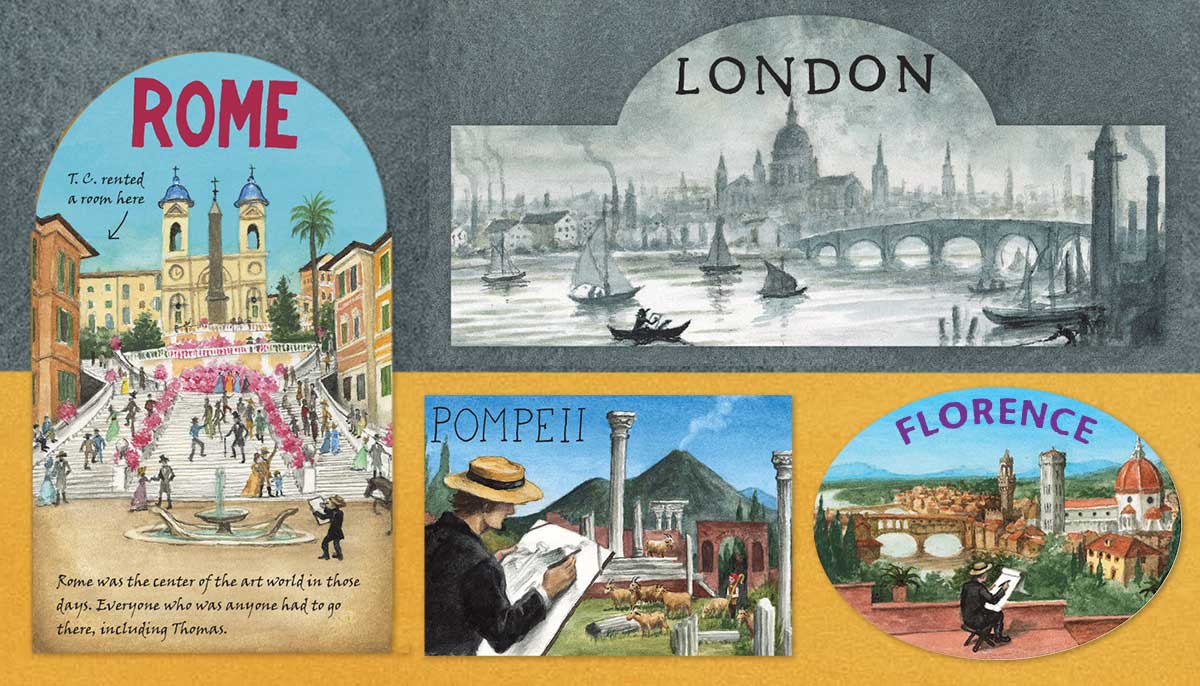 When Thomas returned to America he was distressed to see how much of the natural landscape was being eaten up by industry, just as it had in England. He wanted to warn people of the dangers of greed, and came up with an idea that would show it.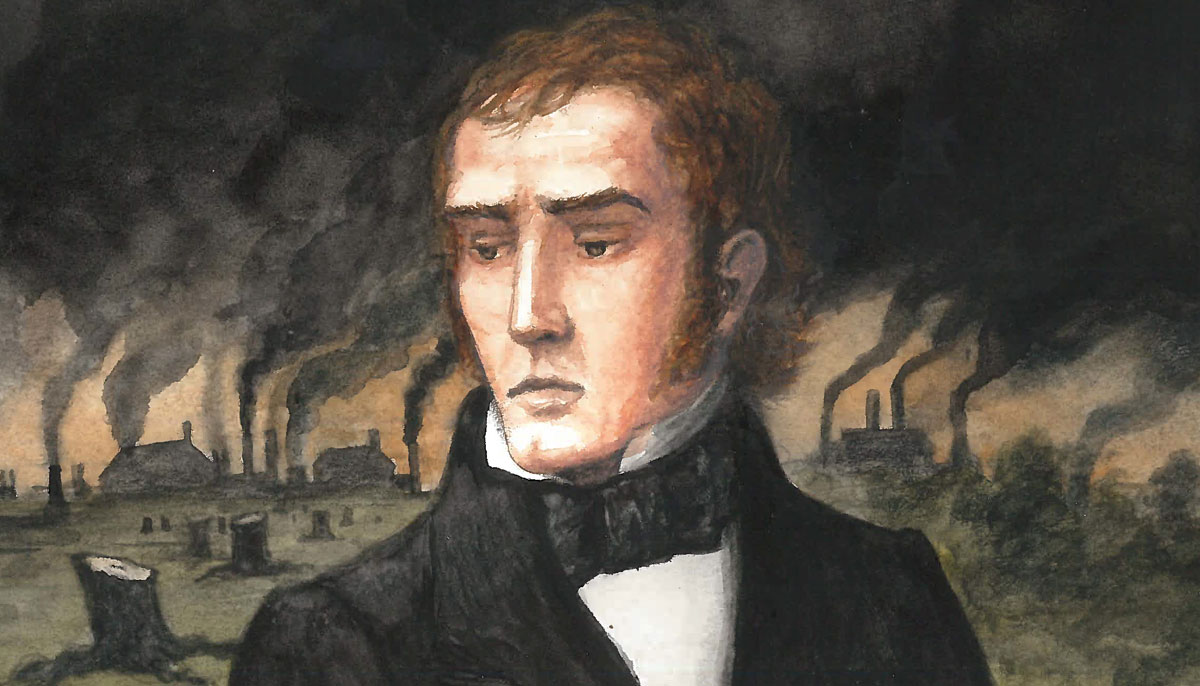 It was a series of paintings showing the rise and fall of a powerful empire of the past. But to many it represented the industrial empire that America was now creating. He called it "The Course of Empire." It caused a sensation!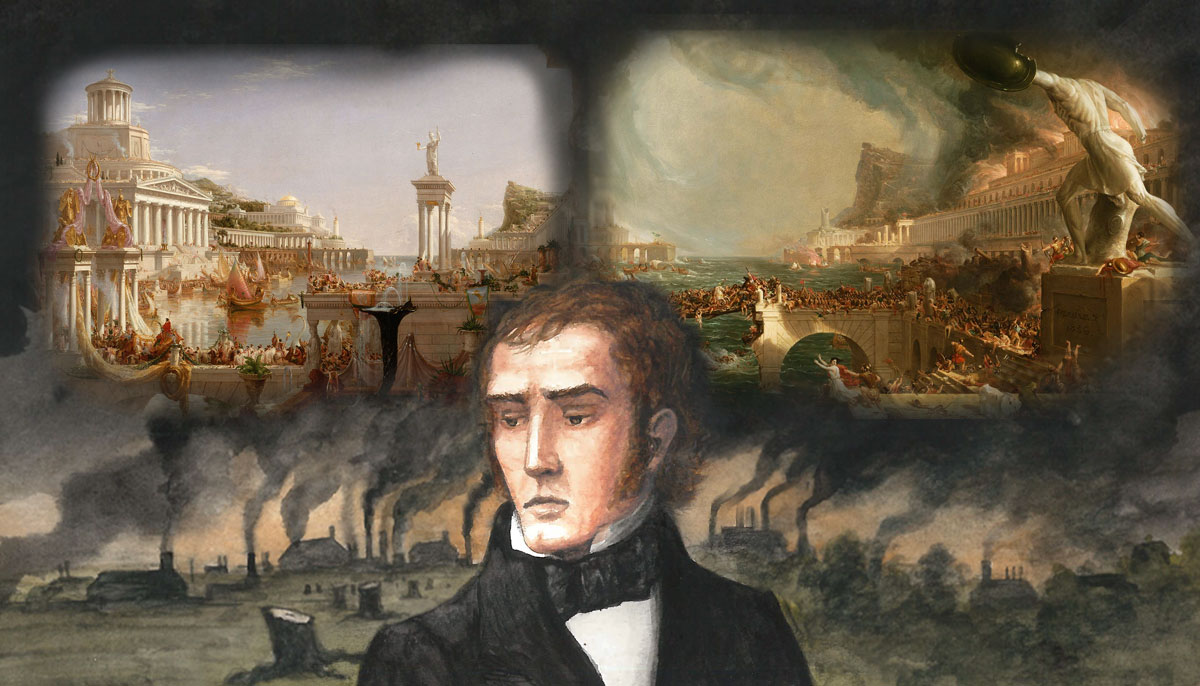 Thomas was now the most famous artist working in America. He still loved to go to the Hudson Valley, where he kept a studio on a farm near Catskill Village. It was there that he met Maria Bartow, who soon became his wife. The couple's home was filled with many family members, visitors and friends. Among them were the artists Asher Durand and Frederic Church, both of whom followed in Thomas's footsteps of landscape painting.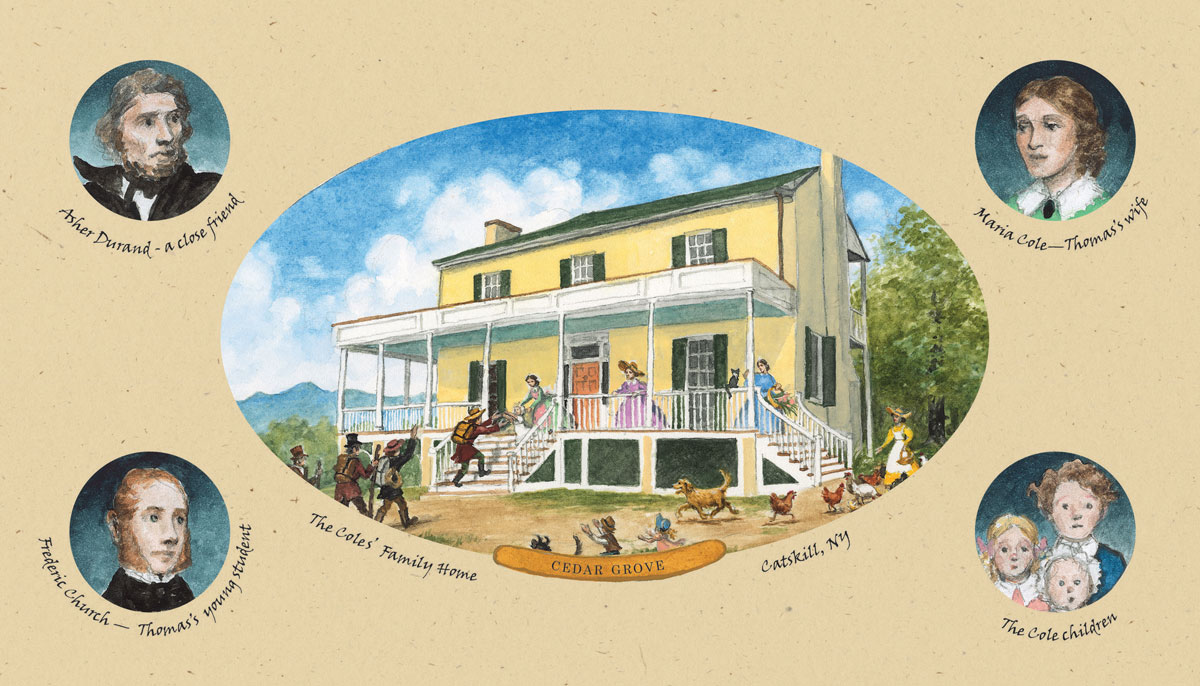 In fact, Thomas inspired many artists to follow him in expressing the beauty of the American landscape. The movement was later known as the Hudson River School of painting and became the most popular style of its time. It was the first major art movement born in America. But Thomas's influence went beyond art.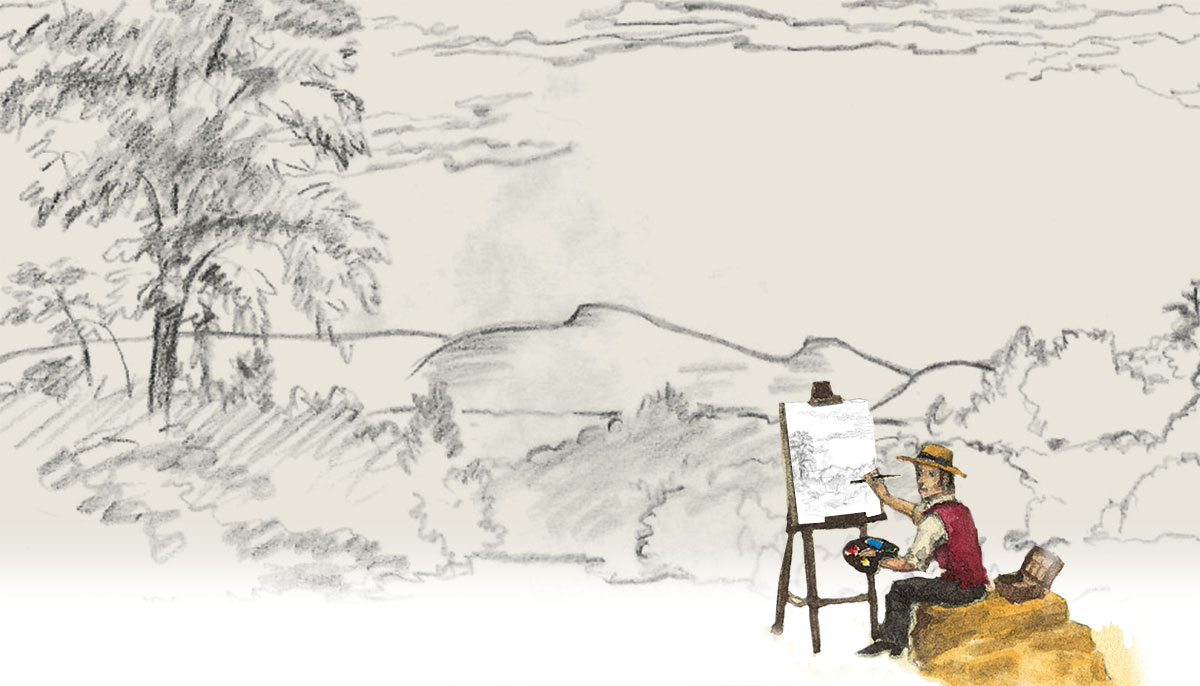 Americans eventually understood his message of valuing nature and began taking steps to preserve it while there was still time. Because of that we now have our national park system, laws against pollution and a strong environmental movement that continues to fight for our forests, our air, water, and wildlife. But Thomas's greatest gift to us was his perspective on his adopted homeland. From his immigrant's point of view, he showed us how to picture . . .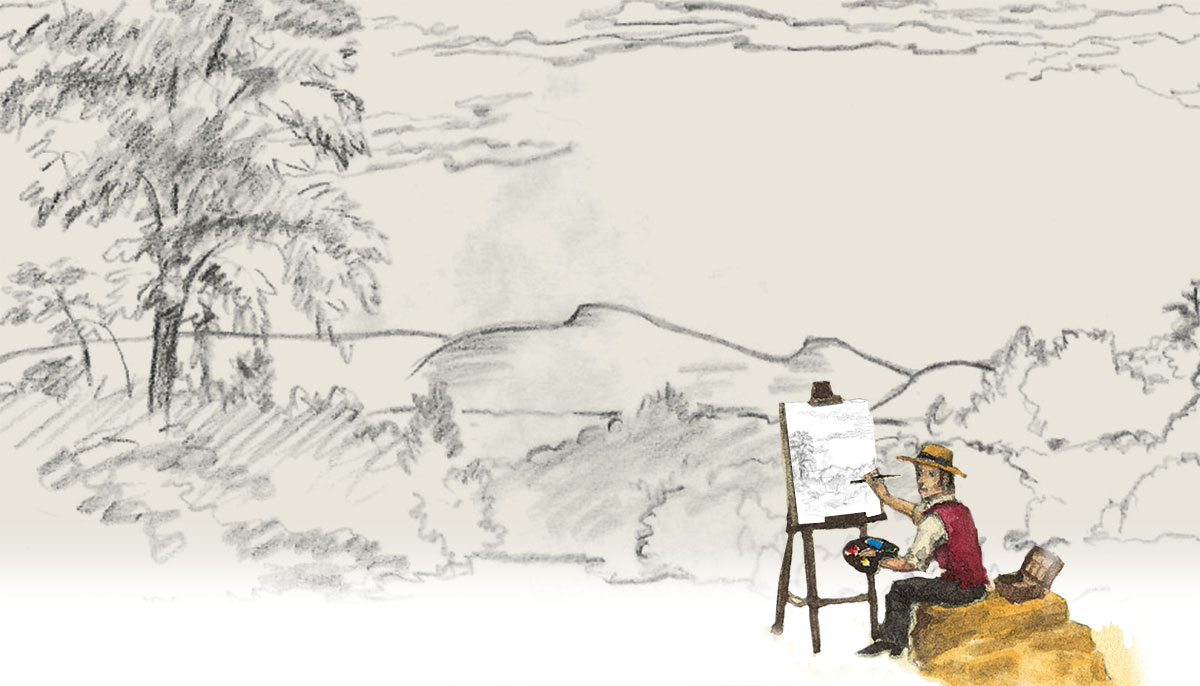 . . . America, the beautiful.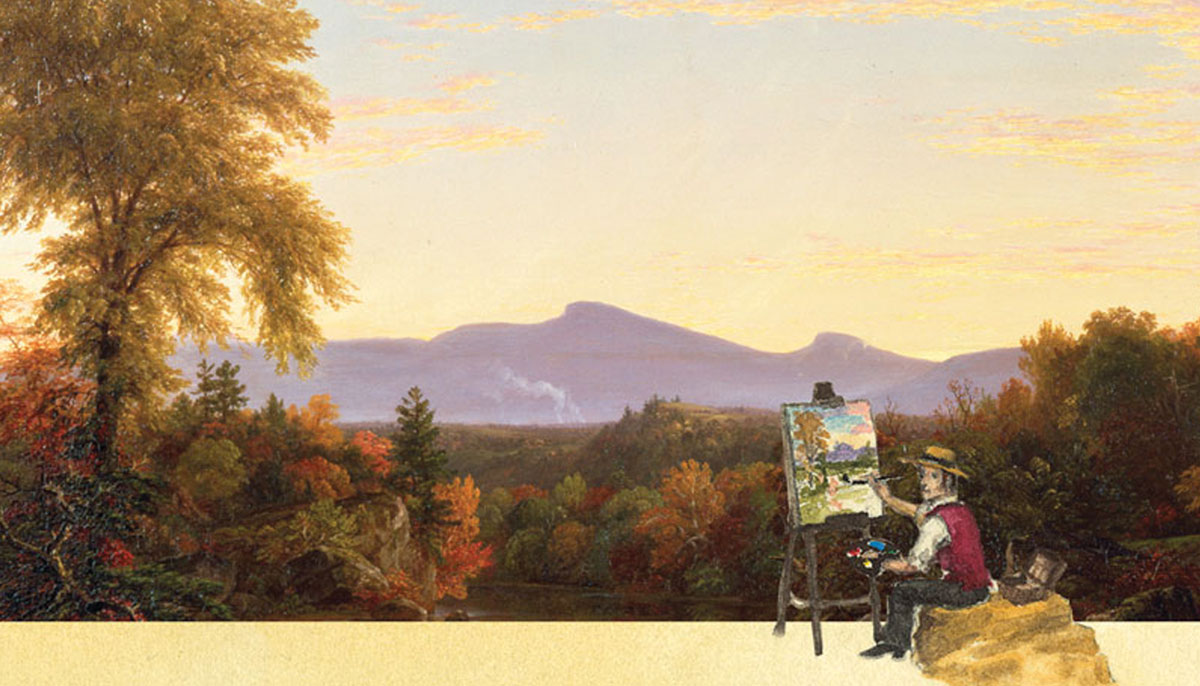 You, too, can visit the beautiful places
that inspired Thomas. Plan your visit to the
Thomas Cole National Historic Site.
You can see 144 of Thomas' paintings and learn more about them here.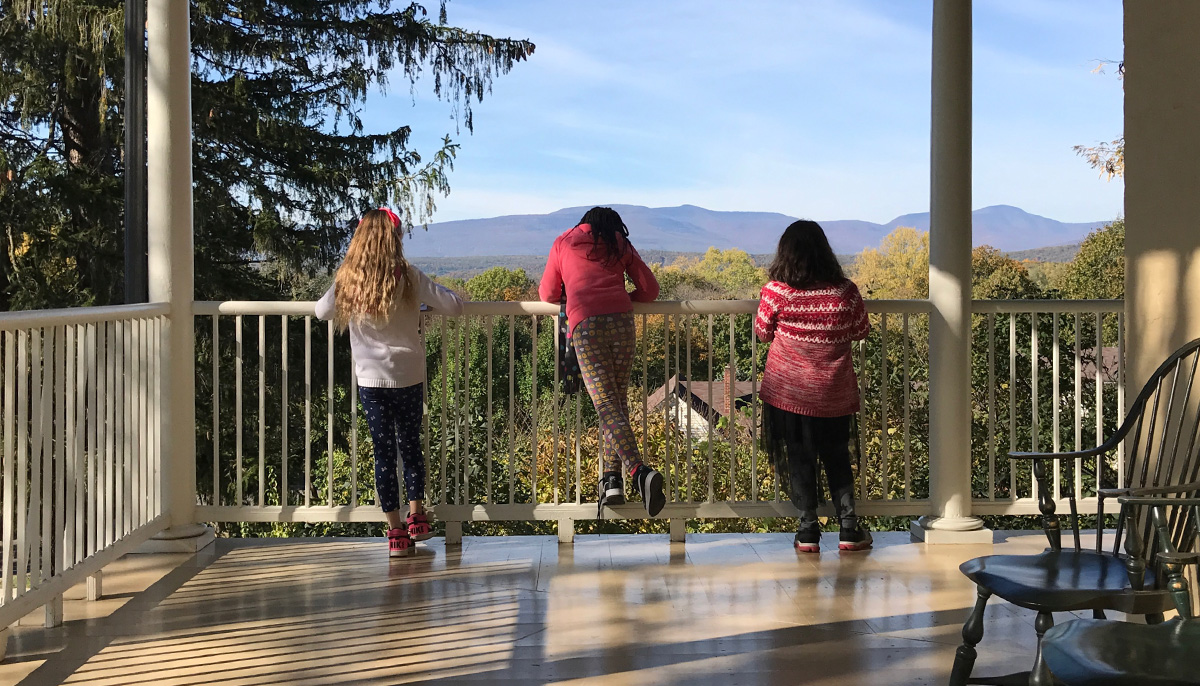 The Story Behind The Story
The story above, which children and their families can flip through and enjoy together, was created to show kids that historic characters like Thomas Cole were real people with great stories to tell.
The idea for the project arose when Betsy Jacks, mother of two and Executive Director of the Thomas Cole National Historic Site, was planning a family trip to another historic site. She searched at length for a kid-friendly introduction to the place they would soon be exploring, but alas, a scouring of the internet turned up nothing.
"To make the most out of our visit to the historic site, I wanted to gets my kids engaged before they even stepped in the door," said Betsy.
Following this experience, Betsy took stock of the offerings at the Thomas Cole Site and turned to the internationally beloved author and illustrator, Hudson Talbott. Hudson said he would love to create an engaging introduction to Thomas Cole for the organization's website, and then Hudson had a thought: why stop there? He took the idea to his editor at Penguin Random House and they loved the idea too! In a flash, the first children's book on Thomas Cole was in the works. The book, entitled "Picturing America: Thomas Cole and The Birthplace of American Art" is the first book to bring the father of American art to young readers, and it will be in bookstores in September 2018. Meanwhile, Hudson and Betsy worked together to make the abbreviated website version, which is offered on this page for free.
The full 32-page book can be ordered in advance, right here on this website, and a portion of sales will go towards this historic site. Reserve your copy today to receive a signed copy from the author and 15% off. Orders after May 1 will receive 10% off, and all books will be sent out starting in September, 2018.
Thomas Cole's Test