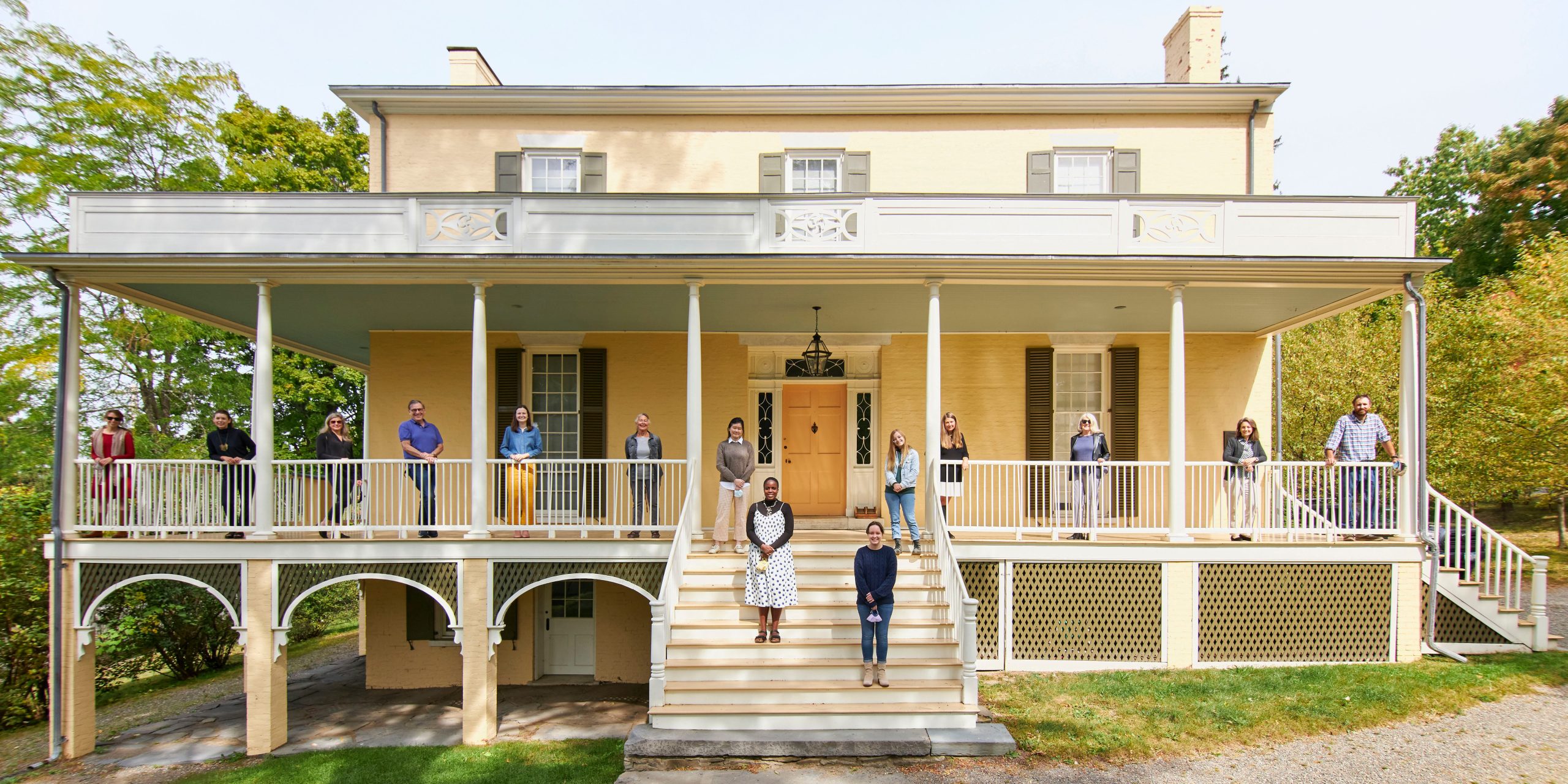 Education Coordinator
The Thomas Cole National Historic site is now seeking a full-time, year-round Education Coordinator. They will work across the Education department to coordinate visitor and programmatic operations. This is a full time, year round position. Work schedule during open season/warmer months is Friday – Tuesday; and Monday-Friday when the site is closed to visitors. In addition, special projects/events may take place on weekends year round. Reports to the Director of Visitor Engagement. Compensation includes health benefits, and retirement. Hourly rate ranges from $16-$19, based upon experience.
Coordination of Visitor Operations:
Lead guided tours and facilitate self-guided experiences for visitors and help to run the Visitor Center, approximately 3 days per week during the warmer months
Schedule guides so that the site is adequately staffed. Problem-solve when guides cancel their shift. Distribute the schedule to all staff who need to see it.
Ensure that the visitor experience runs smoothly.
Assist the Director of Visitor Engagement with the interviewing/hiring of new guides for each season.
Train new and returning guides
Oversee group and private tour reservations and scheduling staff. Problem-solve the way groups are guided through the site
Prepare for the opening and closing of each season. Tasks include setting up the seasonal staff office space, updating the tour manual, updating the Site's phone messages and website regarding hours/offerings, and other preparations
Lead daily tour staff meetings
Help to keep interpretive elements around site organized and clean, such as restocking brochures, sponging pollen off outdoor panels, and sharpening pencils in sketchbook baskets.
Coordination of School/Youth Programs:
Coordinate multi-year project to create an online experience for students. Schedule meetings, coordinate follow up tasks, test the program with teachers and students during the prototype phase, and be a key member of the project team
Oversee school visit reservations and scheduling staff. Problem-solve the way students are guided through the site
Be the primary member of the education staff to teach lesson plans/activities to students, both during on-site visits and by making trips to school classrooms
Train guides to engage younger students, and how to lead lesson plans in classrooms and on site
Be the primary contact for schools and teachers. Nurture newly formed relationships with schools and other youth organizations and develop new ones.
Maintain the Education tab on the TCNHS website and ensure it is up to date with current offerings
Maintain a record system that summarizes relationship with schools/teachers.
Explore potential ways to connect with schools and youth audiences.
Implementation of Educational Events/ Programs:
Work collaboratively with curatorial and interpretive teams to organize and implement various educational events and programs, such as lectures, public panels/talks with guest curators, presenting artists, and Cole Fellows, an annual Cole Fellow Welcome event, and other educational programs, both on and off site. Create checklist of tasks for each and ensure all tasks are completed.
With Site Curator and Fellowship Director, arrange monthly educational and professional site visits for the Cole Fellows.
Along with entire staff, assist with other events throughout the year as needed (such as fundraising events).
Qualifications: The ideal candidate will have a strong interest in museum programming and working with visitors, and be comfortable multi-tasking while maintaining attention to detail and quality. The position requires strong problem-solving, organizational, and interpersonal skills. They will also enjoy working as part of a team, can problem-solve effectively, take initiative, and can calmly handle many different kinds of situations with patience, and with a smile. It is critical that the candidate be punctual, reliable, and responsible, as well as open to constructive feedback and new ideas. The position requires moderate physical activity including climbing stairs and moving about the site in hot summers and cool spring and fall weather.
Application Instructions
In PDF form, please submit (1) a resume, (2) a cover letter explaining why you are qualified and interested in the position, and (3) contact information for at least three professional references via e-mail to employment@thomascole.org. The position is open until filled.
Facilities and Grounds Assistant
Position Summary: Working under the supervision of the Facilities Manager, assist with keeping the buildings and grounds in pristine condition and insuring that facilities and equipment are well- maintained and operating at peak performance. This is a flexible part-time position.
Reports to: Facilities Manager
Position Description:
Execute day-to-day tasks associated with maintaining the grounds and gardens.
Perform routine grounds maintenance, including mowing, weeding, mulching, laying gravel, clearingdebris
Back up for custodial crew – cleaning and security
Remove snow from paths and small lot areas not cleared by plowing service
Deliver stock orders from the Office to Visitors Center
Assist in moving crates, furniture and equipment in preparation for exhibitions and repairs
Basic maintenance of tools and equipment needed to perform assigned tasks.
Perform other repair and maintenance duties as assigned by Facilities Manager & Grounds Manager
As needed: install signage, remove fallen branches and trash from grounds.
Assist with building maintenance duties, including painting, drywall, minor electrical repairs,plumbing, carpentry
Preferred Experience and Skills:
Experience and knowledge of basic home, facilities and grounds maintenance.
High level of attention to detail, sense of urgency, and ability to adapt to quickly changingpriorities and meet deadlines.
Ability to both work in a team and follow instructions from supervisors and work independently.
Experience and knowledge of basic plumbing, electrical, carpentry, and mechanical systems (including relevant equipment and tools)
Location, Schedule and Compensation: The site is located in Catskill, New York. This is a part- time permanent position with flexible hours. Compensation is based on skills and experience.
Physical Demands: Must be able to lift, push, pull, hold, and/or carry objects and equipment weighing up to 50 lbs. on a frequent basis. Must be able to climb stairs; stand for up to 4 hours at a time on a frequent basis; stoop, kneel, crouch, and/or crawl frequently throughout the day; work outside during inclement weather
Vaccination Policy: The Thomas Cole National Historic Site has a universal vaccination policy requiring a COVID-19 vaccination, including a booster, for all employees. Requests for reasonable accommodation will be considered and decided on a case-by-case basis according to New York State and Federal Law.
To Apply: Send cover letter and resume to admin@thomascole.org
The Thomas Cole National Historic Site has a universal vaccination policy requiring a COVID-19 vaccination, including a booster, for all employees.  Requests for reasonable accommodation will be considered and decided on a case-by-case basis according to New York State and Federal Law.
The Thomas Cole National Historic Site is an Equal Opportunity Employer committed to a diverse workforce and does not discriminate on the basis of race, color, creed, religion, national or ethnic origin, sex, sexual orientation, gender identity or expression, age, disability, or veteran status.
Staff photo by Adam T. Deen