Current Exhibitions & Events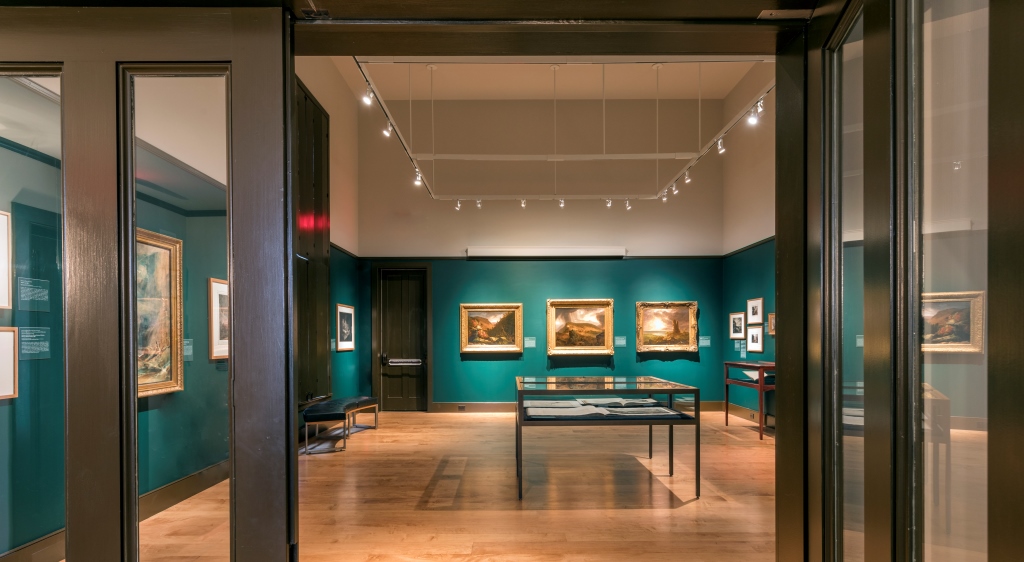 Picturesque and Sublime: Thomas Cole's Trans-Atlantic Inheritance
Curators: Tim Barringer, Paul Mellon Professor in the History of Art at Yale, Jennifer Raab, Associate Professor in the History of Art at Yale, Sophie Lynford, Ph.D. candidate at Yale and Nicholas Robbins, Ph.D. candidate at Yale
May 1 – Nov 4, 2018
Explore how Thomas Cole transformed the British landscape traditions into the American Sublime in this exhibition presented in partnership with the Yale Center for British Art in Cole's New Studio. Photo © Peter Aaron/OTTO
Learn more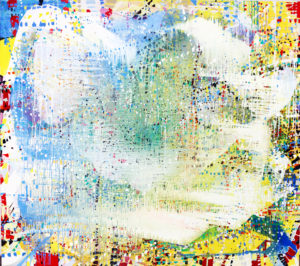 Spectrum
August 14 – November 18 , 2018
An exhibition of contemporary artworks installed throughout the historic site as part of the ongoing series OPEN HOUSE: Contemporary Art in Conversation with Cole. The exhibition grew out of conversations between the Cole Site curator Kate Menconeri, the artist Kiki Smith, and exhibiting artists.
Painting: Place (Place), 2017, Jackie Saccoccio. Oil and mica on Linen, 79 x 90 in. Courtesy of the artist and Van Doren Waxter,
Learn More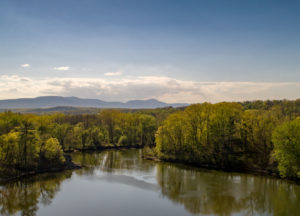 The Art Trail: Catskill Creek
Fri, August 24, 2018
1 pm – 4 pm
Enjoy a leisurely canoe trip up Catskill Creek. Stop to swim and admire the surroundings that Cole painted more than any other subject. The paddle will begin at Catskill Point and continue towards Atelier Restaurant, a nice area to pause, float and take a dip.
Tickets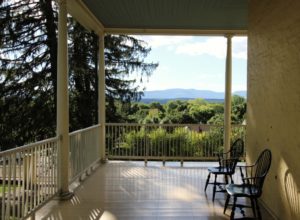 Capital Region MANY Meet-Up
Thur, Aug 30, 2018
2:30 pm – 7 pm
The Museum Association of New York invites you to join a workshop led by Humanities New York, who will share information on their recently funded creative projects. The training will be followed by a tour of the Thomas Cole Site and an early-evening reception with light refreshments.
Free Registration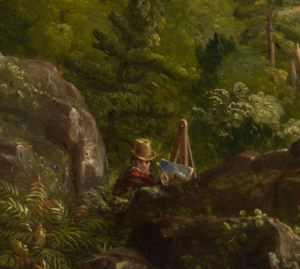 7th Annual Postcards from the Trail Exhibition
Thur, Sep 30, 2018
1 pm – 4 pm
We are calling all artists for submissions to our 7th annual Postcards from the Trail exhibition! For this call, we invite all artists to walk in the footsteps of Cole and to visit one of the 23 sites along the Art Trail to make their own postcard size artwork of the same spots.
Guidelines and Information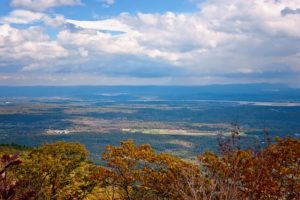 The Art Trail: Catskill Mountain House Site
Fri, Sept 28, 2018
9 am – 2 pm
Hike through a hemlock forest over fairly rugged terrain to the site of where the famed Catskill Mountain House once stood. The hotel was a famous 19th century destination visited by three US presidents and featuring magnificent views of the Hudson River Valley and Catskill Mountains. This spot was a highly popular subject for Hudson River School artists including Cole, Church and Cropsey.
Tickets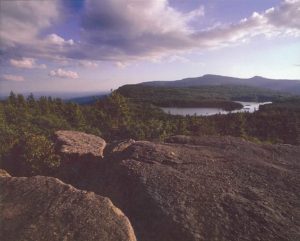 The Art Trail: Sunset Rock and Bear's Den
Fri, Oct 26, 2018
9 am – 3 pm
Visit the views that 19th century artists Thomas Cole and Jasper Cropsey painted. The hike begins on rugged terrain through gorgeous forest, peaking at Sunset Rock/ Bear's Den, an iconic view featured in Cole's Catskill Mountain House: The Four Elements, now on view in Cole's New Studio.
Tickets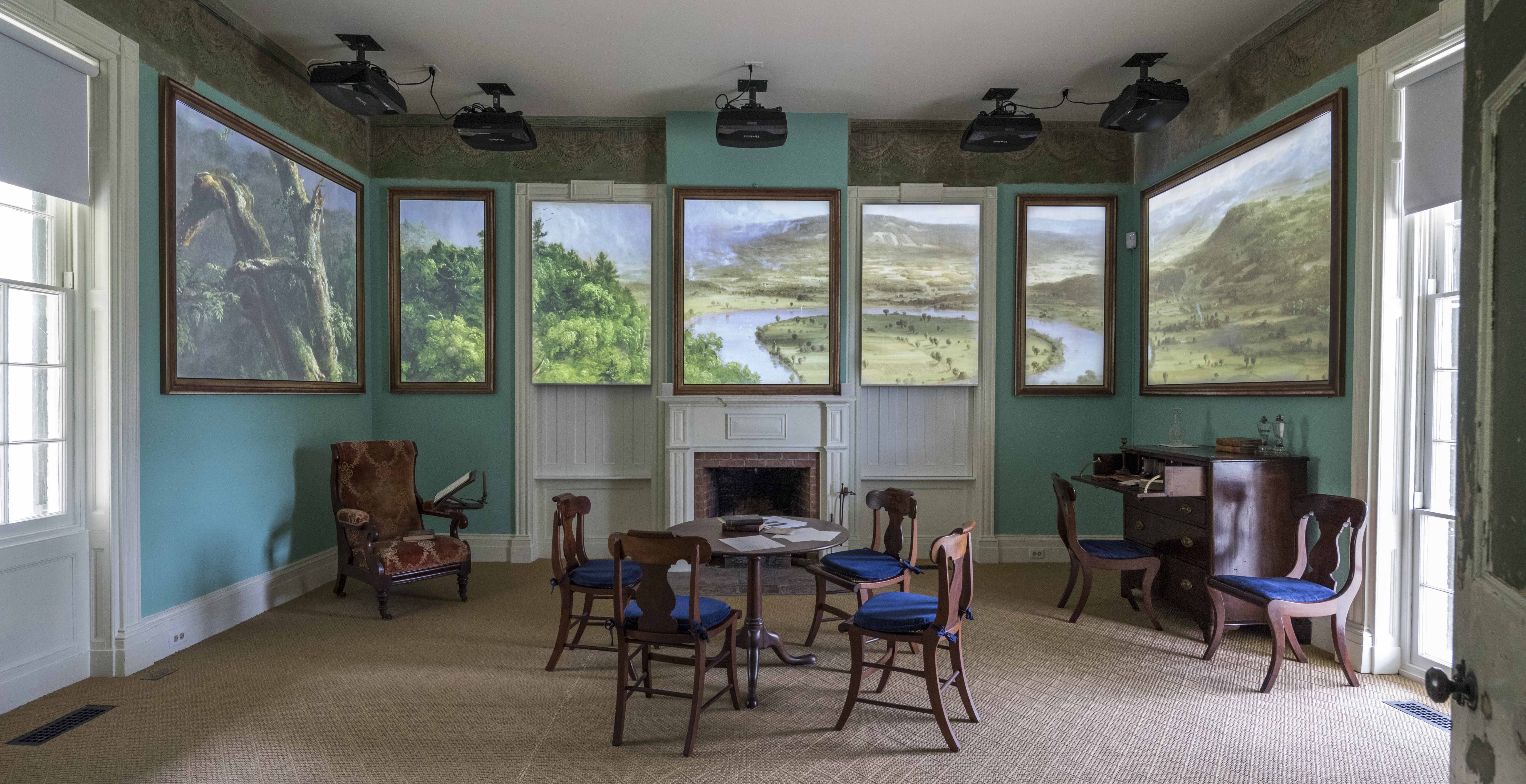 The Parlors
Visit The Parlors, an immersive experience in the first floor of the Main House where historic restoration meets multimedia technology. The carefully researched restoration has transformed the first floor of Cole's home to the artist's original design, just as visitors in his day would have experienced it. It features recently discovered hand-painted decorative borders by Thomas Cole himself, representing the earliest-known interior decorative painting by an American artist. Photo © Peter Aaron/OTTO
Learn More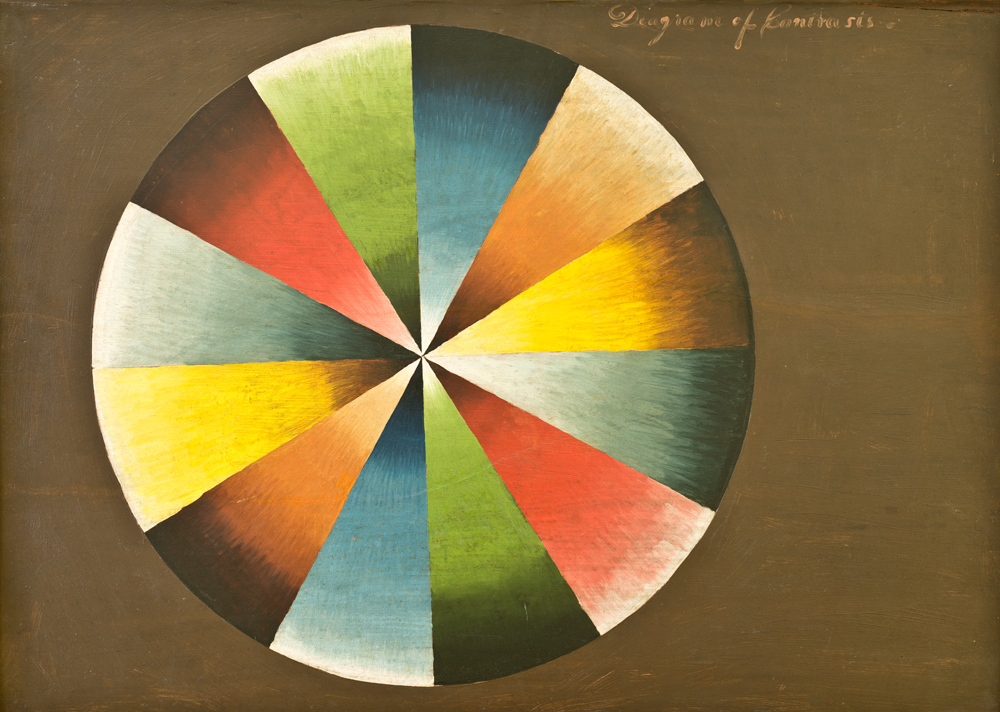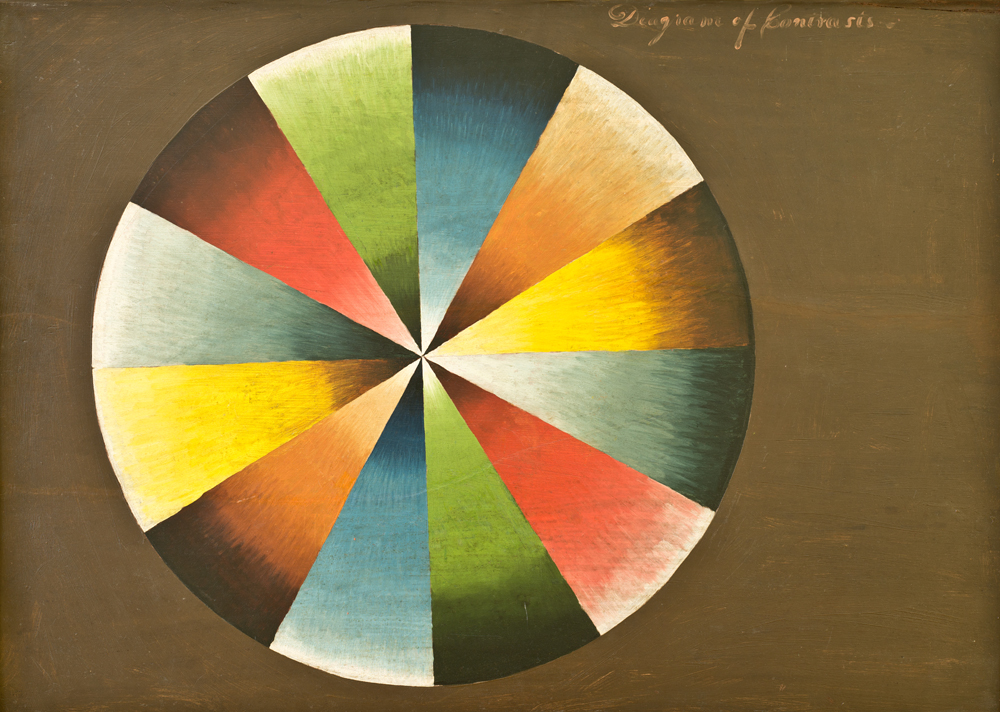 Mind Upon Nature: Thomas Cole's Creative Process
Explore Thomas Cole's working process and ideas through an array of original sketches and paintings made by Cole, alongside the books and objects that inspired him. Discover the pigments and materials he used to realize his influential paintings. This special exhibition is located upstairs in the Main House and is comprised of original objects, ninety percent of which are from the Cole Site collection.
Painting: Diagram of Kontrasts, 1834, Thomas Cole. Courtesy of Collection Richard Sharp.
Tickets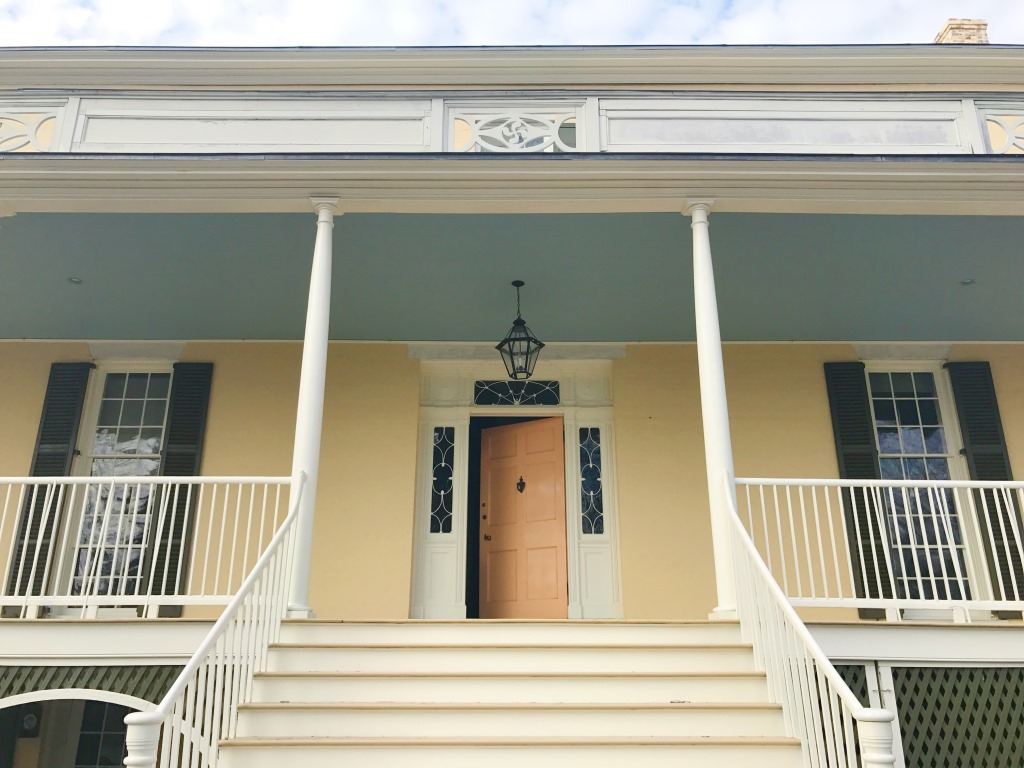 Guided Tours
Join a seasonal guided tour with a friendly Cole Site Educator to explore the 1815 Main House where Thomas Cole lived and worked. The experience features the multimedia installation The Parlors and the exhibition Thomas Cole's Creative Process, which includes original works by the artist.
Tickets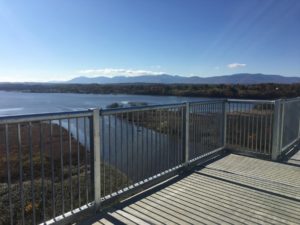 Hudson River Skywalk Viewing Platforms
Take in magnificent views of the landscape that so inspired Thomas Cole from the new Hudson River Skywalk viewing platforms along The Rip Van Winkle Bridge, located just a quick walk from the Thomas Cole Site. Learn more about the Skywalk initiative and the pedestrian connection from our site to Olana.
Learn More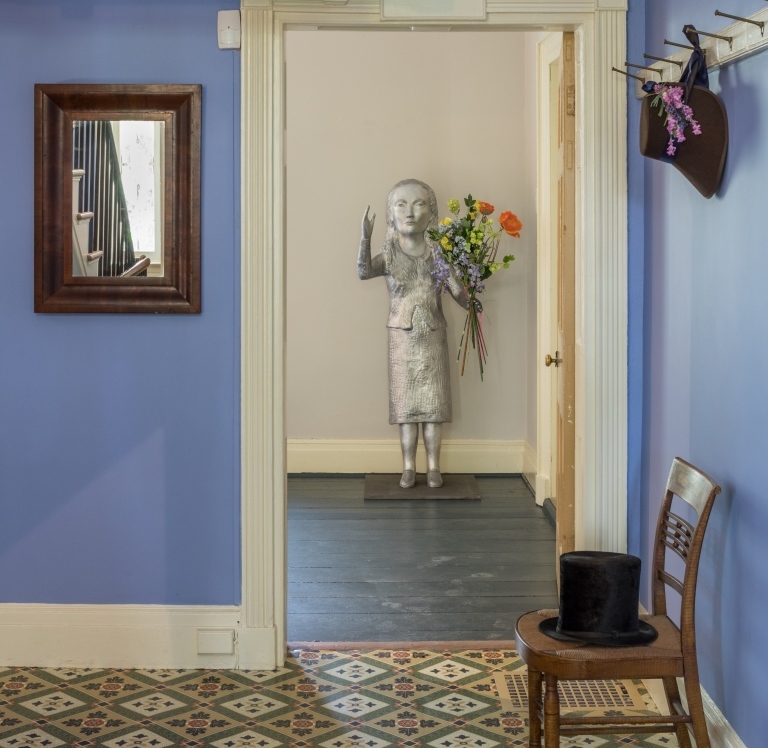 KIKI SMITH / "From the Creek"
Curator: Kate Menconeri, Thomas Cole Site Curator
Aug 12 – Nov 19, 2017
Information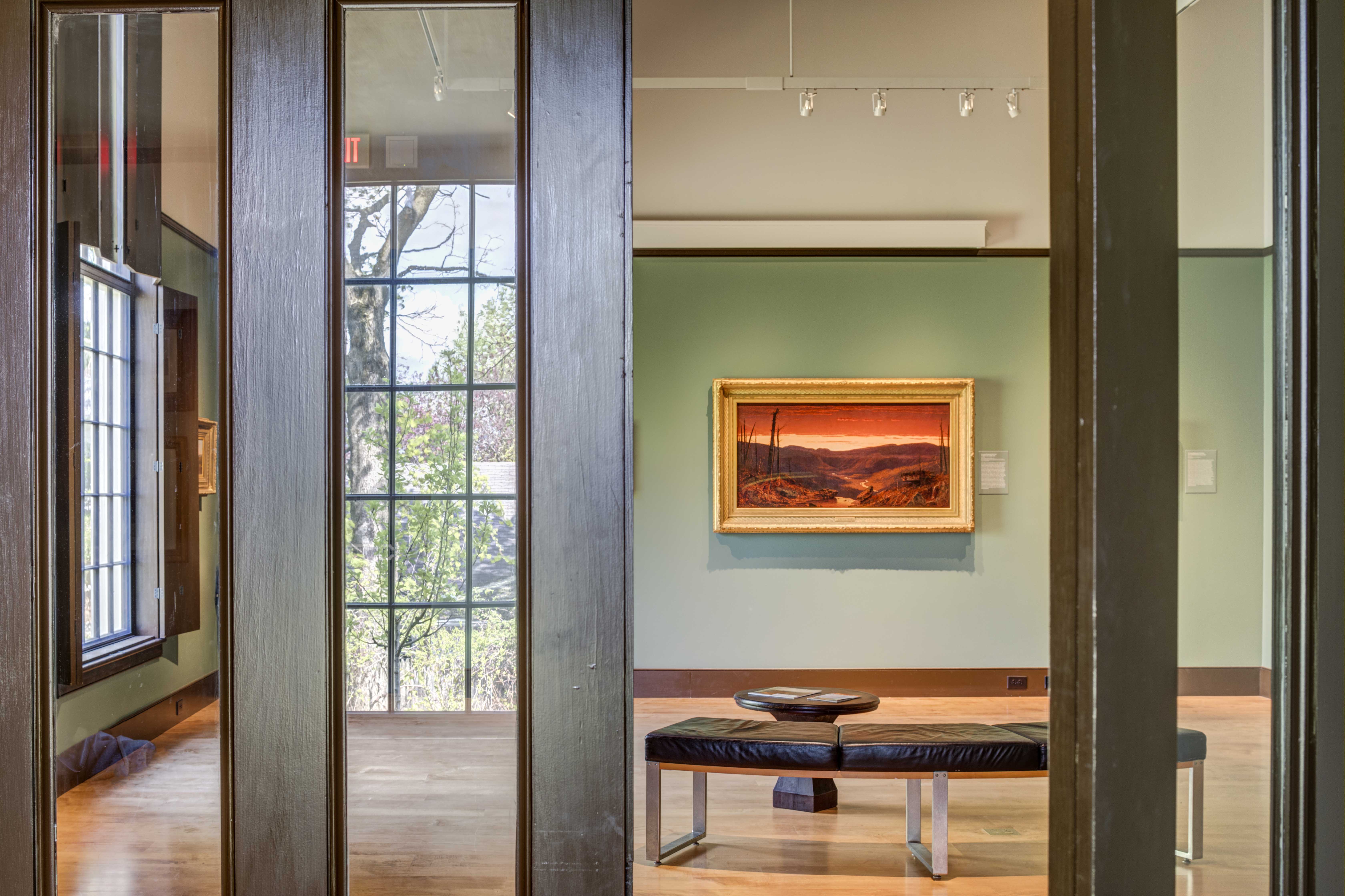 "Sanford R. Gifford in the Catskills"
Curator: Kevin J. Avery, Ph.D., Senior Research Scholar at the Metropolitan Museum of Art
Apr 30 – Oct 29, 2017 
Information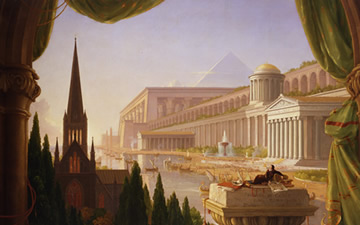 "Thomas Cole: The Artist as Architect"
Curator: Annette Blaugrund, Ph.D., Independent Scholar, Author and Curator, and former Director of the National Academy Museum & School of Fine Arts    
May 1 – Oct 30, 2016
Information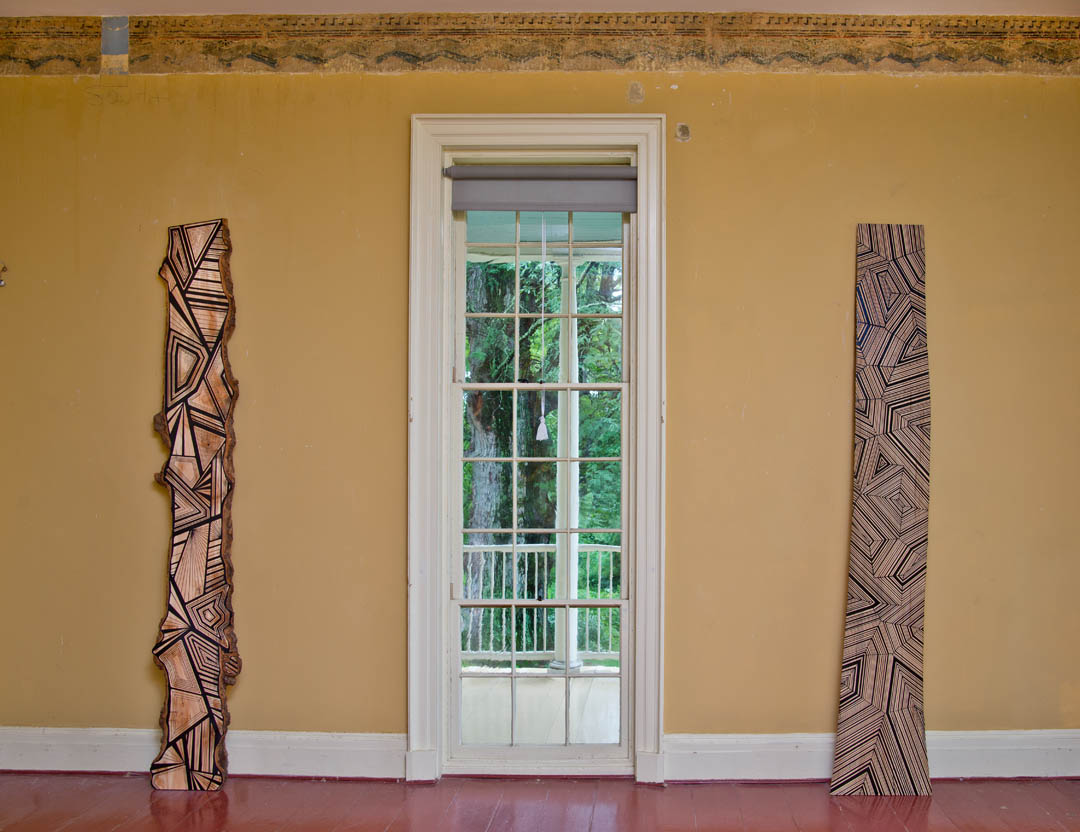 JASON MIDDLEBROOK: "Nature Builds / We Cover"
Curator: Kate Menconeri, Thomas Cole Site Curator
Aug 14 – Oct 30, 2016
Information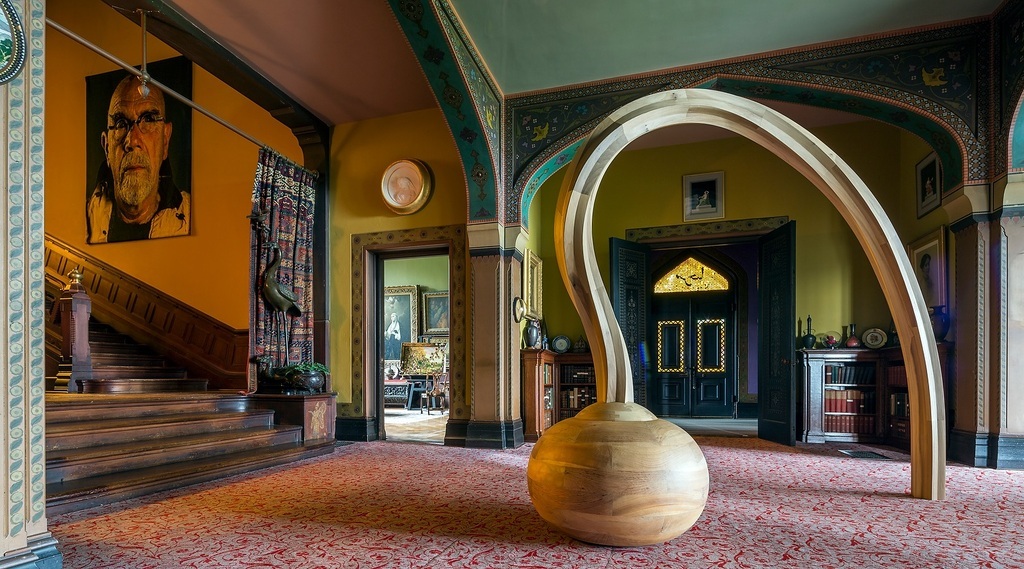 "River Crossings: Contemporary Art Comes Home"
Curators: Stephen Hannock, Contemporary Artist and Jason Rosenfeld, Ph.D., Distinguished Chair and Professor of Art History at Marymount Manhattan College and Senior Writer and Editor-at-Large for the Brooklyn Rail
May 3-Nov 1, 2015
Information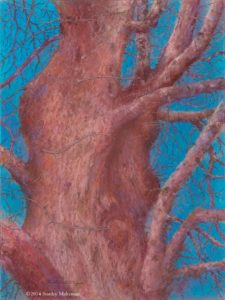 Stanley Maltzman / "Thomas Cole's Honey"
Curator: Kate Menconeri, Thomas Cole Site Curator
July 26- Oct 2, 2014
Information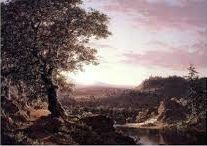 "Master, Mentor, master – Thomas Cole & Frederic Church"
Curators: John Wilmerding, Ph.D., Sarofim Professor of American Art, Emeritus, at Princeton University and former Senior Curator and Deputy Director of the National Gallery of Art 
Apr 30 – Nov 2, 2014
Information
Catalogue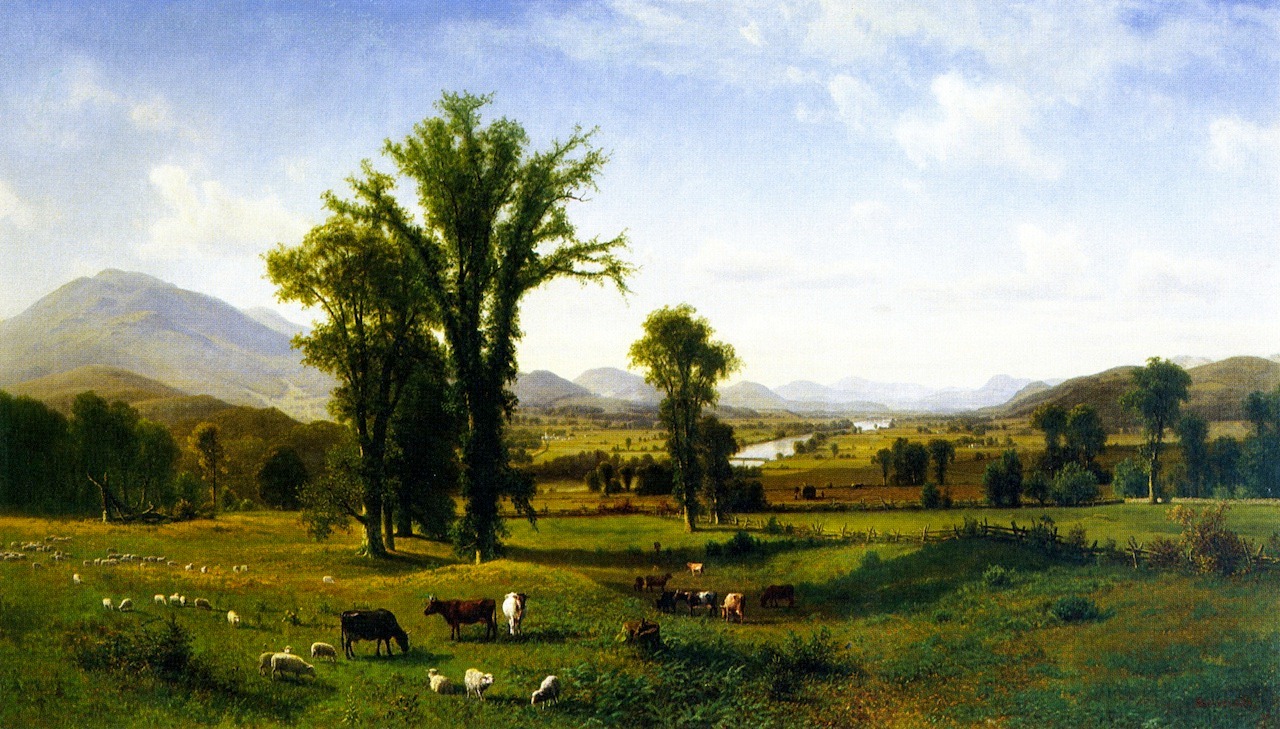 "Albert Bierstadt in New York and New England"
Curator: Annette Blaugrund, Ph.D., Independent Scholar, Author and Curator, and former Director of the National Academy Museum & School of Fine Arts
May 1 – Nov 3, 2013
Information
Catalogue
"Worlds Between: Landscapes of Louis Rémy Mignot"
Curator: Katherine E. Manthorne, Ph.D., Professor of American and Latin American Art at the CUNY Graduate Center, and former Research Center Head at the Smithsonian American Art Museum  
Apr 29 – Oct 28, 2012
Information
Catalogue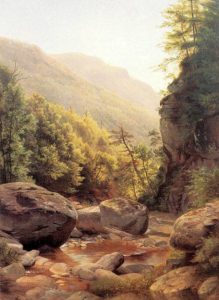 "Remember the Ladies"
Curators: Nancy Siegel, Ph.D., Professor of Art History at Towson University and Jennifer Krieger, Managing Partner of Hawthorne Fine Art and Academic Scholar  
May 2- Oct 31, 2010
Information
Catalogue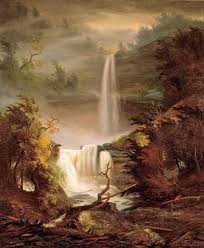 "River Views of the Hudson River School"
Curator: Nancy Siegal, Ph.D., Professor of Art History at Towson University    
May 2- Oct 31, 2010
Information
Catalogue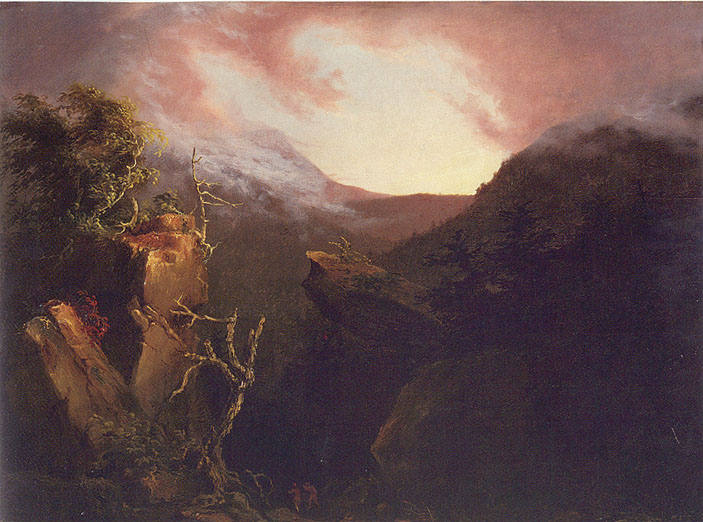 "Thomas Cole's Sketch Paintings: An Exploration of the Creative Process"
Curator: Elizabeth B. Jacks, Thomas Cole Site Executive Director
May 3 – Oct 26, 2008
Information
Catalogue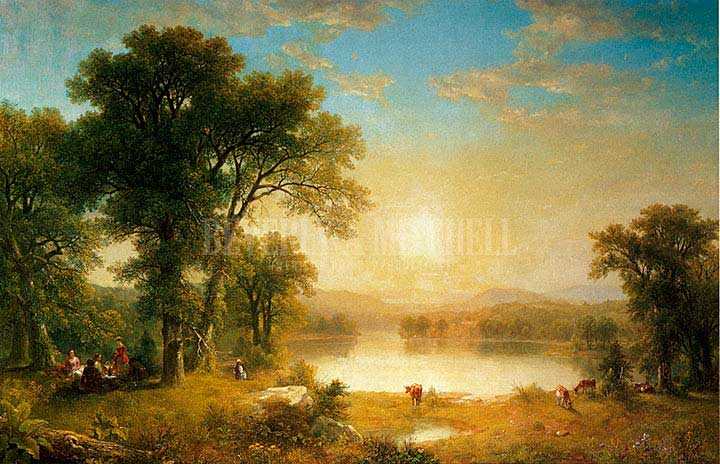 "Asher B. Durand: Intimate Observations"
Curator: Lee Vedder, Ph.D., Independent Curator and former Henry Luce  Curatorial Fellow in American Art at the New York Historical Society     
May 20 – Oct 28, 2007
Information
Catalogue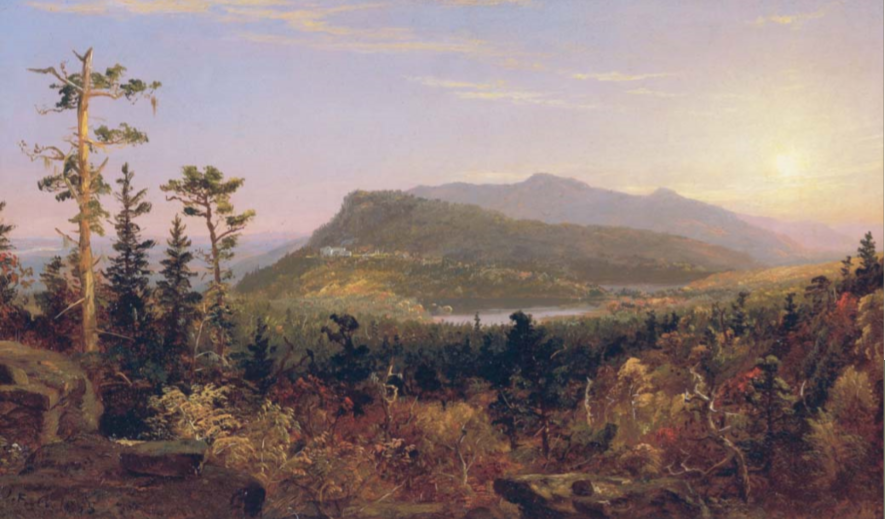 "Jasper Cropsey: Interpreting Nature"
Curator: Elizabeth Stevens, former Thomas Cole Site Curator    
May 7 – Oct 29, 2006
Information
Catalogue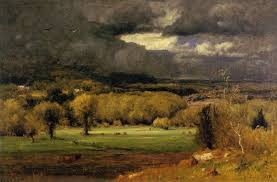 "George Inness: Paintings"
Curator: Elizabeth Stevens, former Thomas Cole Site Curator    
May 1 – Oct 30, 2005
Information
Catalogue
Events