Exhibition Overview
The Thomas Cole Site presents SPECTRUM, a site-specific contemporary art exhibition that explores relationships between Thomas Cole's use of color and that of 11 contemporary artists. Artworks will be sited throughout and in conversation with the historic home and grounds of Thomas Cole (1801-1848), founder of America's first major art movement, the Hudson River School of landscape painting. The exhibition engages artists in a visual dialogue with Cole and explores how artists use color in their practice at the intersection of art and science.
SPECTRUM is part of the ongoing series OPEN HOUSE: Contemporary Art in Conversation with Cole and grew out of conversations between the Cole Site curator Kate Menconeri, the artist Kiki Smith, and the exhibiting artists:
Polly Apfelbaum
Valerie Hammond
Anne Veronica Janssens
Anne Lindberg
Laura Moriarty
Portia Munson
Jackie Saccoccio
Lisa Sanditz
Julianne Swartz
Mildred Thompson
Linda Weintraub
The show is accompanied by an exhibition catalogue by the same name. The catalogue features an introduction by Cole Site curator Kate Menconeri, new writing by Jesse Bransford, Clinical Associate Professor of Visual Arts and Department Chair at NYU, artist texts, and installation views by renowned photographer Peter Aaron.
Cover art: Anne Lindberg, sun come purple, 2018, Thread and staples, 60 x 120 x 24 in. Courtesy the artist. Photo © Peter Aaron/OTTO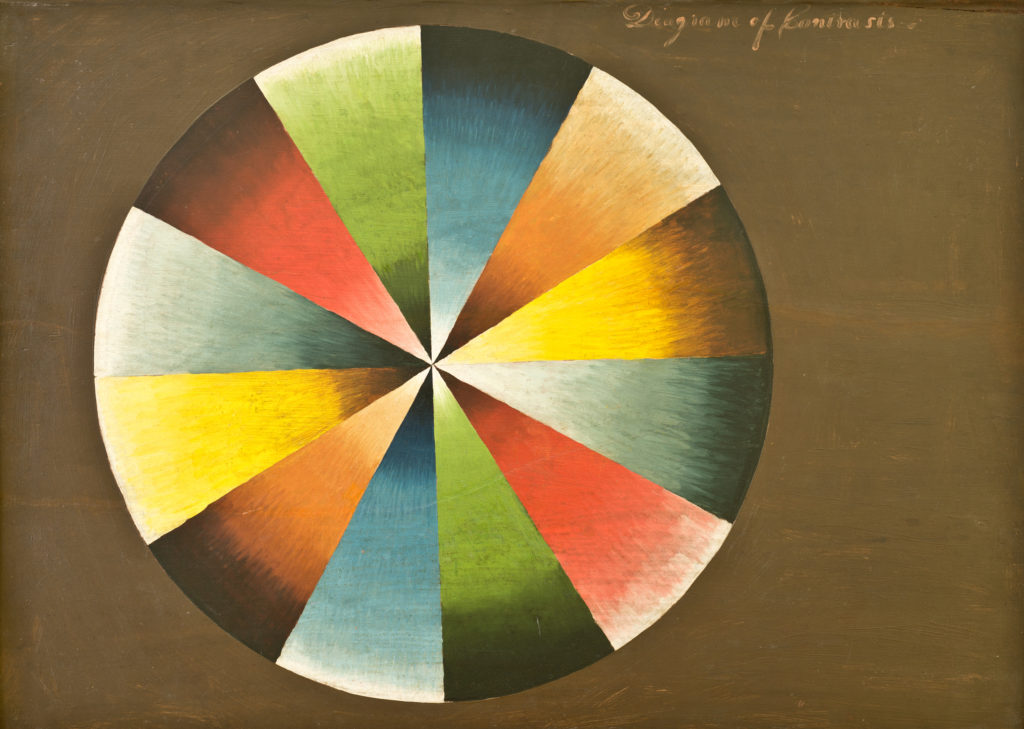 Thomas Cole, Diagram of Contrasts, 1834, Courtesy of Collection Richard Sharp.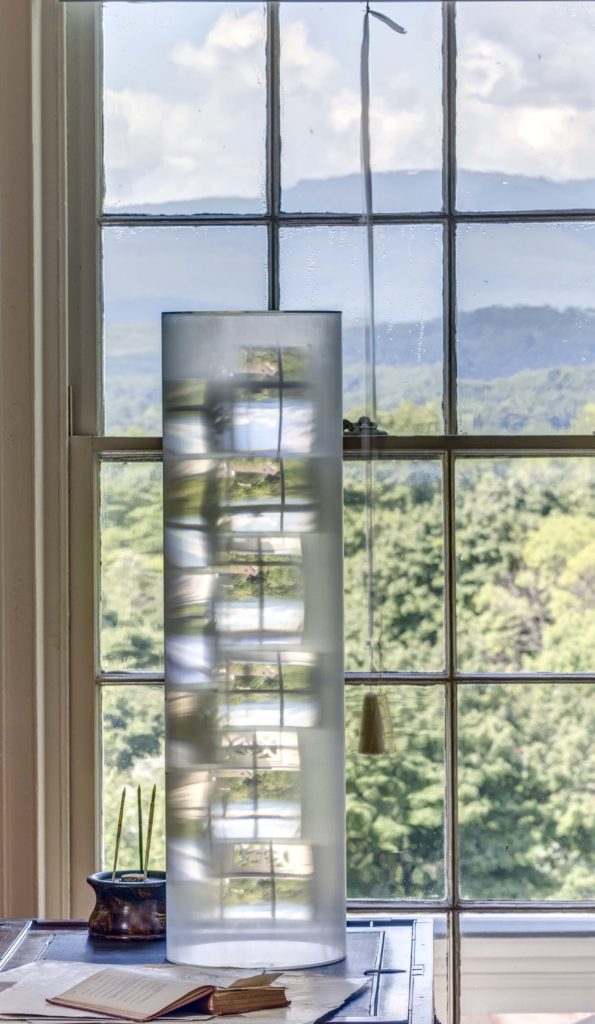 Julianne Swartz, Camera-Less-Video (multi-cylinder), 2011, Plexi-glass, lenses, found objects, and view, Courtesy the artist. Photo © Peter Aaron/OTTO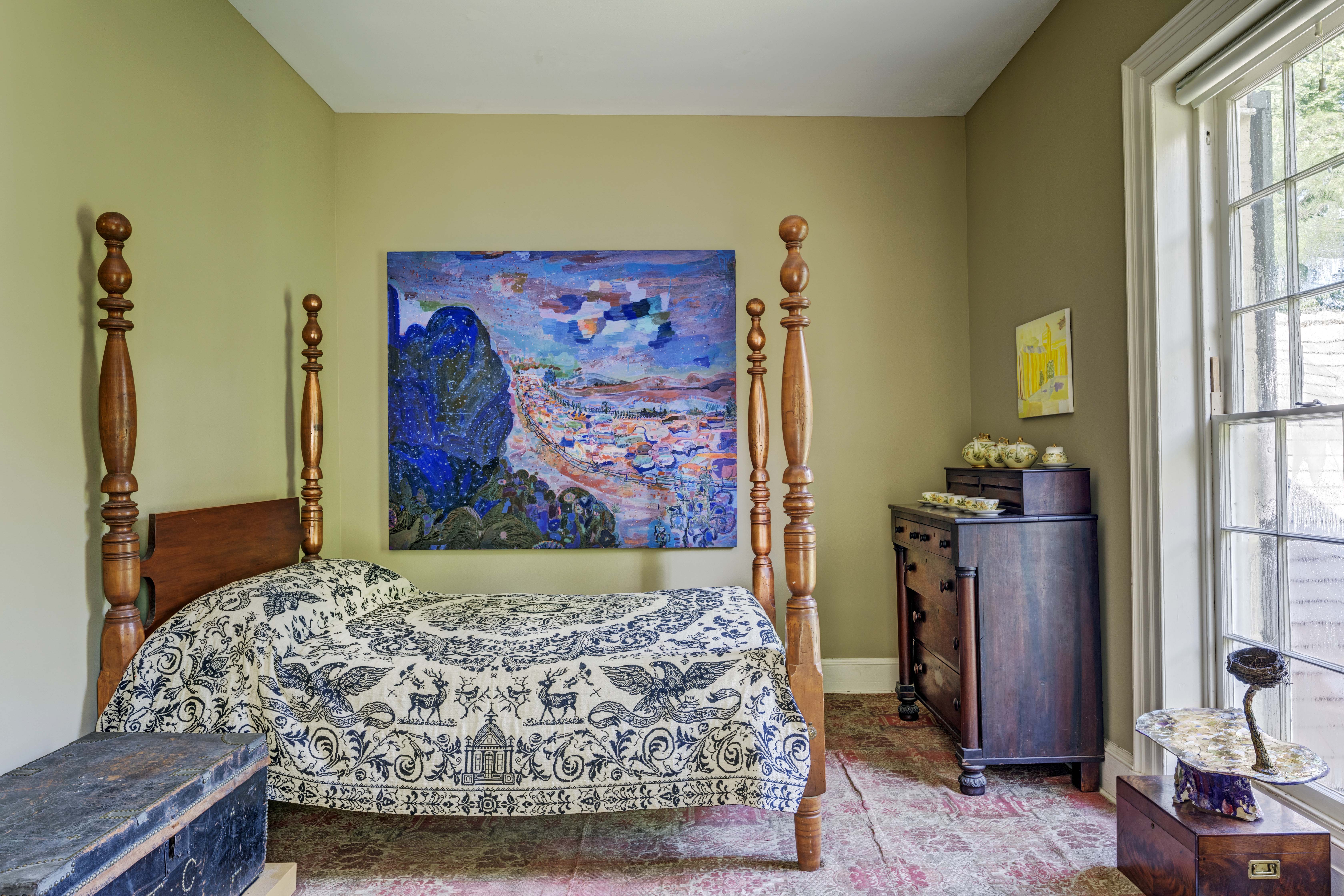 Over the bed: Lisa Sanditz, Northern Border Blue, 2016, Acrylic on canvas, 60 x 70 in. Courtesy the artist. To the right: Lisa Sanditz, Yellow Tent, 2015, Oil on canvas, 16 x 20 in. Courtesy the artist. Installed together with painted china by Emily Cole, Thomas Cole's daughter, from the Thomas Cole Site collection) Photo © Peter Aaron/OTTO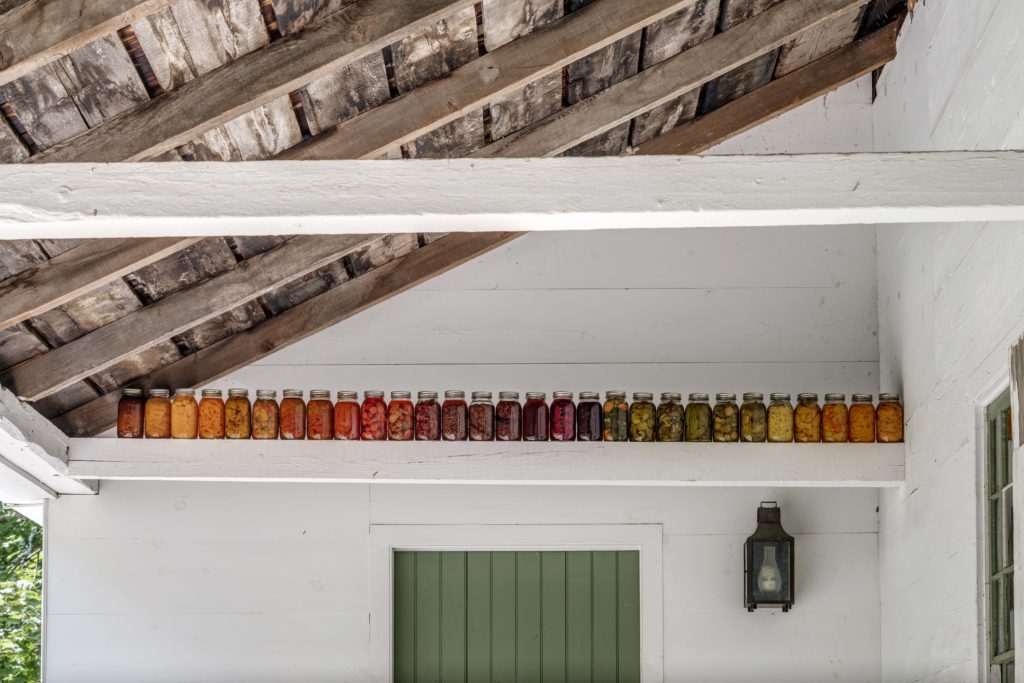 Linda Weintraub, Let us Eat the Colors of Nature's Spectrum, 2014-ongoing, Glass quart jars of home-preserved food arranged according to color spectrum: Asparagus, Corn, Brussels Sprouts, Snap Peas, Green Beans, Cabbage, Red Peppers, Green Peppers, Yellow Peppers, White Onions, Carrots, Beets, Beet Greens, Apples, Apricots, Pears, Grapes, Plums, Cherries, Strawberries, Blueberries, Rhubarb, Tomatoes, Zucchini, Summer Squash, Winter Squash, Butternut Squash, Acorn Squash, Collards, Maple Syrup, Honey, Swiss Chard, Red onions, Celery, Pumpkin, Kale, Eggplant, Snow Peas, Sweet Potatoes, Broccoli. Courtesy the artist. Photo © Peter Aaron/OTTO
The exhibition is supported by the New York State Council on the Arts with the support of Governor Andrew M. Cuomo and the New York State Legislature and Empire State Development's I LOVE NEW YORK program under the Market NY Initiative.
Spectrum