We derive strength from pulling together and joy from being together, and that is what the Thomas Cole Summer Party has always been about, hosted by Lisa Fox Martin for ten years running!
This year, we invite you to reconnect to this resilient, creative and passionate community by enjoying a special picnic, custom designed by Geoff Howell Studio, and sent to your home. While enjoying your picnic from the safety of your own home, we will come together for a live virtual private event with a special guest speaker and a fireworks display.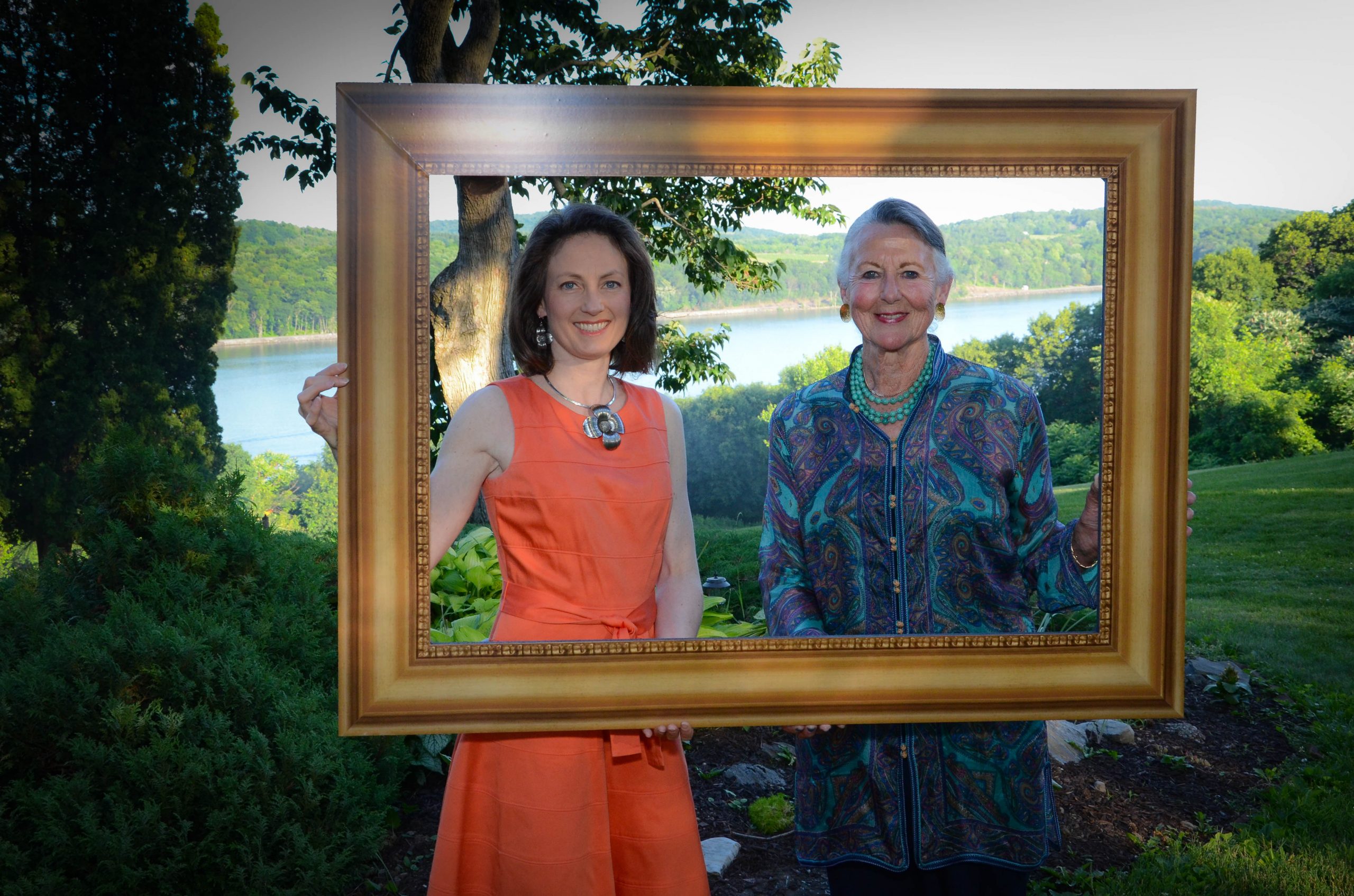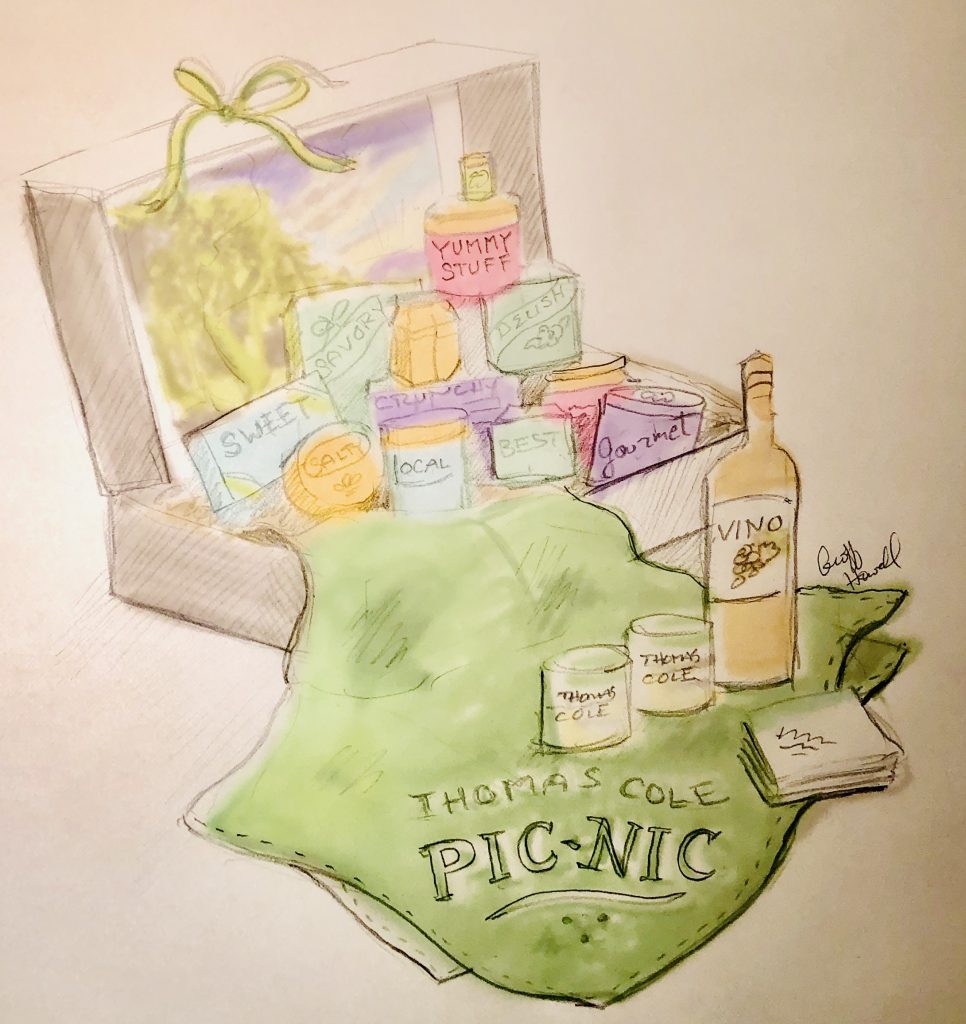 Executive Director Betsy Jacks and Chairman Lisa Fox Martin
Pic-Nic Box for sponsors at the Sunny, Jolly, Merry and Celebration Levels, Illustration by Geoff Howell
You are Invited

Enjoy a beautiful package inspired by Thomas Cole's painting "A Pic-Nic Party," including custom-designed picnic blanket, napkins, tumblers, and other items, depending on the level of sponsorship you choose.
The invitation was sent on Friday, July 10
Guest Speaker

Tim Barringer, Paul Mellon Professor in the History of Art at Yale University, one of the most engaging, ebullient and sought-after speakers in the country, will converse on "A Pic-Nic Party" and its little-known link to J.M.W. Turner and answer guest questions.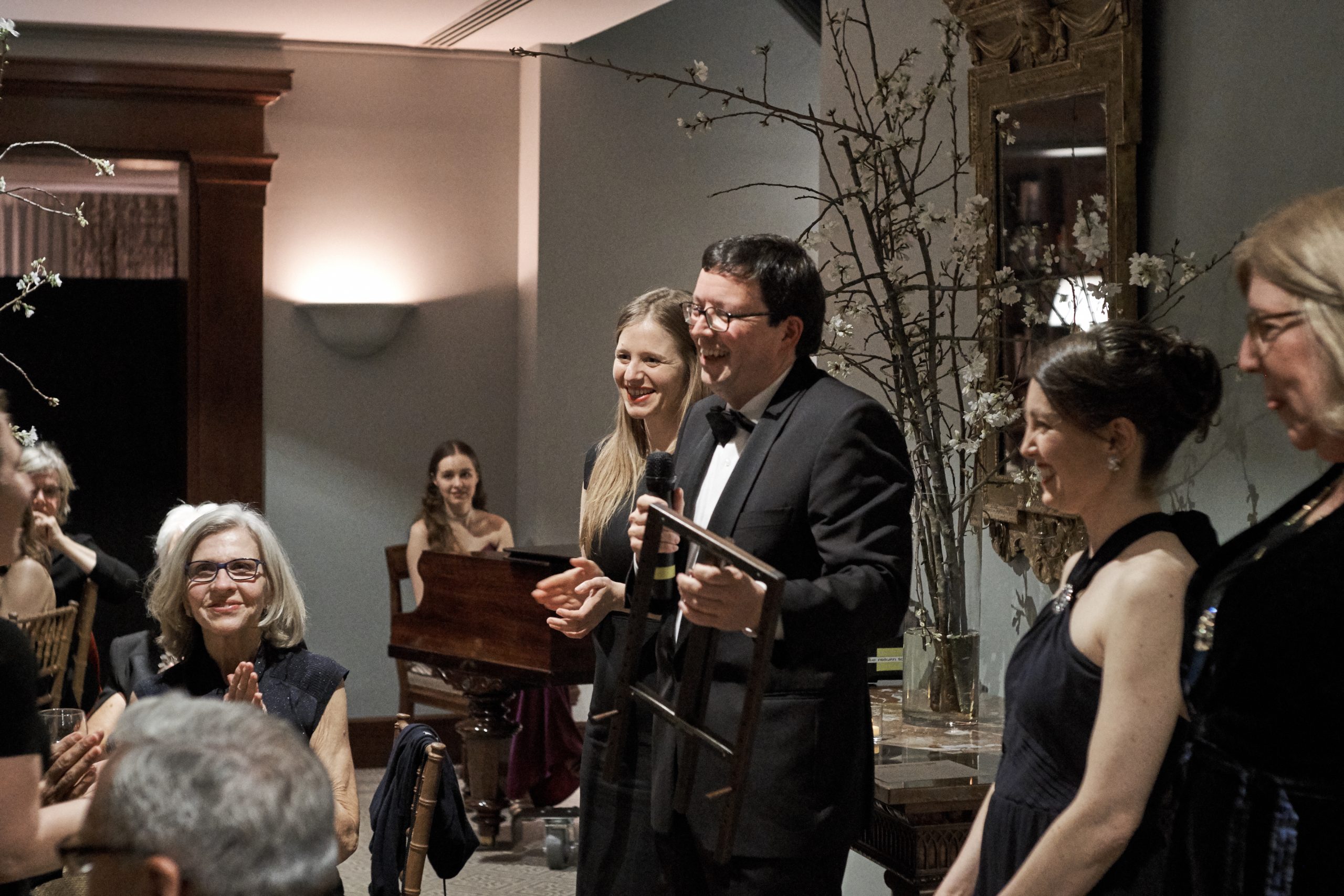 Virtual Fireworks

We'll end the evening together with an artistically choreographed display of virtual fireworks.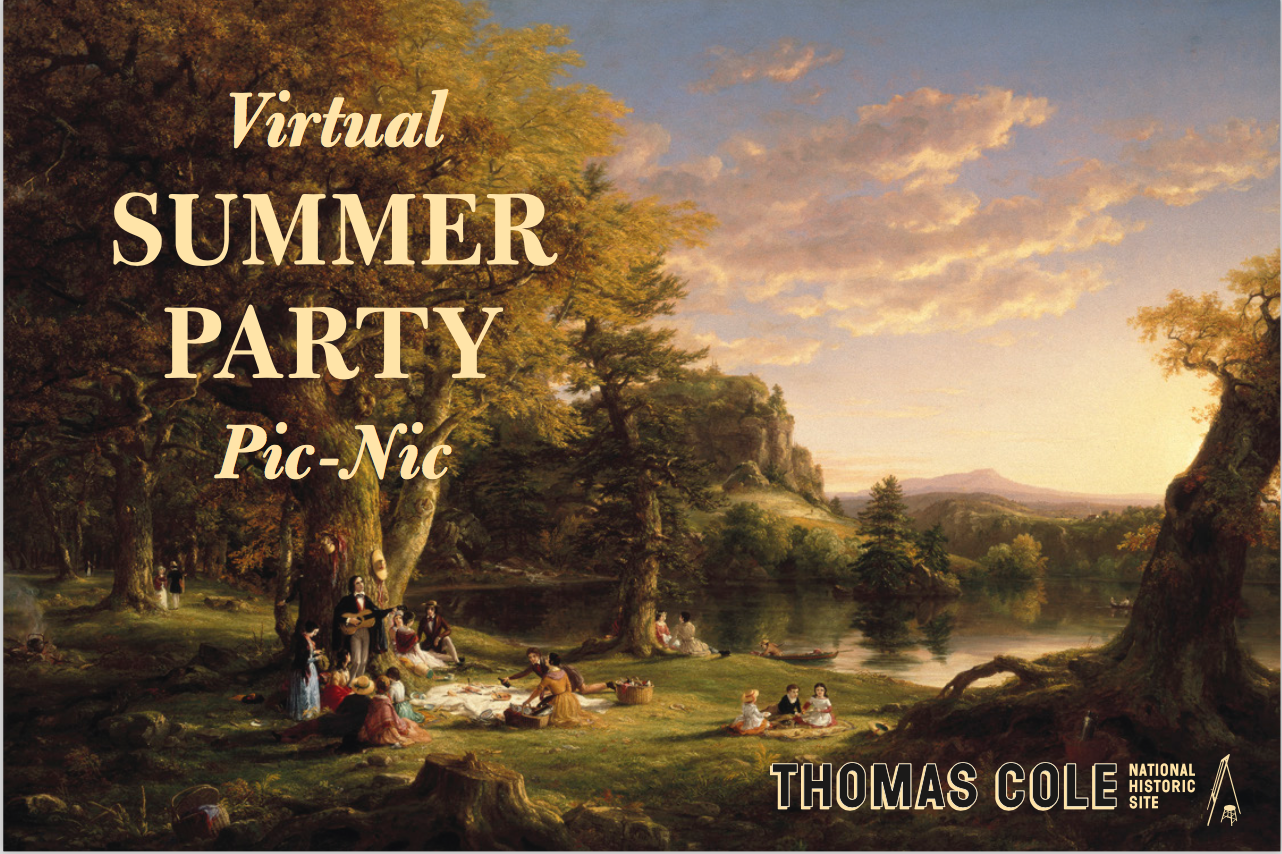 Celebration Pic-Nic Sponsorship
Lisa Fox Martin
David Forer
James LaForce & Stephen Henderson
Christoper Lipscomb
Nina Matis & Alan Gosule
Anne Miller & Stuart Breslow
Evelyn D. Trebilcock & Douglas Hammond
Merry Pic-Nic Sponsorship 
Susan Ball & John Brigham
David Bury & Marianne Lockwood
Stephen & Jacqueline Dunn
Carrie Feder
Kristin Gamble
Linda & Tom Gentalen
Diane Kamp & Mike Clayton
Beth & Ricky Mason
Betsy & Al Scott
Stephen Shadley
Warner Shook & Frank Swim
Sara & Tom de Swardt
Hudson Talbott & Jay Lesenger
Jolly Pic-Nic Sponsorship
Jimmy & Micaela Bulich
Alison Lankenau
Illiana van Meeteren & Terence Boylan
Gigi Noyes
Peter Spears & Brian Swardstrom
Sunny Pic-Nic Sponsorship
Ann Artschwager
Miranda Barry & Charlotte Sheedy
Charles & Barbara Bohl
Serra & Glenn Butash
Matt & Amy Davidson
Lorie Dixon & Jeff Greim
Kusum Gaind & Rupi Puri
MaryEllen Gallagher
Joan & David Grubin
Jean Hamilton & Richard McCarthy
Barbara Hancock & Eugene Zuckoff
Conrad & Brendan Hanson-Kelly
Jonas Havens & Jackie Massaro
Jim Joseph & Scott Frankel
Dr. Josh Lipsman & Jonathan Sorge
The Hon. Guido A. Loyola & Leonard A. Herman
Patti Matheney & Michael Schrom
Peter & Sarah May
Margaret & Johnny Moree
Peter O'Hara & John Garofalo
John Prince & William Stover
Nancey Rosensweig & Dan Arshack
Rick Sharp & Meredith Kane
Robin A. Stapley
Dena M. Steele
Susan E. Sullivan
Edwina Thorn
Kay & Maynard Toll
David Usborne & Juan Carretero
Todd Whitley & Gary Holder
Howard Zar & Ray Kurdziel
Karen Zukowski & David Diamond
Pic-Nic Party Supporter 
335 Main Street LLC
Adele Abide & Josh Pulver
Deb Alexander
Assemblymember Didi Barrett
Richard & Jean Bassin
Drs. Annette & Stanley Blaugrund
Graham C. Boettcher
Nadine & James Bouler
Duke Dang & Charles Rosen
Linda S. Ferber
Eileen Gallagher & Stephen Horniak
Guy Griggs & Greg Ventra
Stephen Hannock
Hollis Heimbouch
Elisabeth Kent
Joseph La Piana & Matthew Aidan Carey
Ricky Lark & Rickey Shaum
Deena Lebow & Rodney Greenblat
Jim Lewis & Dianne Young
Gayle Morgan
Cynthia Pansing
Jennifer Patton, EdD
Claire Pohl
Gregory Powell & Helen Ruisi
Patrick Terenchin
Liza Tivey
Ronald Wagner & Timothy Van Dam
Robert & Suzanne Werner
Nancy T. Whitney
Kate Wood & David Sprouls
Wenling Zhao & Guorui Shi
Michael Zwelling
Pic-Nic Party Friend 
Carolynn F. Anklam
Patricia Apotas
Pamela Bentien
William Coleman
Maddy Conley & Adam Grimes
Linda Cross
Linda Francy
Henry Freedman
Ginnie Gardiner
Elliott Green
Jan & Lester Greenberg
Carol Kohan
Norman Krasner
Mary Delaney Krugman
Sophie Lynford
Alex Mann
Kathie Manthorne & James Lancel McElhinney
Carol May & Timothy Watkins
Sarah Gray Miller
Audrey & Joe Morrell
Heather Paroubek & Jon Palmer
Elizabeth Petty
Michele Pulver
Michele Saunders
Rachel Stults & Andrew von Urtz
Veronica Thompson
David & Margherita Vandermark
Shannon Vittoria
Alan Wallach
Susan Wides & Jim Holl
Jacquelyn Woods
Pic-Nic Package Design by Geoff Howell Studio
We are proud to support local businesses for this event, including Hudson Wine Merchants in Hudson, Potters Table in Round Top, Talbott & Arding in Hudson, Beth's Farm Kitchen in Stuyvesant, Mansion + Reed in Coxsackie, and Upstate Ink in Catskill.
Thomas Cole, A Pic-Nic Party (Detail), 1846. Oil on canvas, 47 7/8 x 54 in. Brooklyn Museum, New York, Healy Purchase Fund B (67.205.2).
Photo of Betsy and Lisa by Rob Shannon / Photos by Adam T. Deen
2020 Summer Pic-Nic