Updates from the Thomas Cole Site

Posted on Tuesday, March 24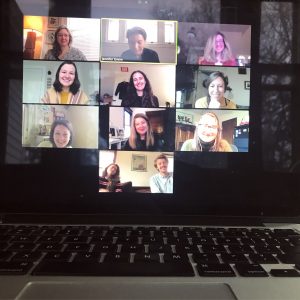 Our staff is holding a morning meeting every day and it lifts the spirits to see each other's faces on a regular basis. We are all moving forward with projects as best we can and working to move them to the digital space where necessary. We have a lot of exciting things coming up for you to access online and via our social channels and at the historic site when it is safe to do so. We will be providing you with regular updates here. We are working hard to continue bringing you engaging programming on American art and landscape that you can enjoy in this difficult time.
We are moving forward with the exhibition catalogue to accompany our 2020 special exhibition Cross Pollination: Cole, Church, Heade, and the Contemporary Moment, which we plan to both print and share digitally. The catalogue will feature full-color photographs of artwork in the exhibition, introductions by the leaders of the three partner institutions: Betsy Jacks from the Thomas Cole Site, Sean Sawyer from The Olana Partnership, and Rod Bigelow from Crystal Bridges Museum of American Art. The publication will feature three original essays by the exhibition curators: Kate Menconeri, Julia Rosenbaum, Mindy N. Besaw, and William L. Coleman. Exhibition curator and our curator and director of collections and exhibitions, Kate Menconeri, and our assistant curator, Amanda Malmstrom, have been in close contact with all of our partners and the publication designer to complete the publication. We plan to post the publication on our digital platforms starting this spring.
Our Class of 2020 Cole Fellows will present their research in the coming weeks using video on digital platforms. We will keep in touch with updates on how you can view these video presentations by Anne Comer, Hampton Des Smith, and Marissa Hamm. Our curator Kate and manager of visitor engagement Heather Paroubek, are moving ahead with interviewing candidates for the Cole Fellows Class of 2021.
We had planned to unveil a new restoration of historic interiors designed by Thomas Cole and digital storytelling installations on the second floor of the artists home this spring. Our manager of visitor engagement, Heather Paroubek, will be overseeing a dedicated page for this content on our website. We have also posted an Explore Guide Book created by Heather that you can use now to go on a self-guided tour of the grounds and historic building exteriors.
We will be launching new content on American art scholars on our website on Monday, April 6, the day we originally planned to host our Scholars' Dinner. This will include information from American art scholars on their upcoming projects as well as videos about American art programming at the Thomas Cole Site. Our Director of External Relations, Jennifer Greim, and Development Associate, Olivia Lichens, are working to gather this content with our network of scholars and in-house designer, Rachel Stults.
New York State officially approved our plans to install a lift for handicap access to the Main House in an attached shaft-like structure that we recently learned was a privy. Installation is scheduled to take place in two months' time. Our director of business administration Traci Horgen has been working persistently on this elevator project for a very long time and we are thrilled we are moving into the final stages. Traci has also ensured that the essential functions of the organization can continue to operate in this time of uncertainty. Critical operations continue, include collecting mail, processing donations, and paying bills.
We are thrilled to confirm that spring is not cancelled and it is coming to the grounds of the Thomas Cole Site. Our gardener, Jean Campbell, is continuing her seasonal work to prepare the flower gardens and the kitchen garden, which was expanded last year with help from our volunteer Jimmy Bulich. We will be providing information on the plants you can see each month coming up on the historic grounds on our website.
Another wonderful thing to report is that our trustee, Sara de Swardt, and her husband Tom are sponsoring an Electric Vehicle charging station to be installed at the historic site to serve our visitors and the surrounding community. We are so grateful for this incredibly generous donation.
Posted on Monday, March 16
To our Thomas Cole community,
The staff and board of the Thomas Cole Historic Site have been watching the spread of the COVID-19 pandemic with deep concern, and we are writing to let you know about steps we are taking in response. In order to help ensure the safety of our visitors, supporters, board, staff, volunteers and partners, we will postpone our upcoming events: the Fellows' Presentations on March 27th, our Scholars' Dinner on April 6th, the Sunday Salon on April 19th, and tours of the Historic Site during the month of April. In addition, we have enabled our staff to work from home and upcoming meetings will be conducted via phone or video conference.
We would like to note that we have arrived at this decision not due to any specific incidence of infection within our known community; rather, we are acting out of consideration of the health of the community and the ripple effect our actions could have.
Visitors are welcome to visit our grounds. We encourage all visitors to observe a safe distance from others when visiting and to adhere to other practices that prevent the spread of the contagion.
As of now, we have not made any definitive decisions about events and programs beyond April, but we are evaluating various factors on an ongoing basis. Updates will be sent by email and posted to our website and social media.
We hope that you and your loved ones remain safe and healthy during these difficult times.
Your friends at the Thomas Cole National Historic Site
Covid-19 updates