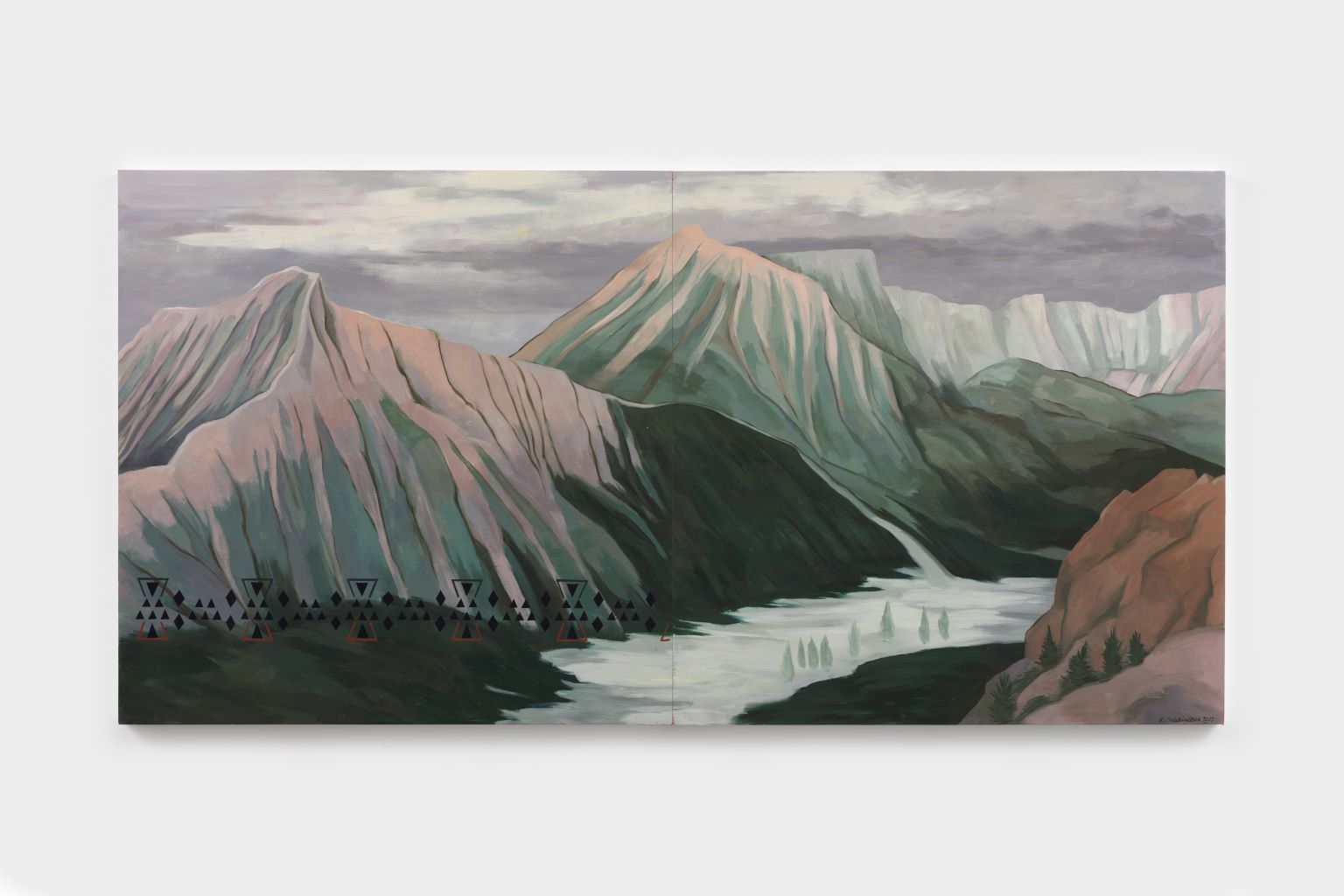 Kay Walkingstick, Winter Passage, 2017, Oil on panel in two parts, Courtesy the artist and Hales Gallery, London and New York, NY
In a career spanning over sixty years, Kay WalkingStick, a citizen of the Cherokee Nation of Oklahoma, celebrates Earth in her recent paintings. She creates epic landscapes like those made in the nineteenth century by artists now associated with the Hudson River School. But in contrast to and expanding upon historic interpretations, WalkingStick overlays onto her painted landscapes patterns created by the Indigenous people who have inhabited the land or who live there now. Winter Passage, for instance, features a
view of the Sierra Nevadas near Mono Lake, Mono County, California with a basket design created by the Mono Lake Paiute people, who live there and who are well known for their basketry.
Winter Passage embodies an experience of land that is layered; it is at once geological, cultural, spiritual, personal, and peopled. Through the band of patterning that floats between the viewer and the land, the artist disrupts and
shifts how one has been trained to see landscape. Here one cannot see the land without also seeing the culture and people who live within it. The artist expands, "The fact is that we're living on Indian land. There are Indian people everywhere in this country. . .This beautiful land is Indian land." This is not a land to conquer or exploit, but a place of beauty to honor, protect, and sustain.
KAY WALKINGSTICK (b. 1935) is a citizen of the Cherokee Nation of Oklahoma, and born in Syracuse, NY, she has Cherokee/Anglo heritage. WalkingStick earned a BA in painting in 1959 from Beaver College of Arcadia University, Philadelphia, Pennsylvania. In 1973, she was awarded a Danforth Foundation Graduate Fellowship for Women to attend Pratt Institute, Brooklyn, NY, where she earned her MA in 1975. Her practice is both a visual record of her life experience on earth and her attempt to come to terms with Indian history as a crucial part of America›s history. WalkingStick was a Professor of Fine Arts at Cornell University from 1988 until 2005. She had a major retrospective at The National Museum of the American Indian, Washington, DC, that traveled the United States to venues including the Heard Museum, Phoenix, AZ; Dayton Art Institute, OH; Gilcrease Art Museum, Tulsa, OK; Kalamazoo Institute of Art, MI; and Montclair Art Museum, NJ. Additionally, she has been included in exhibitions at Crystal Bridges Museum of American Art, Sacramento, CA; National Gallery of Canada, Ontario; Centre of Contemporary Art, Seattle, WA; The New Museum, New York City; and the Peabody Essex Museum, Salem, MA. Her work is held in collections of the Albright-Knox Museum, Buffalo, NY, Baltimore Museum of Art, MD, Cherokee Heritage Foundation, Park Hill, OK, Denver Art Museum, CO, Israel Museum, Metropolitan Museum of Art, New York City, the National Gallery of Art, Washington, DC, and the Southern Plains Indian Museum, Andarko, OK. WalkingStick is represented by Hales Gallery in New York City.
Website
WRAL Artist Spotlight: Kay WalkingStick